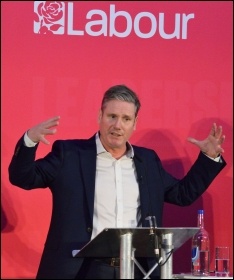 In addressing TUC Congress, Sir Keir Starmer claimed that "Labour will always stand with the unions", standing "shoulder to shoulder" with them over vicious attacks such as 'fire and rehire'.
But the reality is very different. With regards to most Tory anti-working-class policies, Starmer's responses are vague at best or totally inadequate, as was shown when the Tories hiked National Insurance, hitting workers hardest.
NHS pay
When Johnson initially indicated that NHS workers fighting for a 15% pay rise would only get 1%, Starmer promised 2.1%! The Tories then put forward 3%, still less than current inflation, and totally rejected by health workers in consultative votes.
Apparently, Starmer has now written a 14,000-word 'essay' which will be released for Labour Party conference to set out his programme!
Under Starmer's leadership, Labour has been a slightly critical voice in Parliament as the Tories have presided over their catastrophic response to Covid. He has seen his role as reassuring the capitalist establishment that Labour is now a safe option for them if Johnson's chaotic government crumbles.
This means consolidating the Labour right's victory over Corbynism. Starmer may talk 'unity' at the TUC but his offensive against the left, including in the unions, gathers pace. On the very day that he will rise to address delegates at Labour's annual conference, the BFAWU bakers' union will be meeting in a recall conference to discuss disaffiliation from Labour because its national president Ian Hodson is facing expulsion from the party. In addition, Unite assistant general secretary Howard Beckett is still suspended.
Council cuts
Starmer's lack of fight against Johnson in Westminster is replicated at the local level as Labour councillors dutifully continue to carry out Tory cuts. He opposes fire and rehire, but it was a Labour council in Tower Hamlets which was one of the first employers to roll it out, forcing Unison members to take strike action. Teachers are currently taking brave action in Redbridge against bullying and union victimisation, while the Labour council effectively colludes with school management.
Yet left union leaders, along with the likes of Jeremy Corbyn and the socialist film director Ken Loach, are disciplined, while cutting Labour councillors will no doubt be praised at Labour Party conference.
In the immediate aftermath of the Unite general secretary election, Starmer hoped that Sharon Graham's victory, on the message of 'back to the workplace' would make Unite more amenable to him, or at least neutralise the union politically. However, true to form, when the Daily Mail informed him that Sharon had made a speech to the National Shop Stewards Network (NSSN) conference two years ago, where she argued that the union should challenge the law if necessary to protect its members, he was quick to distance himself from her.
After Starmer's TUC speech, Sharon tweeted: "Unite is focused on defending our members' jobs, pay and conditions. This is the only way we can make sure that workers do not pay the price for this pandemic. This is happening now. Labour must do the same." Her scepticism of Starmer's revived New Labour being able to provide the fighting political lead against the Tories was echoed at the TUC congress by Dave Ward of the Communication Workers' Union (CWU).
We agree that the unions shouldn't 'wait for Labour'. We support the resolution moved by the CWU that is now TUC policy that calls for a national demonstration next spring on the theme of a 'new deal for workers'. What's more, the motion also promises that the TUC and the unions will organise 'town hall meetings' around the country to build for this mobilisation.
This programme, if filled out and concretised, could provide a manifesto to attract workers, taking up all the issues they face – fire and rehire, NHS and public sector pay, privatisation, and also service cuts.
The Trade Unionist and Socialist Coalition, which the Socialist Party is part of, alongside the RMT transport union and Chris Williamson's Resist organisation, is organising a series of 'Peoples Budgets' this autumn – setting out the needs of working-class communities and putting forward alternative no-cuts budgets to those of the cutting Labour councillors when they set out their spending plans. A vital element of this is the need to build an electoral challenge in the council elections next year.
Workers' candidates
All this could be the basis for the 'workers politics' that Sharon Graham put forward during her general secretary election campaign, and as she begins her leadership of Unite. This would give a real alternative to the 'Westminster bubble' of pro-capitalist politicians of all parties, including Starmer's Labour, particularly if a call was made for 'workers' candidates' in the council elections, standing for no-cuts budgets.
Furthermore, it would mean marrying the immediate industrial challenges that face workers and the action they need to take with the political programme that is needed to decisively change their lives.
One of the first serious disputes in Sharon's tenure is the indefinite strike called by Unite at the GKN plant in Erdington in Birmingham in order to prevent its closure. It begins in the middle of Labour Party conference. Unite members will be taking all-out action, and the most serious action may be posed such as a plant occupation. But in this stark period, workers such as those at GKN fighting for their futures will need a political vehicle that can support the call to nationalise the plant to save jobs and communities.
Such a political alternative, rooted in the unions and working-class communities, is a vital necessity that must be built.