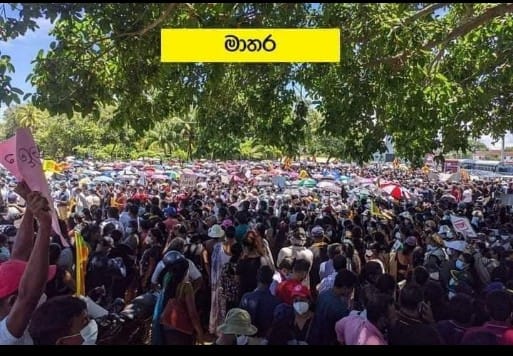 Tens of thousands of workers all over the country came out on strike on Thursday 28 April. They are demanding the resignation of the country's corrupt president and his family-led government. They have created the present disaster where workers and poor are unable to meet even the basic needs of life. The strike was called by the newly-formed Collective of Trade Unions and Mass Organisations. It was responded to very favourably, even by trade unions which are not affiliated to that Collective, and it was received very enthusiastically by the general public.
Workers on the railways and at the ports, in the banks, post and telecommunications, emigration and immigration services, schools and universities and many other sectors all struck work in a one day general strike.
Most of the public services were completely closed as workers got an opportunity to express their anger and disgust at this feudal type of family rule by the Rajapakshas. Gotabhaya Rajapaksha is the president and his elder brother, Mahinda Rajapaksha, is the prime minister. Several other brothers of the president and the son of the prime minister held ministerial posts and other relations were in important positions in state institutions. They have engaged in many corrupt activities using public money for personal gain – akin to 'daylight robbery'.
Thousands of youth and other people have been engaged in an unprecedented permanent protest in front of the President's Office in the capital Colombo. They have been blocking its entrance, demanding that the president and his regime must resign, since April 9th and have been getting more and more public support day by day. According to official figures inflation is at 29%, but almost all other economists dismiss this figure and point out that inflation has gone over the 100% mark.
The strike was organised to demand that the regime act to provide immediate relief to the workers and poor in the wake of the unprecedented economic shocks created by the complete mismanagement of the economy by the Rajapaksha regime. It was demanding that the ruling clique must resign as it is responsible for the misery faced by the ordinary people.
Protest rally
Tens of thousands of workers made their way to the main railway station in Colombo and walked in scorching heat to the protest site where the youth have been protesting. They were enthusiastically received by the young people and other masses gathered there. Trade Union leaders addressed the public and stated that they would carry out this struggle until this regime resigns and all the public funds robbed by this corrupt clique are returned to the public coffers.
The most significant feature of this strike action was that workers were protesting in large numbers all over the country. In the southernmost town of Mathara the numbers were so big that older person remarked that it was the first time that he had seen such a big mass gathering in that area. Similar protest rallies and demonstrations were held in many other parts of the country and thousands of tea plantation workers of Tamil and Indian origin in the central hills also joined the strike. They held protest campaigns in several towns, including Nuwaraeliya and Hatton and the local shops were also closed.
Future of struggle
The Collective of Trade Unions and Mass Organisations which called this strike is mostly comprised of relatively young trade union leaders, but it is led by some trade union leaders who say they are apolitical. Even the younger activists have been infected with this malady and it is very difficult to take a clear political programme into this collective. Their activities are clearly of a political nature, but they try to separate themselves from political parties and show that they are 'above' party politics.
However, the Free Trade Union Centre linked to the United Socialist Party was able to get involved in this Collective and played an important part in calling this strike. Some union leaders had been hesitant to call for general strike action at the initial stages.
We in the United Socialist Party are calling for another round of strikes to be organised if the regime does not heed the demands of workers and youth. We have pointed out that the Collective should act as a rallying point for all workers in the country, including workers in the north and east and oppressed Tamil and Muslim communities. We call for struggle committees in every area and a Democratic Assembly of workers' and farmers' representatives to plan a challenge to the old way of running a capitalist Sri Lanka. We campaign for land, industry, banks and transport all to be in public hands and run by workers' democratically elected representatives.
This is the message we send out for this year's May Day rally of the United Socialist Party and its supporters from around the country.
Special financial appeal to all readers of socialistworld.net

Support building alternative socialist media

---

Socialistworld.net provides a unique analysis and perspective of world events. Socialistworld.net also plays a crucial role in building the struggle for socialism across all continents. Capitalism has failed! Assist us to build the fight-back and prepare for the stormy period of class struggles ahead. Please make a donation to help us reach more readers and to widen our socialist campaigning work across the world.

Donate via Paypal

CWI- Please inform us if you are reproducing any material from this site.