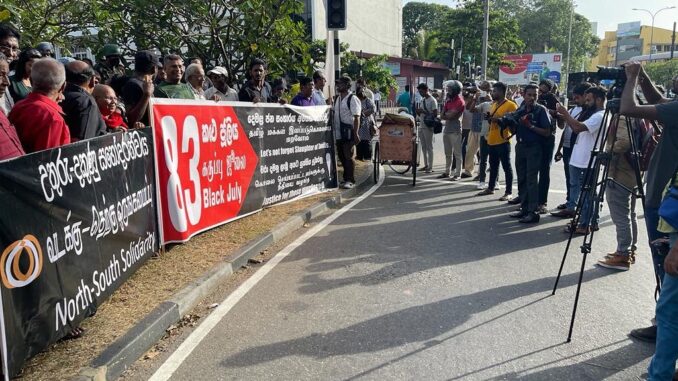 A remembrance event for the July 1983 pogroms, which was organized in Colombo, Sri Lanka, on Sunday, July 23, was attacked and forcibly stopped by the police. The 1983 pogrom against Tamils is regarded as a significant turning point in Sri Lankan history, as it played a role in driving many young Tamils towards armed militancy.
It is crucial to recognise that the events of 1983 were not mere spontaneous "riots" or clashes between Tamils and Sinhala, as the government and its supporters usually propagate. Substantial evidence has emerged since then, pointing to how the pogrom was organised by hard-core right-wing elements within the government, particularly involving the leaders of the right-wing United National Party (UNP). Gangs of hooligans went on a rampage against the Tamils living in Colombo, resulting in numerous deaths and the destruction of properties and businesses owned by Tamils. Tens of thousands were displaced, marking the beginning of the first wave of Tamil refugees leaving the country.
At the time, the then president and UNP leader, J. R. Jayewardene, not only failed to take immediate action but also refused to condemn the attacks. Current President Ranil Wickremesinghe is his nephew and was a minister, at that time. The UNP, which was dubbed by the people as the "uncle-nephew party," has consistently avoided accepting any responsibility or involvement despite overwhelming evidence. So far, no official inquiry has been conducted, and no one has been brought to justice.
This state-sponsored attack outraged not just the people in Sri Lanka but also people across the world. Back then, the Militant (now the Socialist Party, CWI) in Britain, played a role in helping to organise protests in London, led by then Militant-supporting Labour MP Dave Nellist.
Every year on July 23rd, it had become custom among Tamils, in particular, together with various organisations and activists who continue to defend democratic and national rights of Tamils, to organise remembrance for those who were massacred. Leading members of United Socialist Party (USP, CWI in Sri Lanka) were among some in Colombo city who helped to hide Tamils in their home to save them from the mobs in 1983. Every year, USP not only takes part in remembrance but also highlights the political background to the events and urges workers and youth of all ethnicities to learn valuable lessons from the history. However the defeat of 1980 general strike in Sri Lanka weakened the strong opposition to the right wing government. The UNP exploited this to go after workers' organisations and socialists and to curtail the strong influence they had at that time. The UNP used the attack against the Tamils to rally support for them on a Sinhala chauvinist basis, and attacked all minorities to maintain a grip on power, as was explained by the USP.
This year, the USP organised a remembrance together with 'North-South Solidarity', just outside Borella General Cemetery, where many of the 1983 pogrom victims are buried. The infamous Wellikada prison, where many Tamil political prisoners were murdered, is also situated in Borella.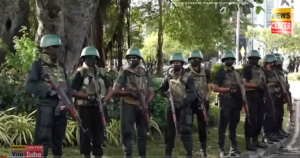 Over 100 socialists, human rights activists, and others who turned up to the event, were shocked to see that the entire area was surrounded by the police and special commandos. Over 2,000 fully armed police, with three water cannons, cordoned off the area. The scale of this mobilisation already raised suspicion among many activists. However they did not back down and decided to go ahead with the event. But as soon as the event started a few thugs appeared and shouted verbal abuse at those who were present. Later it emerged that one of the thugs who came to attack the commemoration was a member of Sinhala Ravaya, one of the most notorious extreme right wing chauvinist group in Sri Lanka. Previously, the Rajapaksa government reportedly had close links with such extreme groups and used them for their political advantage.
The clearly abusive actions of the thugs at Borella Cemetery – racist abuse and threats – were tolerated by the police. But when some activists replied against the abuses, the police cajoled and attacked those peacefully gathered for the remembrance. They purposely pushed the crowds to stop the event from going ahead. USP general secretary, Siritunga Jeyasuriya, and another leading member, Srinath Perera, were pushed down to the ground. Siritunga suffered a knee injury. Another human rights and democratic rights activist, Sandya Eknaligoda, was attacked and suffered permanent injury to an eye. Sandya is a partner of ae well-known journalist, Prageeth Eknaligoda, who went missing in 2010 and is believed to have been abducted by a military death squad that worked directly under Gotabaya Rajapaksa. Sandya is a well-known and outspoken voice against political abductions in the country.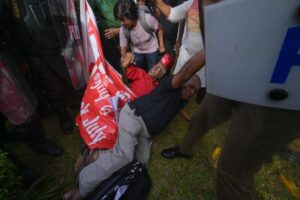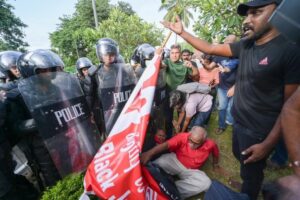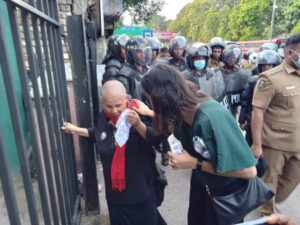 Pictures : Siritunga Jeyasuriya, Srinath Perera, Sandya Eknaligoda
While these police assaults were taking place, the thugs shouting abuse were protected by the police. For those activists who were involved in the event, it was clear that this was an organised attack that took place with the collaboration of authorities. The police then prevented any speeches from being delivered at the event and forced everyone to disperse.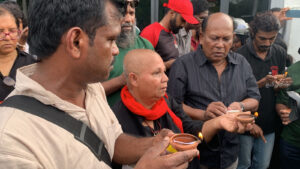 The history of collusion between the Sri Lankan state and far-right chauvinists to maintain power has not changed. The method that nephew Ranil learned from his uncle JRJ in 1983 is still being put to use. This attack came following the re-emergence of chauvinist organizations supported by the Rajapaksa family and their supporters. Their close ally and former minister, Udaya Gammanpilla, who is also as the leader of another racist outfit called, Pivithuru Hela Urumaya, recently started a fear-mongering campaign, claiming that Sri Lanka is under threat from terrorism, and the President is likely to hand over police power to the northern provincial council.
Another minister, Sarath Weerasekara, recently stated that the accusation of killings in the last phase of the war in 2009 was a lie, and he defended the military actions against Tamils. Before his visit to India last week, the President Ranil Wickremesinghe met with Tamil leaders to assure them that part of the '13 amendments' (reforms to the Constitution) will be implemented. However, he was reportedly rudely dismissive. He stated that his name is not "Ranil Rajapaksa", despite it being a nickname he claimed after he went to great lengths to protect the Rajapaksa family, who were ousted from power by the mass movement. Wickremesinghe then went on to say that he agreed with the Rajapaksa family. This was to prepare for his visit to India. For both Indian and Sri Lankan governments, economic deals were the main concern rather than the human rights of Tamils. This political trajectory by the President provides an opportunity for some far-right groups to, once again, raise their heads, and for the Rajapaksas to hope to make a comeback.
Silencing all political opposition is currently a main priority for the Ranil regime. One method that has been used throughout history by the ruling elite to maintain control of the state, particularly when they were weak, is to attack Tamils or Muslims, and to use that to whip up Sinhala patriotism. They have also used this recent wave of chuvanism to legitimise their attack on left, socialist, and workers' organizations, and to carry out neo-liberal policies. The nephew dreams that what worked for his uncle may work for him. Unfortunately for him, this period is different. The UNP stands completely exposed and does not have much support among any ethnicity in Sri Lanka. They suffered a humiliating defeat in the last election. Despite losing in his constituency, Ranil managed to obtain a single UNP seat via the national allocation of seats according to proportional representation rules. Now Ranil is seen as part of the corrupted Rajapaksa gang.
The government and ruling elite fear the prospect of Tamil, Sinhala, and Muslim youth mobilising together, and not just demanding all democratic rights but also acknowledging past horrors and recognising the role of the state in all those atrocities. They aspire to create a new society that prioritises needs over greed and profit. The CWI and USP will argue that it is this force that needs to build stronger in order to see the end of these cronies.