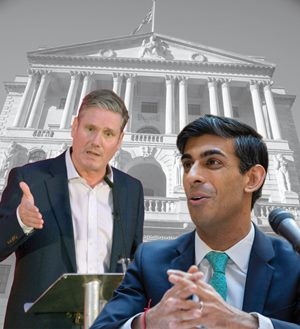 "Voters were pissed off with us". That response of a Tory MP to two crushing by-election defeats on 20 July was putting it mildly. A 24% swing from the Tories to Labour in Selby and Ainsty – the second highest ever – and a 28% shift to the Lib Dems in Somerton and Frome confirmed that the Tories are on their way out and a Starmer-led government is on the cards at the next election. As pollster John Curtice explained, the Tories are in "a deep electoral hole".
Tory Prime Minister Sunak desperately tried to talk up holding on to former prime minister Boris Johnson's former seat in Uxbridge and South Ruislip, with a majority of just 495 votes. But as the Independent put it, unless every Labour council and mayorality imposes an exorbitant Ulez before the election that is not going to be replicated across the country.
According to some pollsters, even an overall 6.7% swing to Labour like the one they achieved in Uxbridge could mean the election of a Labour government. But the swing across the three constituencies was a whopping 21%, and in line with most opinion polls. In a general election that would mean a landslide – greater than the 179-seat majority Tony Blair won in 1997.
However, these by-elections also confirmed that the overwhelming mood is "anyone but the Tories". 'Pissed off' with high interest rates, soaring prices, a crumbling NHS, and collapsing services, people turned to whichever party they thought would give the Tories a hammering. Or they stayed at home – turnout in all three constituencies was under 50%.
So, in the words of one Selby voter, a Starmer Labour government  would be "the best of a bad choice", propelled into power by visceral hatred of the Tories, not enthusiasm for Labour.
And the Tories were right about one thing, Ulez. Sadiq Khan and the Uxbridge result do give a glimpse of what a Starmer-led Labour government will mean: continuing the Tory agenda of making working-class people pay the price of the capitalist economic and climate crises. No wage increases for struggling public sector workers, and no tax rises for the rich either; no extra funds for the NHS and other services – just 'reform', ie more money to private profiteers; hundreds of thousands of children living in poverty and going hungry because of 'fiscal responsibilty'.
Labour policy forum
This was underlined at Labour's recent National Policy Forum which voted to back Starmer prioritising fiscal discipline rather than spending to relieve poverty, ditching the two-child benefit limit or scrapping tuition fees. Although, in a party where democratic structures and decision making have been gutted, neither this toothless body, nor the national conference, have the final say in what goes into the manifesto.
With capitalism in crisis globally, and a special crisis of British capitalism within that, only a party prepared to mount a mass, fundamental challenge to capitalist economic interests would be able to resolve the problems that working- and middle-class people are facing. And clearly, Labour is not that party. Preparations for building an alternative union-backed party that will fight for the working class with socialist policies needs to take place now.
Unite the Union refused to support the document coming out of Labour's policy forum, which also watered down policies on workers' rights, including on zero-hour contracts. Unite general secretary Sharon Graham said: "Starmer has to prove that Labour will deliver for workers". But it's clear that wrenching any reforms from a Starmer government will only be possible on the basis of mass collective struggle and strike action that forces it to act, just as we have seen under the Tories.
Standing independent trade union-backed candidates in the next election could be a vital step in building that collective fightback and the new mass workers' party that is so desperately needed. Even a small group of trade union-backed socialist MPs could become the focus for the struggle that will be necessary both inside and outside parliament with a Starmer government in power.
That's why Socialist Party members promoted resolutions at Unite and other union conferences calling for the political funds to be freed so that unions could back any candidates in elections who support union policy.
The outline of what could be possible is already there. At its AGM, the transport union RMT voted to support Jeremy Corbyn should he decide to stand independently in Islington North in the general election. If he stands, other union branches will be faced with the choice of supporting an anti-austerity, pro-worker candidate who backs nationalisation of rail, mail, water and other utilities, or a Starmer-imposed Labour candidate committed to continuing  the Tories' policies of cuts and privatisation.
The £120,000+ collected by Jamie Driscoll to fund his independent campaign to be elected as mayor of the North East, after he was blocked from standing for Labour, also gives a glimpse of the enthusiasm that could be generated if the unions were to stand and support their own candidates.
A general election could be less than nine months away. Staring at an electoral rout that now seems almost inevitable, some Tory MPs are hoping that they might be able to cling on to a few more seats if the election is held in May rather than later in the year. But whenever it takes place, the Socialist Party, while continuing to push for the unions to take more decisive action at a wider level, will be campaigning as part of the Trade Unionist and Socialist Coalition for the widest possible list of workers' candidates, as well as fighting for the socialist programme that will be necessary to bring about the fundamental change that working-class people desperately need.