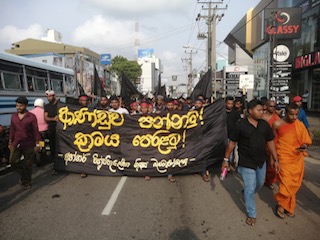 The following article was written just before the resignation yesterday of Sri Lanka's prime minister, Mahinda Rajapaksa, after weeks of protests amid an economic crisis. President Gotabaya Rajapaksa remains in place as demands grow for him to follow his brother and leave office.
More analysis on the explosive developments in Sri Lanka will follow soon on socialistworld.net
socialistworld.net
Sri Lanka was in flames yesterday, 9 May, after the goons of Prime Minister Mahinda Rajapaksha attacked two places of struggle spearheaded by youth in Colombo. They attacked men women and Buddhist monks and Christian priests mercilessly with iron and wooden clubs.
There was a widespread call for Prime Minister Mahinda Rajapaksha to resign amidst mass agitations for both the Prime Minister and his brother, President Gotabhaya Rajapaksha, to resign. Last Friday, a Hartal called by the trade unions stopped all the activities on the island. However, Mahinda Rajapaksha steadily refused to budge, which lead to more calls for him to resign. Demands are made for a new multi-party interim government to quell the mass discontent caused by the months-long shortages of fuel, cooking gas, and milk powder. Prices have skyrocketed after the Sri Lankan rupee was allowed to float in respect of the US dollar.
There was speculation that Mahinda Rajapaksha would resign on Monday but instead, he called in his supporters to his official residence in Colombo and addressed the gathering. He told them that he was committed to protecting the motherland and asked his supporters whether he should resign. The crowd shouted no and Rajapaksha greeted them saying that he would not abandon them. These supporters then left the official residence with clubs and began to attack those protesting in front of the Prime Minister's official residence. They set fire to tents erected by the protesters, who have been there for over two weeks.
These thugs thereafter went onto the main site of resistance in front of the president's office, in the heart of Colombo, situated about a kilometer away, and began to attack as done earlier. They attacked mercilessly while police personnel was heavily outnumbered.
With news broadcast live by all media channels, people in large numbers came out in Colombo and outlying areas, as well, to attack political activists attached to the ruling party.
Youth take to the streets
Youth in Colombo and nearby cities took to the streets to get hold of the buses transporting those goons. Some of those caught were undressed and put into a lake situated close to the Prime Minister's official residence. Other protesters attacked buses and some of the vehicles were set on fire. Approximately 50 buses were destroyed.
By the evening yesterday, large numbers of people were gathering in towns in the countryside, and they set on fire the houses belonging to ruling party politicians. Six people, including a parliamentarian of the ruling party, have died, so far, due to the violence.
President Gotabhaya Rajapaksha promulgated a state of emergency three days ago after the Harthaal shut down the country, last Friday. A curfew, island-wide, was imposed from Monday, in order to quell the unrest. The security forces have been called to 'maintain law and order'.
The trade unions have called for an indefinite strike against the goons' attack and demand the president resigns. The response of the workers to this indefinite strike call remains to be seen after the curfew is due to be lifted on Wednesday morning.
Even in the face of the state of emergency and curfews, a mass struggle spearheaded by youth is going ahead in front of the president's office, and the protesters vowed that the campaign would last until Gotabhaya Rajapaksha steps down.
Special financial appeal to all readers of socialistworld.net

Support building alternative socialist media

---

Socialistworld.net provides a unique analysis and perspective of world events. Socialistworld.net also plays a crucial role in building the struggle for socialism across all continents. Capitalism has failed! Assist us to build the fight-back and prepare for the stormy period of class struggles ahead. Please make a donation to help us reach more readers and to widen our socialist campaigning work across the world.

Donate via Paypal

CWI- Please inform us if you are reproducing any material from this site.