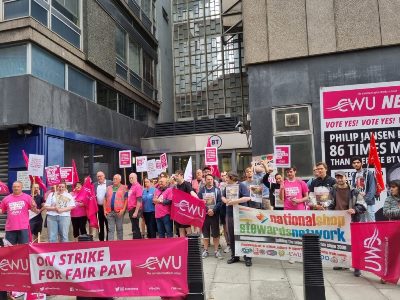 Between Wednesday 27 July and Monday 1st, August national strike action took place in Britain for four days, organised by three trade unions (RMT, Aslef, and CWU) – in defence of their members' living standards against the background of the cost-of-living crisis being a central feature of each. In Northern Ireland, CWU workers also took strike action.
Wednesday 27 July: The fourth strike day in a series of national rail strikes by the Rail, Maritime, and Transport Workers Union (RMT) across train operating companies and Network Rail. TSSA (Transport Salaried Staffs' Association) members are also striking in Avanti West Coast. RMT strikes are to follow on 18 August and 20 August, as well as further action by RMT members on London Underground. Click here for our latest RMT article.
Friday 29 July: Strike action by 40,000 BT and Openreach members of the Communication Workers Union (CWU). This is the first national strike in BT since 1987. Click here for our latest CWU article.
Saturday 30th July: Train drivers in the Aslef union (Associated Society of Locomotive Engineers and Firemen) strike across eight different Train Operating Companies. TSSA members are taking action 'short of strike' in Great Western Railway. Click here for our latest Aslef article. 
Monday 1st August: A second strike day by BT and Openreach members of the CWU.
Other sectors and unions are considering or planning action – in what can become a mighty wave of strikes in defence of workers' living standards.
See : Public sector workers prepare for action on pay
Lobby by the National Shop Stewards Network lobby of the Trades Union Congress (TUC) in Brighton on Sunday 11 September to call for coordination of the action across the public and private sectors.
A selection of photos from the picket lines (most recent at the top) by Socialist Party members in England and Wales:
https://www.socialistparty.org.uk/articles/99551/27-07-2022/a-week-of-strikes-photos-from-the-picket-lines/
In Northern Ireland, CWU workers also took strike action. Militant Left (CWI Ireland) supporters visited picket lines to show solidarity and support. Here is a selection of photos from the picket lines with Militant Left supporters in Enniskillen, Newry, Omagh, and Belfast: