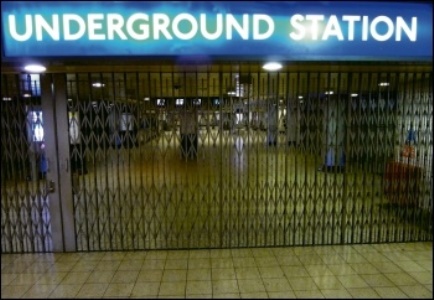 Transport union RMT members working for London Underground have voted overwhelmingly for strike action to defend jobs, conditions, and our pensions.
RMT balloted over 10,000 members on London Underground, getting a 94% yes vote for strike action on a 52% turnout.
Members are furious that they are being told to pay for a £2 billion funding gap in Transport for London (TfL) while senior managers have just been awarded a £12 million bonus pot – rewarding them for making cuts.
The drop in passenger numbers using TfL services during the Covid pandemic has brought the funding crisis to a head, but its root cause is the policy of self-financing adopted by the Labour mayor, Sadiq Khan, at the behest of the Tory government.
No similar transport system anywhere around the world can operate without government subsidy for its operations.
Fares cover around 30% of operating costs in Paris and 47% in New York. The London Underground, just before the pandemic, was raising 134% of its operating costs in fares.
But the idea that fare revenues can keep increasing year after year is ridiculous. Passenger demand will not continue to rise forever and, even if it did, capacity cannot keep pace. In reality, passenger numbers had plateaued even before Covid became a factor.
With a sudden drop in passenger numbers during the pandemic, TfL has been left with a gap of around £2 billion between its planned spending and its income.
The government has refused to provide adequate funding to replace lost fares and has tied the limited support it has provided to further cuts and attacks on workers.
Instead of resisting, Khan has gone along with the plan. Having previously boasted that he would cut 'wasteful spending', now he has instructed TfL bosses to review all elements of operational spending, starting with workers' jobs, pensions, and conditions.
RMT reps and members are now considering what strike action to take as we move towards the end of the short-term funding deal with the government in February, and the announcement of management's intended pension attacks in March.
This could be a protracted dispute as members cannot afford to accept management's proposals. We need to take action to ensure that we force the mayor, the government, and TfL bosses to think again.
Even after the pandemic, London's big businesses make millions every day. Public transport is a key part of the infrastructure that makes that possible.
Just a small levy on City bonuses would easily clear the £2 billion funding gap. We need to change the conversation, from one about making essential transport workers pay, to outlining the need to make the super-rich elite cover the funding gap.