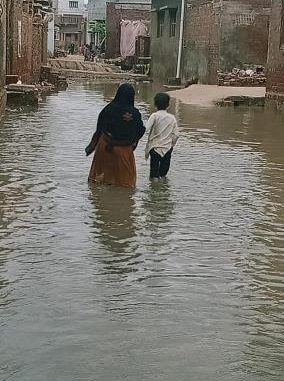 The devastating floods that have hit Pakistan have had catastrophic consequences for people in the Sind. The floods have resulted in most people becoming homeless and their houses have collapsed. Most of the members of the Sindh Workers Alliance are now homeless. They have been moved to safe places but they are suffering many difficulties where they are now living out in the open. They don't even have shelter and basic things like food, medicines or clean drinking water. Sindh is now suffering terribly from floods with the loss of human life, damage to property, destruction of crops, loss of livestock and the non-functioning of infrastructure.
The devastating rainfall
In the month of June, the rainy season of the monsoon started. In the beginning, the biggest province of Pakistan, Baluchistan, suffered heavy rainfall. This resulted in a loss of life and property. All the roads in Baluchistan were destroyed and communication with the world was cut off. The government controlled the media and prevented them from reporting on the situation.
A social worker, Zafar, from the J D C organization in Karachi, reported the situation in Baluchistan: "When we reached there, people were sitting on the top of the mountains like flies. All those people were lacking everything, as everything was left in the house. Only life was left and there was no one to help and there was a lot of need for food boxes".
In July and August, there was a series of rainfalls in Sindh and the water from Baluchistan flooded into Sindh. It entered from south areas like Sukkur, Larkana, Dadu, Shikarpur and Jacobabad. It destroyed remote areas and about 70% homes of people were destroyed. People moved towards the roads and mountains. According to the media, most of the dead bodies are seen in Sukkur due to heavy rain. Sindh is facing many problems due to the monsoon rains and also due to a damaged dam in Baluchistan. There is a lot of destruction in Sindh. Jacobabad, Shahdadkot, Dadu and Jamshoro have been severely affected. The Sindh is now facing more difficulties as the water comes in from Afghanistan, with about 500,000 gallons flooded in. Now Sindh is under about 900,000 gallons and some big cities of Sindh are under flood water.
Role of government
In the 2010 floods, Sindh was affected in the western areas and in 2011 the areas of eastern Sindh were also hit. Now the situation in Sindh is far worse than during the 2010 and 2011 floods. The government has no positive response anywhere. Millions of rupees are lost through corruption. Rather than allow a natural flow of water to take place, the feudal ownership of the land is causing more destruction by preventing a natural place for the water to flow. As a result, whole villages are under the water.
The media reports that the government has implemented a full relief programme. In reality, there is no aid arriving in the flood-hit areas. According to a BBC report, at least 1,136 people have died since the monsoon season began in June. An estimated 33,300,000 people are affected and 700,000 homes have been destroyed.  According to our survey, this figure is not accurate because no one can meet with the people who are surrounded by the flood waters which cover a huge area. It is impossible to calculate the correct figures. The Pakistani Foreign Minister, Bilal Bhutto Zardari, gave an interview to the BBC and said that we need some domestic help for things such as shelter and medical support for children etc. However, the people did not get these necessities or any kind of support from anyone. So they are suffering from lacking these basic needs and most of the cities are flooded and their populations have moved towards safer places. On the other side, most of the farmers and labourers from Sindh are homeless and have moved to safer places. Yet still, there is no one who will help them. They live in critical conditions and lack shelter and basic things such as food, medicines, milk, and some basic necessities. Most of the people are now jobless and the workers who worked for daily wages are all shattered by this flood.
Government bans activities of relief organisations
When Osama bin Laden was identified by an NGO hiding at Pakistan's biggest military training centre, Abbot Abad and American forces attacked and killed him, the then Government of Pakistan banned international relief organizations. Imran Khan (the ex-prime minister) introduced a law which prohibited taking funds from international organizations. Any international help is only permitted through government accounts. Now the government has decided to take relief from international countries. They take a lot of relief but the state is riddled with corruption on a large scale. The money does not get to the families who need it. Relief camps are only allowed to be set up by official parties. No independent or progressive or nationalist organisation is allowed to establish a relief camp. If they do, the police will take action against them. In other words, without government permission, no one can help the people.
Furious public reaction
Now when the rulers go to the common people empty-handed, without assistance, they are facing public outcry. Some members of the assembly have been beaten up, the windows of some cars have been broken and the paths of some rulers have been blocked by angry protesters and they have not been allowed to go further. The Sindh Chief Minister, Murad Ali Shah, faced a public outcry in many places.  The Speaker of Sindh Assembly and Acting Governor, Siraj Durrani, was blocked and forced to do an about turn when confronted by an angry crowd. The assembly member of Mehar (Dadu) Constituency, Fayaz Butt, was hit with shoes thrown by the public and the windows of his car were smashed.
Similarly, in many places, the officials of the district and taluka have been humiliated and attacked by people. In some places, the people have broken the locks of the storehouses of the political parties' rations and tents and taken away the goods. The rulers are facing a public outcry and they are very scared. It has become difficult for them to go anywhere without a large police protective force. People everywhere are drawing on the lessons of the Sri Lankan rulers when they were forced to flee during mass protests.
The Sindh Workers' Alliance
In the district of Dadu and Mirpur Khas, workers are badly affected. In this situation, the Sindh Workers Alliance (SWA) stranded female workers have been rescued by comrades Sugran Khaskheli, Nasreen Awan and Lareeb Qambrani who are members of the rescue committee that the SWA formed. They are in contact with these workers in flood-hit areas and they were moved to safer places. Other SWA members in Mirpur Khas district, comrades Hameed Channa, Essa Balouch and Ihsan Magsi, who are also on the rescue committee, helped the affected families and our male workers. In Dadu district, Allahjurio Lashari, Barkat Kalhoro and Inam Khoso form this committee. In the current situation in Dadu, Mirpur Khas and Digri our women workers are affected and homeless. More than 50 members of the Sindh Workers Alliance are affected. We, therefore, appeal for international workers' financial solidarity to help us in this struggle.
Readers are urged to make a solidarity donation to help with this urgent work. Please go to 'Donate' on this site, and mark the donation with 'Sindh Workers' Alliance Flood Appeal'.
Below, is a video showing Assembly speaker, Siraj Durrani, facing the wrath of flood victims. Durrani was forced to retreat to his official car and drive off. 
https://www.facebook.com/messenger_media/?thread_id=1052710601&attachment_id=772704507178749&message_id=mid.%24cAAAAAB8ixTOJPyAW_mDDdpxgHcDp