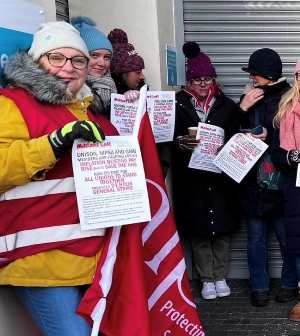 Thousands of members of the trade unions, Nipsa, Unison and the GMB, working in the NHS in Northern Ireland, took strike action on Monday 12 December over pay and conditions. Northern Ireland has the longest NHS patient waiting lines and lowest pay for health workers in the UK.
Below is the text of a leaflet distributed on picket lines by Militant Left (CWI) supporters across the North of Ireland on 12 December.
socialistworld.net
UNISON,NIPSA AND GMB MEMBERS ARE FIGHTING FOR AN INFLATION BUSTING PAY RISE AND TO SAVE THE NHS
NOW IT'S TIME FOR ALL UNIONS TO STAND TOGETHER
ORGANISE A 24-HOUR GENERAL STRIKE!
Time for trade unions to strike together for an inflation busting pay rise

Time for a massive investment to deal with the staffing crisis in North

ern Ireland. Stop the cuts to acute emergency services at SWAH in Fermanagh and Daisy Hill in Newry

Time to end austerity – reject cuts and make the rich pay for the crisis

they created

Time to nationalise energy, post office and utilities under democratic

working-class control and management other socialist policies

Time to prepare for a general strike of all trade unions to get the Tories

out

Time for a socialist alternative to capitalism's poverty and crisis 
The current strike wave, building by the week, has been driven by spiralling inflation, a brutal cost-of-living squeeze and the near collapse of areas of the health service. Workers have no option but to fight,and are showing their determination to struggle.
On every picket line striking workers are saying: "we should be striking together." Nipsa and Unison are right to recognise that cooperation between trade unions is essential to achieve the best possible outcome for all health service workers.
Now we need coordinated action, particularly on the scale of a 24-hour general strike, bringing together workers from all sectors.
Such a strike movement would raise workers' sights and confidence. It could put massive pressure on the NHS hating Tories, forcing them to pay up and posing the prospect of finally pushing them out of office.
A political voice for health workers urgently needed and workers taking industrial action need a political voice of their own.
We need a political party that represents the interests of workers, our families and our communities. We cannot rely on the five main political parties to save the day – they all subscribe to the failed pro-market economic 'model' – and most of them base themselves on sectarian divisions in society.
On Friday 2 December, over 1,500 people protested in Enniskillen over the announcement that the south-west acute hospital (swah) will stop providing acute or emergency surgery. Gp services in many areas are in a state of crisis, the health service is permanently under-staffed and health workers are seeing their living standards slashed.
This all happened under the Northern Ireland assembly who will not listen to ordinary people and continued with disastrous policies.
We need representatives like Cross Community Labour councillor, Donal O'cofaigh, who will listen and speak for ordinary people. Donal is one of the most prominent campaigners in defence of the swah. He will be defending his council seat in Enniskillen in May. We need to elect many other out standing campaigners to our council chambers and to the assembly.
Discussions should begin among hospital campaigners, and other local campaigners and trade unionists, about endorsing genuine cross-community candidates who put the interests of working-class people first.