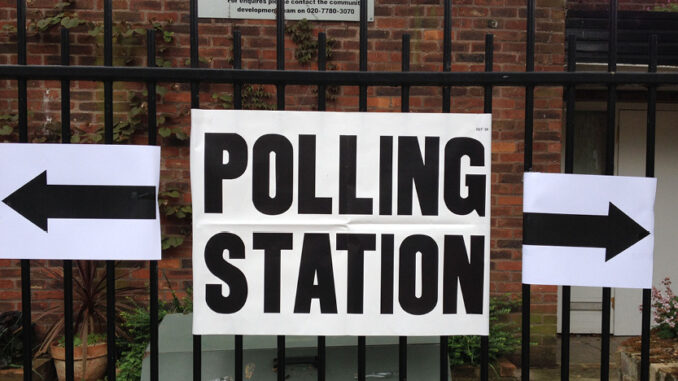 Prepare for a workers' stand in the general election
People want 'Tories out'. That is the bleedingly obvious lesson from the 4 May local election results. The Tories (i.e. the ruling Conservative Party) set their expectation bar – at 1,000 losses – so low they hoped it would be impossible to go under. But they did, losing 1,061 seats and control of 48 councils. The main opposition Labour Party, gained 536 seats, the Liberal Democrat party 407 and the Green party 241 – shared the spoils.
Much less than half the electorate voted, evidence of the widespread disdain with capitalist establishment politicians. Voter turnout was lessened still by Tory voter-ID rules putting up more barriers in the way of voting. Scandalously, reliable data was not recorded of numbers turned away on the day.
Local elections, across not all councils in England and none in Scotland and Wales, cannot be an accurate predictor for the outcome at the next general election, which could come any time before December 2024. Nevertheless, it dominates the thoughts of the establishment parties. Not least whole swathes of Tory MPs fearing for their jobs. Are there any who are safe?
In traditional Labour-supporting 'red wall' areas, who voted to leave the European Union in 2016's referendum, such as Blackpool, Grimsby and Middlesborough, Tories lost ground to Labour. In wealthy traditional Conservative-supporting 'blue wall' seats in the south east they lost out to Liberal Democrats in many cases. Lib Dems say they made 132 net gains in council areas covered by Tory cabinet members. Prominent blue wall Tories, including Michael Gove, Theresa May, Nadim Zahawi and Jeremy Hunt, will all feel under threat.
Even Mid-Suffolk, an area which has not had a non-Tory MP since the 1950s, was lost to the Greens who now have their first-ever majority council.
Such uncertainty will stir the already simmering cauldron of discontent that is the Conservative Party. Many Tory MPs and councillors who hoped against hope that Prime Minister Rishi Sunak would give some stability following the disastrous premierships of Liz Truss and Boris Johnson's lying sleaze, will again be looking to save their careers.
All of the running sores of division in the party will be examined once again – on the issue of the relationship with the EU and the Windsor agreement over the Northern Ireland border, on money for so-called 'levelling up', just how draconian to be towards people fleeing war and oppression on small boats, when and whether to invoke new anti-trade union laws on striking workers, and on the treatment of ex-prime minister Boris Johnson.
Political poison for the majority of the electorate, in Conservative clubs up and down the country many party activists hark back to his temporary populist appeal. The potential recommended sanctions from the Privileges Committee report into whether Johnson lied to the House of Commons will come before parliament in the coming weeks and months. Tory MPs will have to vote to accept or reject.
For Sunak and the Tories, the road from here to a general election will be far from smooth. Sunak may not have his own way on when exactly the poll takes place, and the party may go into it with fewer MPs sat on its benches than at present.
Labour picked up the most seats on 4 May, although not as many as some predicted they could have. In the more than 50 local authorities controlled by Labour, voters have already had a taste of what a Starmer-led government would mean. All have passed on cuts and austerity as demanded by the Tories, without putting up a fight.
Labour's projected vote share was no higher than in last year's local elections at 35%. Still, Sir Keir Starmer declared: "Make no mistake, this means we are on course for a Labour majority at the next election". But make no mistake, many would not have voted for Labour with any enthusiasm, only as what they deemed the best way to inflict a blow on the Tories. At a general election, where turnout is likely to be up, that urge will be even greater.
Among the spectrum of extrapolations from the election results, many put Labour as the biggest party in a hung parliament. A lot can happen between now and a general election, and a lot rides on Labour's performance in Scotland where the Scottish National Party, which holds 45 out of 59 Scottish seats in Westminster, is in crisis. But it is highly likely Labour will be the biggest party, and Starmer prime minister.
How is he preparing for office? By doing all he can to reassure the capitalist class that he will govern in their interests. That is why he speaks of "fiscal responsibility", rules out keeping the party's policy for free higher education, sacks frontbenchers for speaking out on picket lines, bars former-left leader Jeremy Corbyn from standing for Labour and removes the whip from his close ally Diane Abbott.
Just as Starmer is preparing for office, so too must the workers' and trade union movement prepare for a Starmer-led government. And be under no illusions that it will be possible for Starmer to act in the interests of both the bosses and the workers. As much as his approach is modelled on that of Tony Blair, unlike Blair, who governed initially in a period of economic growth, Starmer will inherit a stagnant or recessionary economy, with stubbornly high inflation. Acting in the interests of the bosses will mean assisting them in continuing to attack our living standards.
How can the trade unions prepare to defend their members against attacks and real-terms pay cuts from a Starmer-led Labour government?
The Socialist Party is campaigning for a trade union-backed workers' list of candidates to contest the election, as the first step towards the development of the new mass workers' party we need. It could include Jeremy Corbyn standing in Islington North, other left-wingers barred by Starmer from standing, striking workers and trade unionists, and socialist campaigners.
Socialist Party members are taking part in debates throughout trade union conferences on what kind of political representation our class needs. That includes backing a motion at Unite conference for a rule change to allow the union to financially back candidates who support Unite policies outside of Labour.
Even just a small group of fighting, workers' MPs in parliament under a Starmer government would be a pole of attraction for all those fighting for an alternative to continued price rises and misery.
If a workers' list is not prepared in time for a general election, Socialist Party members will stand as part of the Trade Unionist and Socialist Coalition, as our members have in the 4 May elections. In doing so, giving people the opportunity to vote for a fighting alternative to cuts and austerity, and preparing the ground for future workers' electoral struggles on an even larger scale.