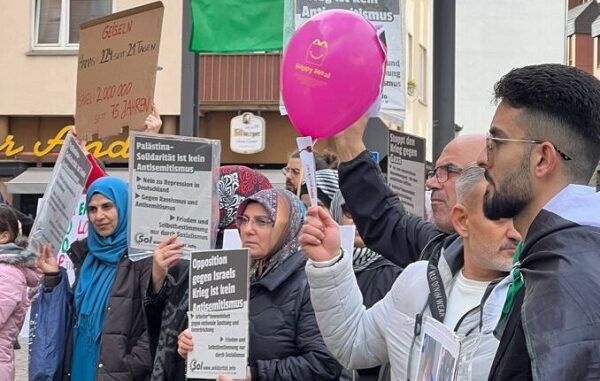 The following statement (translated from German) regarding opposition to the Israeli state attack on Gaza has, so far, been signed by over 200 individuals and organisations in Germany, including trade unionists, Left Party members, and by Socialist Organisation Solidarity (CWI in Germany).
Below the English translation is a version in Arabic.
socialistworld.net
Stop the attack on Gaza!
For peace and self-determination – against occupation, oppression, war and terror – No to the repression of Palestine solidarity in Germany – Criticism of Israel's government is not anti-Semitism
The media debate on the escalation of the Middle East conflict is characterised by double standards and hypocrisy. Criticism of the policies of the Israeli state is delegitimised as anti-Semitic and as support for Hamas' murderous attack on civilians in Israel. Politicians from the government and the CDU/CSU openly declare that the state of Israel must be supported, regardless of what it will do in the Gaza Strip. Demonstrations and the display of Palestinian symbols are banned. Young people of Arab origin in particular are being criminalised across the board.
Democratic rights are being restricted in schools. In a letter to school headmasters, Berlin's education senator Günther-Wünsch (CDU) announced that even "symbols, gestures and expressions of opinion that do not yet reach the borderline of punishability" can be banned, for example wearing the Palestinian scarf or stickers with inscriptions such as "Free Palestine". The exclusion and disenfranchisement of children and young people with Arab roots tends to drive them into the hands of reactionary Islamist forces. At the same time, resentment against migrants is strengthened among German pupils, legitimised by state policy. We demand a withdrawal of such instructions and bans and the development of a school concept for dealing with the Middle East conflict with the involvement of GEW (teachers' trade union), migrant associations and parent and pupil representatives.
The rulers in Germany are creating an atmosphere in which there are only two alternatives: For the evil Hamas or for the "good" state of Israel. We reject this! We bring an internationalist position against war and terror, against occupation and oppression, for peace and self-determination into the debate.
We declare:
We stand with the working people on both sides who fear for their lives, their safety or their loved ones. Our thoughts are with them.
The Hamas attack is terror against civilians, which we firmly reject. However, to discuss this terror in isolation and out of context falls far short and neglects essential causes of the war in Palestine/Israel. The deeper cause for such events and even for the existence of organisations like the anti-worker and anti-women Hamas lies in the decades-long occupation and oppression of the Palestinian population by the state of Israel and the closure and siege of the Gaza Strip since 2006.
The reaction of the State of Israel – the complete closure of Gaza, the bombardment and the expected invasion of the Israeli army – leads to endless suffering of the Palestinian population, thousands of deaths, displacement and the destruction of their livelihoods. We demand an immediate end to these attacks and to the supply of arms to Israel.
We oppose anti-Semitism and anti-Muslim and anti-Palestinian racism. We demand freedom of expression and demonstration also for opponents of the attack and the occupation policy of the state of Israel. We fight against bans on Palestinian symbols and organisations. Criticism of the state of Israel, of war, occupation, settlement policy and oppression is not anti-Semitism or support for Hamas! Those who claim this do a disservice to the struggle against anti-Semitism by equating all Jews with the state of Israel and its policies of war and oppression.
We oppose the obvious attempt of the government and the bourgeois opposition to further fuel the migration debate in the slipstream of the events in the Middle East, to further restrict the rights of refugees and the right of asylum and democratic rights such as the right to demonstrate and freedom of expression.
A solution to the Middle East conflict is only possible with mutual recognition of democratic and national rights of all population groups. Poverty, exploitation and discrimination must be ended. The interests of Western imperialism, which regards the state of Israel as an outpost in the Middle East, of the rulers in Israel and of the ruling classes and elites in the Middle East are opposed to this. We support all approaches for democratic mass movements against war, occupation, oppression and exploitation and the building of trade union and socialist organisations of workers, youth and the mass of the population. These can, by coming together, overcome the national division from below and bring forward the common interests of all ordinary people in the region. This must be done independently of the Israeli state as well as the Palestinian Authority and organisations like Hamas that do not represent the interests of the masses.
It is not only in the Middle East that the world is getting into an ever-worsening spiral of wars, trade wars and multiple crises. The working class is losing in every one of these wars so far, no matter which side their governments support. It therefore needs an independent class position in the conflicts that expresses the common interests of workers regardless of their nationality and religious affiliation. perspective for peace and self-determination in the Middle East is inseparable from the international struggle against imperialism, capitalism and for a democratic-socialist transformation of society.
Dr. des Saamah Abdallah, Eberswalde
Alexandra Arnsburg, member of the ver.di Berlin-Brandenburg district executive committee A and of the ver.di Berlin-Brandenburg state women's council
René Arnsburg, member of the ver.di Berlin-Brandenburg regional executive committee
Ursel Beck, member of the executive committee of Die Linke Stuttgart-Bad Cannstatt
Marinus Becker, Executive Committee Youth for Socialism
Alexander Brandner, ver.di shop steward, Stuttgart district
Andreas Buderus (co-initiator of SAGT NEIN! Trade unionists against war, militarism and truce)
Christiane Escher, District Executive DIE LINKE Lippe
Sebastian Förster, social worker, ver.di shop steward, works council member, Kassel
Forum Trade Union Left Berlin
Jochen Gester, AK Internationales IG Metall Berlin
Said Basel Ghafouri, Member of the Executive Committee DIE LINKE KV Unna
Zeki Gökhan, climate activist, ex-MdB DIE LINKE, Rhein-Erft district
Jonas Grampp, member of the EVG local youth leadership Berlin and of the overall youth representation of DB Netz AG
Patrick Haas, District Secretary of LINKE.Rhein-Sieg, Siegburg
Georg Heidel, member of ver.di and DGB district association Tempelhof-Schöneberg, Berlin
Marcus Hesse, ver.di member, works council, Aachen
Gundula Hoffmann, ver.di member and tenant activist of the initiative "Stop Heimstaden", Berlin
Suraya Hoffmann, Café Palestine Colonia
Tom Hoffmann, national EC of the Socialist Organisation Solidarity (Sol)
Dorit Hollasky, spokesperson for the ver.di workers' group at the Dresden Municipal Hospital
Steve Hollasky, GEW shop steward, Dresden
Wolfgang Huste, DIE LINKE, member of the Ahrweiler district council
Henry Isbaner, GEW member, Cologne
Maximilian Jacob, District Executive DIE LINKE Lippe
Ursula Jacob-Reisinger, District Spokesperson DIE LINKE Lippe
Jens Jaschik, Executive Committee Youth for Socialism
Youth for Socialism (JfS)
Alev Karatas, shop steward and IGBCE member, Berlin
Wolfram Klein, state spokesperson of the Anti-Capitalist Left (AKL) in Baden-Württemberg
Max Klinkner, Executive Committee Youth for Socialism
Dave Koch, state executive DIE LINKE Rhineland-Palatinate, trade union secretary
Michael Koschitzki, GEW shop steward, Berlin
Jannik Kropf, Executive Committee Youth for Socialism
Uwe Krug, senior citizen representative on the local group executive and GDL employee representative on the supervisory board of S-Bahn Berlin GmbH
Michael Lerch, Chairman of the Works Council Bulten GmbH, IGM member, Unna
Caspar Loettgers, Executive Committee Youth for Socialism
Martin Löber, ver.di shop steward and deputy works council chairman, Cologne
Claus Ludwig, Chairperson of the Works Council HGU Hennef, Cologne
Ariane Müller, intensive care nurse and works council representative at KBM, ver.di member, Bremen
Claudius Naumann, spokesperson for the ver.di works group at the Free University of Berlin
Anne Pötzsch, intensive care nurse, ver.di member and active in the Alliance for Care Dresden
Sebastian Rave, editor of sozialismus.info, Bremen
Frank Redelberger, city councillor for DIE LINKE in Lemgo and member of the LINKE district executive Lippe
Cassy Riebinski, Spokesperson Youth for Socialism Aachen
Soraya Sala, theatre therapist, Wuppertal
David Schlegel, spokesperson Youth for Socialism Aachen
Manuel Schnackertz, member of DIE LINKE, Borken
Eduard Schneider, District Executive DIE LINKE Lippe
Guido Schönian, Member of the Executive Board GEW Cologne, responsible editor of the GEW magazine forum
Dorothea Senz-Ndiaye, District Executive DIE LINKE Lippe
Katja Sonntag, ver.di member, Gütersloh
Sascha Staničić, national spokesperson of the Socialist Organisation Solidarity (Sol) and member of DIE LINKE party
Marie Schulpig, member of the district branch executive FB C, ver.di Berlin
Socialist Alternative (SAV)
Socialist Organisation Solidarity (Sol)
Chiara Stenger, Executive Committee Youth for Socialism
Torsten Sting, ver.di, member of the Maritime Industry Section, Northern District, Rostock
Marc Treude, shop steward, member of the local executive of IGM Aachen
Angelika Teweleit, Spokesperson of the Network for a Militant and Democratic ver.di and Co-Circle of the Network for Militant Trade Unions (VKG)
Peter Vlatten, member of IG Metall and IGM International Working Group, Berlin
Marén Wiese, former ver.di staff councillor, GEW and primary school teacher, Berlin.
أوقفوا الهجوم على غزة
من أجل السلام وتقرير المصير – ضد الاحتلال والقمع والحرب والإرهاب
لا لقمع التضامن مع فلسطين في ألمانيا – الانتقادات لحكومة إسرائيل ليست عداءً للسامية
المناقشة الإعلامية حول تصعيد النزاع في الشرق الأوسط مليئة بالمعايير المزدوجة والنفاق. يُعتبر الانتقاد لسياسة الدولة الإسرائيلية معادياً للسامية ودعماً للهجوم القاتل لحماس على المدنيين في إسرائيل. يعلن السياسيون من الحكومة وحزبي الاتحاد الديمقراطي المسيحي/الاتحاد الاجتماعي المسيحي بوضوح أنه يجب دعم دولة إسرائيل بغض النظر عن ما قد يفعله هذا البلد في قطاع غزة. تُمنع التظاهرات وعرض الرموز الفلسطينية. يتم اتهام الشباب الذين ينتمون إلى الأصل العربي بشكل عام بشكل عشوائي.
يتم تقييد الحقوق الديمقراطية في المدارس. في رسالة إلى مديري المدارس، قالت وزيرة التعليم في برلين، غينتر-فونش (عضو في الاتحاد الديمقراطي المسيحي)، إنه يمكن منع "الرموز والإشارات والتعبيرات التي لم تصل بعد إلى حد الجريمة"، مثل ارتداء حجاب الفلسطينيين أو اللاصقات والملصقات التي تحمل عبارات مثل "فلسطين حرة". يدفع التهميش وحرمان الأطفال والشباب من أصول عربية إياهم نحو يد القوى الإسلامية المتطرفة. في الوقت نفسه، يتم تعزيز الانتقام ضد المهاجرين بين طلاب المدارس الألمان بشكل قانوني عبر السياسات الحكومية. نحن نطالب بسحب هذه التوجيهات وحظرها ووضع خطة مدرسية للتعامل مع النزاع في الشرق الأوسط بمشاركة النقابات التعليمية والمنظمات المهاجرة وجمعيات أولياء الأمور والطلاب.
يخلق الحكام في ألمانيا جوًا يُفترض فيه وجود خيارين فقط: إما حماس الشريرة أو إسرائيل الجيدة. نحن نرفض ذلك! نحن نقدم موقفاً دولياً ضد الحرب والإرهاب، ضد الاحتلال والقمع، من أجل السلام وتقرير المصير في هذه المناقشة. نحن نقف إلى جانب الشعب على كلا الجانبين، الذي يخشون على حياتهم وأمانهم وأحبائهم.
هجوم حماس هو إرهاب ضد المدنيين الذي نرفضه بحزم. ومع ذلك، فإن مناقشة هذا الإرهاب بشكل معزول وغير متصل بالسياق تجاهل بشكل كبير وتجاهل الأسباب الأساسية للحرب في فلسطين/إسرائيل. السبب الأعمق لمثل هذه الأحداث، وحتى لوجود منظمات مثل حماس التي تعتبر عدائية للعمال والنساء، يكمن في الاحتلال الطويل الأمد والقمع للشعب الفلسطيني من قبل دولة إسرائيل، أو الحصار والحصار المفروض على قطاع غزة منذ عام 2006.
تؤدي ردة فعل دولة إسرائيل – العزلة الكاملة لقطاع غزة، والقصف، والهجوم المتوقع من الجيش الإسرائيلي – إلى معاناة لا تنتهي للشعب الفلسطيني، وآلاف القتلى.
نحن نعارض العنصرية ضد اليهود وضد المسلمين وضد الفلسطينيين. نحن نطالب بحرية التعبير وحق التظاهر حتى لمن يعارضون الهجوم وسياسات الاحتلال التي تنتهجها دولة إسرائيل. نحن نقاوم حظر الرموز والمنظمات الفلسطينية. الانتقادات لدولة إسرائيل والحروب والاحتلال وسياسات الاستيطان والقمع ليست عنصرية ولا دعماً لحماس! الذين يدّعون ذلك، يقدمون خدمة سيئة لمحاربة العنصرية عندما يُساوون بين جميع اليهود ودولة إسرائيل وسياستها الحربية والقمعية. نحن نعارض المحاولة الواضحة من الحكومة والمعارضة المدنية لزيادة حدة النقاش حول الهجرة في ظل الأحداث في الشرق الأوسط، وقمع حقوق اللاجئين وحق اللجوء، والحقوق الديمقراطية مثل حق التظاهر وحرية التعبير.
إن الحل لنزاع الشرق الأوسط لا يمكن أن يتحقق إلا من خلال الاعتراف المتبادل بالحقوق الديمقراطية والوطنية لجميع الفئات السكانية. يجب أن يتم وقف الفقر والاستغلال والتمييز. مصالح الإمبريالية الغربية، التي تعتبر دولة إسرائيل نقطة مراقبة لها في الشرق الأوسط، ومصالح الحكومة في إسرائيل والطبقات والنخب الحاكمة في الشرق والشرق الأوسط تحول دون الاعتراف المتبادل بالحقوق الديموقراطية والوطنية لجميع الفئات السكانية.
نحن ندعم جميع الجهود الموجهة نحو الحركات الديمقراطية الشعبية ضد الحروب والاحتلال والقمع والاستغلال، وضمن ذلك بناء منظمات نقابية واشتراكية للعمال والشباب والجماهير الشعبية. يمكن لهذه الحركات، من خلال التعاون المشترك، التغلب على التجزئة الوطنية من الأسفل وتحقيق المصالح المشتركة لجميع الناس البسطاء في المنطقة. يجب أن يحدث ذلك سواء كان ذلك مستقلاً عن الدولة الإسرائيلية، أو السلطة الفلسطينية، أو منظمات مثل حماس التي لا تمثل مصالح الجماهير.
العالم لا يشهد تدهوراً فقط في الشرق الأوسط بل ويدخل في دوامة متسارعة من الحروب وحروب التجارة والأزمات المتعددة. الطبقة العاملة تخسر في كل حرب من هذه الحروب حتى الآن، بغض النظر عن الجانب الذي تدعمه حكوماتهم. لذا فإنها تحتاج إلى موقف طبقي مستقل في هذه الصراعات، يعبر عن المصالح المشتركة للعمال بغض النظر عن جنسيتهم وانتمائهم الديني. الرؤية الخاصة بالسلام وحق تقرير المصير في الشرق الأوسط مرتبطة بشكل لا يتجزأ بالنضال الدولي ضد الإمبريالية والرأسمالية ومن أجل التغيير الديمقراطي الاشتراكي في المجتمع.
الموقعون:
.1د. سامة عبد الله، إيبيرسفالده
أليكساندرا أرنسبورغ، عضو في مجلس فرعي لنقابة العمال الألمانية وفي مجلس نساء نقابة العمال الألمانية برلين-براندنبورغ
رينيه أرنسبورغ، عضو في المجلس الإقليمي لنقابة العمال الألمانية برلين-براندنبورغ
أورسل بيك، عضو في الهيئة الإدارية لحزب اليسار شتوتغارت-باد كانستات
مارينوس بيكر، هيئة إدارية لشباب الاشتراكيين
ألكسندر براندنر، ثقة نقابة العمال الألمانية، منطقة شتوتغارت
أندرياس بوديروس (من المبادرين لقل: قولوا لا! نقابيون ضد الحرب والتسليح وسياسة الهدنة)
كريستيان إيشر، هيئة إدارية لحزب اليسار.
سيباستيان فورستر، عامل اجتماعي، ثقة نقابة العمال الألمانية، مجلس العمال، كاسل
منتدى اليسار النقابي برلين
يوخن جيستر، لجنة الشؤون الدولية لنقابة العمال الدولية IG Metall برلين
سعيد باسل غافوري، عضو في هيئة إدارية لحزب اليسار في كريسفورد أونا
زكي جوكهان، ناشط مناخي، نائب سابق في البرلمان الألماني، راين-إرفت-كرايس
جوناس جرامب، عضو في إدارة شباب النقل الألمانية والهيئة الإدارية لشركة DB Netz AG
باتريك هاس، مدير منطقة حزب اليسار في راين-سيغ، زيغبورغ
جورج هايدل، عضو في نقابة العمال الألمانية واتحاد العمال الألماني، فرع تمبلهوف-شونهايبرغ، برلين
ماركوس هيس، عضو في نقابة العمال الألمانية، مجلس العمال، آخن
غوندولا هوفمان، عضو في نقابة العمال الألمانية وناشطة في مجموعة "قفوا مستوطنة هايمشتادن"، برلين
سورايا هوفمان، كافيه فلسطين كولونيا
توم هوفمان، القيادة الوطنية للمنظمة الاشتراكية للتضامن (سول)
21. دوريت هولاسكي، المتحدثة باسم فرع نقابة العمال الألمانية في مستشفى ديرسدن الحضري
ستيف هولاسكي، ثقة نقابة التربية والتعليم، دريسدن
فولفجانج هوست، حزب اليسار، عضو في مجلس النقابة في آرفيلر
هنري إسبانير، عضو في نقابة التربية والتعليم، كولونيا
ماكسيميليان جاكوب، هيئة إدارية لحزب اليسار، ليبه
أورسولا جاكوب-رايزنجر، المتحدثة باسم الحزب في ليبه
جينس ياسشيك، هيئة إدارية لشباب الاشتراكيين
شباب الاشتراكيين (JfS)
أليف كاراتاش، عضو في مجلس العمال وعضو في النقابة العمالية الكيميائية والتعدينية والإنشائية والكهربائية، برلين
ولفرام كلاين، المتحدث في مجلس الرؤساء الإقليمي لليسار المناهض للرأسمالية (AKL) في بادن فورتمبرغ
ماكس كلينكنر، هيئة إدارية لشباب الاشتراكيين
ديف كوخ، المجلس الإقليمي لحزب اليسار في راينلاند بفالتس، أمين النقابة
مايكل كوشيتسكي، ثقة نقابة التربية والتعليم، برلين
جانيك كروبف، هيئة إدارية لشباب الاشتراكيين
أوفي كروغ، ممثل كبار السن في مجلس الفرع وممثل العمال في اللجنة التنفيذية لنقابة السكك الحديدية الألمانية، برلين
مايكل ليرش، رئيس مجلس العمال في شركة بولتن غمبه، عضو في نقابة العمال الألمانية، أونا
كاسبار لوتغرز، هيئة إدارية لشباب الاشتراكيين
مارتن لوبر، ثقة نقابة العمال الألمانية ونائب رئيس مجلس العمال، كولونيا
كلاوس لودفيغ، رئيس مجلس العمال في شركة HGU هينيف، كولونيا
أريان مولر، ممرضة متخصصة في الرعاية المركزة وعضو في مجلس العمال في KBM، عضو في نقابة العمال الألمانية، بريمن
كلاوديوس ناومان، المتحدث باسم فرع نقابة العمال الألمانية في جامعة برلين الحرة
آن بوتش، ممرضة متخصصة في الرعاية المركزة، عضو في نقابة العمال الألمانية وناشطة في تحالف من أجل الرعاية في دريسدن
سيباستيان ريف، محرر في موقع sozialismus.info، بريمن
فرانك ريدلبرجر، عضو في مجلس المدينة عن حزب اليسار في ليمجو وعضو في مجلس الحزب في ليبه
كاسي ريبينسكي، المتحدثة باسم شباب الاشتراكيين في آخن
سورايا سالا، أخصائية في العلاج بالمسرح، فوبيرتال
ديفيد شليغل، المتحدث باسم شباب الاشتراكيين في آخن
مانويل شناكرتس، عضو في حزب اليسار، بوركن
إدوارد شنايدر، هيئة إدارية لحزب اليسار، ليبه
جويدو شونيان، عضو في مجلس الإدارة التنفيذي لنقابة التربية والتعليم، كولونيا، المحرر المسؤول لمجلة نقابة التربية والتعليم forum
دوروثيا سينز-ندياي، هيئة إدارية لحزب اليسار، ليبه
كاتجا زونتاغ، عضو في نقابة التربية والتعليم الألمانية، جوترسلوه
ساشا ستانيسيتش، الناطق الرسمي للمنظمة الاشتراكية للتضامن (سول) وعضو في حزب اليسار
54.) ماري شولبيغ، عضو في مجلس فرع نقابة العمال الألمانية، برلين
55.) البديل الاشتراكي (SAV)
56.) المنظمة الاشتراكية للتضامن (سول)
كيارا شتنغر، هيئة إدارية لشباب الاشتراكيين
تورستن شتينج، نقابة التربية والتعليم الألمانية، عضو في مجموعة العمل البحرية، الإقليم الشمالي، روستوك
مارك ترويد، رئيس مجلس العمال، عضو في المجلس المحلي لنقابة العمال الألمانية، آخن
أنجليكا تيفيليت، المتحدثة باسم الشبكة من أجل نقابة فعالة وديمقراطية، برلين
بيتر فلاتن، عضو في نقابة التربية والتعليم الألمانية والمجموعة الدولية للعمل الخيري للأمنيات، برلين
62 مارين فيس، عضو سابق في مجلس الشؤون الإدارية لنقابة العمال الألمانية، ومدرسة ابتدائية وعضو في نقابة التربية والتعليم، برلين
جميع المعلومات حول الانتماءات والمناصب مقدمة فقط لتوضيح الاشخاص.
للتواصل والمزيد من التوقيعات:  aufrufstopptangriffaufgaza@gmail.com