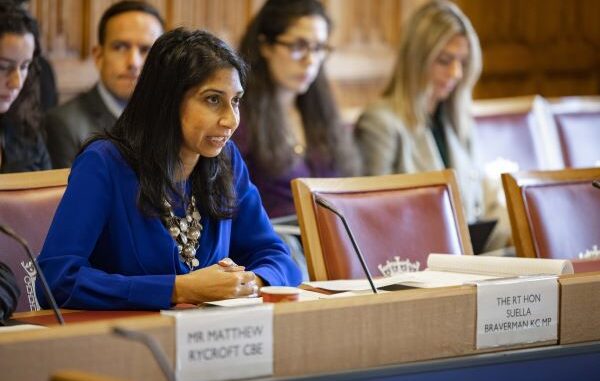 'Cruella' Braverman is out! The anti-war movement – whose demonstrations she tried and failed to ban – has scored a victory! She has been ditched as Tory Home Secretary just 13 months after having been forced to resign from the same post the first time around! Numerous capitalist commentators insist she had been trying to get sacked. She did at least do all she could to avoid her own personal brand being associated with the still deeply unpopular Rishi Sunak.
In Sunak, Britain's capitalist class hoped it had found at least a period of short-term stability. It was very short-term. Sunak made it to office, without a vote of even his own party members, by packing his cabinet with figures from a myriad of party factions, but in doing so he packed it full of explosive matter. As the prospect of an electoral landslide wiping out huge numbers of Tory MPs gets closer, things just get more volatile. The general election has to happen before January 2025, the latest explosion makes it more likely to be sooner rather than later.
There will be further volatility with the decision of whether the cruel policy of sending asylum seekers to Rwanda is legal pending for 15 November. Pre-election spending plans in the 22 November Autumn Statement will be another major point of conflict.
The Tories are 24% behind Labour in the polls. A summer of ramping up rhetoric about migrant barges and asylum seeker hotels didn't help. Neither did the autumn anti-green measures assault. Each 'populist' move proved to be a polling flop.
But for Braverman and others, the objective might not be winning popular support, but shoring up a base of support in a shrinking layer of Conservative Party activists – preparing for life after a general election defeat and post-Sunak.
In his October Conservative Party conference speech, Sunak pledged to break from "30 years of political consensus", scrapping HS2 as "the ultimate example of the old consensus". The man who announced the project as prime minister in 2013, David Cameron, said it was "the wrong decision". Now Sunak has offered him a life peerage to sit in the cabinet as unelected foreign secretary!
The man seen as responsible for the capitalists' nightmare of Brexit, who was forced to resign and has had practically no political role since, is now supposed to be the 'adult in the room'. No doubt though, much of the capitalist class will hope that Cameron's appointment will be a step back towards the Tories reliably representing their best interests.
However, the latest fallout from explosions in Sunak's volatile cabinet is definitely not what the majority of the capitalist class wants. Overwhelmingly they want stability, economically and politically – something that capitalism in crisis is incapable of providing.
The sharpest expression of this internationally is the devastation being inflicted on Palestinians. And importantly, from the capitalists' point of view, the popular mass protests in response that threaten to develop into regime-threatening mass movements in the Middle East.
"Hate marches"
Braverman's branding of the protests in Britain as "hate marches" was totally inaccurate and deliberately provocative. But from the capitalists' point of view the red line crossed was bringing into question the 'neutrality' of the Metropolitan Police, accusing it in the Times of being biased towards pro-Palestinian protesters.
This further undermined state institutions, at a time when the Met is already facing a crisis of public confidence and labelled institutionally racist and sexist.
Her appeal for help to defend the Cenotaph (that was never under threat) on 11 November, was the last thing the Met wanted. In the end a few hundred far-right hooligans fought with police, declaring 'Braverman told us to be here'.
Meanwhile a peaceful protest of hundreds of thousands marched. Its sheer scale was the central factor in Braverman's sacking.
Had it been officially 'cancelled', it would inevitably still have taken place in defiance. The government and police would have been shown to be incapable of stopping it.
The Tories walk a similarly dangerous tightrope in progressing the new Strikes (Minimum Service Levels) Act, threatening to try to impose MSLs on pre-Christmas strikes. Again, no doubt many employers will want to avoid risking re-escalating tensions with the unions. And more strategic capitalist thinkers will correctly fear workers' defiance of such laws and the movement that could develop in defence of trade unionists or unions facing penalty.
A special Trades Union Congress has been arranged in London for 9 December. The National Shop Stewards Network will lobby it demanding the Congress makes serious preparations for "100% solidarity with any trade unions attacked under these MSL laws" and to "build an appropriate industrial response to defend workers' right to strike", as agreed at the September Congress.
Mick Lynch, RMT general secretary says: "We believe employers have the discretion not to issue minimum service work notices and as such we are calling on them not to issue them. Any employer that seeks to issue a work notice will find themselves in a further dispute with my union". Demands should be made on all Labour employers, including Sadiq Khan-led Transport for London, to pledge now that they will not issue work notices.
The majority of the capitalist class has long drawn the conclusion that it would prefer a Labour government led by Starmer to the current Tory soap opera. Since the beginning of Starmer's leadership he has done all he can to try to prove that a government led by him would be able to withstand the huge working-class pressure that it will come under, presiding over continued economic hardship for working- and middle-class people. The British economy remains stagnant, as it has been for over a year. That is unlikely to get better by the time Starmer takes office and could get substantially worse with a global recession on the cards.
By pegging his position on the Israeli onslaught on Gaza to that of US imperialism, Starmer is again performing the same act of obedience to the interests of the large capitalists.
The Labour rebellion and resignations over a ceasefire don't look likely to seriously threaten the chances of a Starmer-led government. But it has provoked thousands to consider what steps need to be taken towards developing a political alternative.
The organisations with the most authority to take steps towards a mass working-class political alternative are the trade unions, which have led the fight against the Tories during the more-than-a-year-long strike wave. Socialist Party members in those unions are fighting for them to take steps towards a new party by backing a list of workers' candidates for the general election.
But preparations for a general election stand need to begin now. The Trade Unionist and Socialist Coalition, which the Socialist Party participates in, has written to other left-wing and campaigning organisations inviting them to co-host a convention in the new year to make such preparations.
The political divisions at the top of the Tory party are a symptom of the depth of the crisis facing British capitalism. A future Labour government – overseeing a further eroding of working-class living standards, and the working-class movement that will develop in response – will also be beset by crises. Fighting for the steps towards mass working-class political representation now is vital preparation for those events. So too is winning working-class and young people behind the socialist programme needed to bring an end to crisis-ridden capitalism.