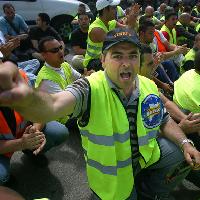 ¡No a una estrategia derrotista!
Hoy en el estado Español, se celebran una huelga general, convocada por sindicatos nacionalistas en el Pais Vasco, y por sindicatos minoritarios en las regiones de Galicia, Catalunya, y Navarra. Publicamos el texto de un panfleto de Socialismo Revolucionario (CIT en el Estado Español) que los compañeros del CIT van a utilizar en nuestra intervención, exigiendo una huelga general en TODO del Estado Español.
Mundosocialista.net
¡¡¡CON NUESTRA JUBILACIÓN NO SE NEGOCIA!!!
El gobierno de Zapatero no se atrevió, al estallar la crisis económica, a presentar un programa económico alternativo a las viejas recetas del capitalismo liberal. Desde 2009 ha actuado de forma coherente con ese miserable plan. Con una mano ha asegurado los beneficios de la banca y las constructoras españolas, responsables de la crisis, repartiendo cientos de miles de millones en ayudas públicas. Con la otra ha ido reduciendo los derechos de los trabajadores y dinamitando los pilares del Estado social. Con la entrada de 2011 nada va a cambiar: al tiempo que se quiere recortar ampliamente el derecho a la jubilación se está preparando una nueva inyección de 20.000 millones de Euros a las cajas de ahorro, previa a su completa privatización.
No nos podemos dejar engañar. En el Estado español el paro alcanza el 20% y la temporalidad se acerca al 50%. En un momento en el que el sistema capitalista es incapaz de asegurar a la mayor parte de la población un empleo digno y regular, es despreciable que se exija a los trabajadores cotizar durante 41 años y jubilarse a los 67. La reforma de las pensiones busca condenar a la miseria a cientos de miles de trabajadores, que cuando finalmente se jubilen no podrán cumplir ninguna de estas condiciones y verán convertidas sus cotizaciones en una mísera limosna.
Toxo y Mendez, lideres del UGT y CCOO – "negociando" una derrota
No a una estrategia derrotista
La estrategia seguida por la dirección de UGT y CCOO no ha sido la adecuada. Con mucho retraso convocaron a la huelga general. Ahora, se empecinan en una negociación perdida de antemano. Las concentraciones simbólicas en los centros de trabajo, reducidas a los delegados sindicales, y las manifestaciones vacías de contenido político no sirven en este momento. Cuando la clase trabajadora al completo es atacada a un nivel sin precedentes, los sindicatos deberían cumplir más que nunca con su responsabilidad histórica: informar y movilizar a una clase a merced de los medios de comunicación del capital. Urge construir un movimiento sostenible y masivo por parte de los trabajadores, que obligue a dimitir al gobierno y tumbe con él la reforma laboral y los demás chantajes a los que nos quieren someter la patronal y la banca.
Luchando podemos ganar
Para ganar debemos exigir a las organizaciones obreras que enfrenten con coherencia el contexto económico actual: dentro de un sistema capitalista que enfrenta a los pueblos en una feroz competencia global, la única salida a la crisis pasa por el retroceso a la Edad Media en derechos laborales. Debemos prepararnos ahora para sentar las bases de un sistema socialista en el que el trabajo y las rentas se repartan con justicia. ¡No hay margen para negociar! Para ganar hay que luchar. Para presionar a las direcciones sindicales y articular un verdadero movimiento democrático, debemos constituir comités de acción permanentes en los centros de trabajo, coordinados para articular las reivindicaciones de los distintos colectivos en lucha. ¡Queremos otra huelga general!
Exigimos:
-la retirada de la reforma de las pensiones. No a la extensión de la edad de jubilación. La crisis que la paguen sus culpables, ricos especuladores y banqueros.
-¡Rechazar todo diálogo social!
¡Por un movimiento de masas, democrático y dispuesto a luchar hasta el final!
¡Por una nueva huelga general en todo el Estado español! Continuamos a luchar hasta parar la ofensiva del gobierno y los capitalistas!
-¡Por la extensión de la huelga general a todo el continente europeo! ¡Luchemos juntos 24 horas contra el mismo enemigo, los gobiernos capitalistas y sus mercados! ¡Por una Europa socialista!
-La nacionalización de los bancos y el sector financiero. ¡Que se sometan al control democrático del pueblo y a la dirección de los trabajadores organizados!
-Por un auténtico sistema económico socialista, que produzca para satisfacer las necesidades de todos y no los beneficios de unos pocos. Por un gobierno democrático de los trabajadores
Special financial appeal to all readers of socialistworld.net

Support building alternative socialist media

---

Socialistworld.net provides a unique analysis and perspective of world events. Socialistworld.net also plays a crucial role in building the struggle for socialism across all continents. Capitalism has failed! Assist us to build the fight-back and prepare for the stormy period of class struggles ahead. Please make a donation to help us reach more readers and to widen our socialist campaigning work across the world.

Donate via Paypal

CWI- Please inform us if you are reproducing any material from this site.