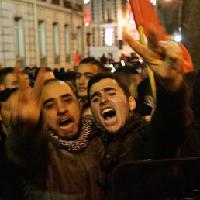 Founders of new activists' party detained
Below we publish extracts from two articles on the situation in Saudi Arabia, which could be standing on the verge of a new protest movement inspired by the revolutionary events underway in North Africa and the Middle East. The threat of the spreading of this phenomenon to Saudi Arabia fills the capitalists and imperialists of the region and the world (in the US in particular) with a well justified fear. A mass movement of Saudi workers and poor against the country's repressive dictatorial monarchy and ruling elite for democratic rights and a solution to the country's social crisis, with mass unemployment and poverty, would shake capitalism and imperialism. More news and analysis to follow.
Socialistworld.net
The strong winds of change that are blowing throughout the Middle East have finally come to the Saudi Arabia. In last few weeks, some small demonstrations have taken place in different cities. Although, these demonstrations were small but none the less are beginning of an important development in this key Gulf country. It might take more time before the eruption of a mass movement of unemployed youth, layers of public sector workers and middle class people including doctors, engineers, lawyers and professors. It is just the beginning of a long process but an important one.
In many ways, Saudi Arabia has by far the most serious problems of all the Gulf States – a large, youthful and sometimes restive population, chafing under the rule of an aging leadership. There is mass unemployment and corruption, no political rights and few personal freedoms. There has even been unrest in areas such as Najran and the oil-rich Eastern Province, where the minority Shia population is concentrated.
A Saudi "Day of Rage" has been called for 11 March. Just weeks ago, analysts would have said there was no chance of protests, but now there does seem to be the potential for scenes of protest and violence.
Saudi Arabia, a top oil exporter and close U.S. ally is an absolute monarchy that does not tolerate any form of public dissent, does not have an elected parliament or any political parties.
In the town of Safwa, in the eastern region of the kingdom, a march of dozens of Saudis was held. They demanded the release of political prisoners detained without trial since 1996 on suspicion of involvement in the bombing of U.S. barracks in Khobar.
The march urged Saudi authorities to release the nine prisoners. In the city of Qatif, a protest march was held. It was the second of its kind in less than 24 hours, involving about 200 youths. The participants chanted slogans "No Sunni-Shiite .. We all call for freedom."
About 60 women staged a rare demonstration in the Saudi capital Riyadh on Saturday, demanding the release of prisoners held without trial as part of efforts to fight Al Qaeda insurgents, activists said.
Saudi legal authorities released 52 women yesterday who were arrested after protesting in front of the Interior Ministry, reports the Al Quds Al Arabi daily newspaper. The women were released after a meeting between Prince Naif ben Abdelaziz, the Interior Minister, and the relatives of the detainees, who had to promise not to repeat their actions. Amnesty International and other human rights activists have accused Saudi Arabia of having detained thousands of reform activists in its sweep against Al Qaeda, which staged a campaign inside the kingdom from 2003-06.
Nearly 300 people protested in Port city Jeddah against the local authorities for providing poor services. This protest came after the worst flooding in the city in which many buildings, houses and shops were inundated in floodwaters which caused widespread destruction. The police attacked the protest and arrested many people.
Saudi Shi'ites have held a small protest in the kingdom's oil-producing eastern province, close to Gulf Arab neighbor Bahrain, where unrest has cost six lives, local Shi'ite sources said on Saturday.
They said a group of Shi'ites staged a protest on Thursday in the town of Awwamiya, near the Saudi Shi'ite center of Qatif on the Gulf coast, to demand the release of fellow Shi'ites held in prison without trial. Saudi authorities on Sunday released three Shiite detainees who spent more than a year in jail without trial because of their involvement in a popular sit-in in Qatif province in 2009.
The Saudi Arabian regime fears the possible effects of the bloody protests against the royal family in neighboring Bahrain. It fears that unrest in Bahrain, where majority Shi'ites are protesting against the Sunni government, might spread to its Shi'ite minority who mostly live in the eastern province, the source of Saudi oil wealth.
Saudi Arabia applies an austere Wahhabi version of Sunni Islam and minority Shi'ites say that, while their situation has improved under reforms launched by King Abdullah, they still face restrictions in landing senior government jobs.
Awwamiya, a town visibly less affluent than the rest of the country, was the scene of protests for weeks in 2009 after police launched a search for firebrand Shi'ite preacher, Nimr al-Nimr, who breached a taboo, suggesting in a sermon that Shi'ites could one day seek their own separate state.
The threat, which analysts say was unprecedented since the 1979 Irarian revolution provoked anti-Saudi protests, followed clashes between the Sunni religious police and Shi'ite pilgrims near the tomb of Prophet Mohammad in the holy city of Medina. Since then Saudi Shi'ites say the situation has calmed down but they are still waiting for many promised reform to be carried out. Officials say Shi'ites make up 10% of the Saudi population, though some put it closer to 15%.
Founders of new political party arrested
Saudi authorities have also detained several activists who tried to set up the kingdom's first political party, human rights activists said on Saturday.
Saudi Islamists and opposition activists this month launched a political party called the "Islamic Umma" in a rare challenge to authority, inspired by mass struggles triggering regime change in Tunisia and Egypt.
This party seems to be dominated by moderate Islamists, who oppose both the religious clergy and al-Qaeda ideology and call for the reforms in the country. At this stage, only existing activists are members of this party and some of them have been campaigning for several years for greater political freedom in Saudi Arabia. These activists are well known in Saudi Arabia and widely respected for their struggle.
"Saudi suppression of political activity is as swift as it is total," Christoph Wilcke, senior Middle East researcher at Human Rights Watch, said in a statement.
"At a time when people throughout the Arab world are out on the street seeking greater freedom, the Saudi secret police seem determined to nip any similar demands in the bud."
The new party had called on its website for the holding of elections, more transparency of government decisions and an independent judiciary.
There have been previous attempts to form parties but the group was the first to announce it publicly, analysts said. Its members include Islamist intellectuals, lecturers, human rights activists and lawyers.
More than 70 Saudi academics, headed by Sheikh Dr. Nasser al-Omar, have forwarded a letter to Saudi King Abdullah bin Abdul Aziz, demanding reforms, including the firing of "opportunists" and corrupt officials, putting an end to public money wasting and placing government contracts and transactions under public supervision.
The letter also demands that the regime "take urgent action to mitigate the effects of unemployment among young people." The signatories also called in their statement for " adequate support to individuals and families living below the poverty line." In addition, they advocated in their statement to open the doors to free print media, radio and television. The statement also called for the Shiite minority to be treated in a fair way.
Another group of some 120 Saudi academics, activists and businessmen have called for major reforms including the establishment of a "constitutional monarchy" in the kingdom, in a statement posted on the Internet on Sunday. "We will submit these requests to King Abdullah at a later stage," said Khaled al-Dakhil, a political science professor at the King Saud University.
The petition posted on the Internet calls for the election rather than appointment of a Shura consultative council, and the creation of a constitutional monarchy. It also calls for expanded participation of women in social and political life in the kingdom.
In a sign of rising discontent, a group of Saudi web activists also launched an online campaign calling for political reform. The Saudi campaign, which was launched on Facebook on 29 January and has 364 members so far, called for a constitutional monarchy, an end to corruption, an even distribution of wealth, and a serious solution to unemployment, among other demands. It claims to fight for "Those who are unemployed, who demand better work conditions and better civil rights."
Activists in Egypt have used the social media websites to rally supporters online and coordinate protests. Saudi Arabia does not allow public dissent. Last month, police detained dozens in the port city of Jeddah after they protested against poor infrastructure following deadly floods.
Among other demands, the Facebook page calls for:
Automobile factories to be opened in every major area and industrial training for young people.
Open factories in every area and provide better training in the world of technology, programming and maintenance
An increase in minimum wage to 6,000 Rials (1700 US dollars) and more employment for young people.
Open more schools
Eection of the Shura Council
An independent judiciary
An electoral district governor of the people
The Facebook page also notes that there are unemployed people in every home in Saudi Arabia and 76% of the population does not have affordable housing.
These demands clearly show the level of the consciousness of the activists and especially of young educated people. At this stage, the demands are of the democratic nature and more focused on reforms within the system. But as the movement will spread and masses will come into action than more radical demands will come out.
The CWI supports the fight for democratic rights, linked to a struggle to break the power of the national and international capitalists and imperialists, whose exploitation and domination of Saudi Arabia and the Middle East forms the basis for the political repression and economic misery which the people face. Only on the basis of democratic ownership and control of the country and region's rich resources and wealth by workers and the poor in a socialist society can a viable solution be found.
It is just the beginning and there is potential for a broader movement of the youth and political activists to develop in coming days. Such a movement, with the Saudi working class and poor at its head, would rock the country's rotten regime and capitalism and imperialism throughout the region.