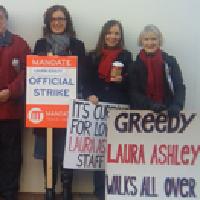 Unprecedented cuts, North and South, hit women
In the North and South of Ireland, horrific and unprecedented public sector cuts and attacks on jobs and pay – including a one euro reduction in the minimum wage in the south – are particularly affecting women workers and women who rely on public services. In this context, the Laura Ashley workers have been an inspiring example of women fighting back.
Laura Waters: "I have been on strike with fifteen of my colleagues – predominantly female – for just over three months. I worked in Laura Ashley's flagship store in Grafton Street, Dublin, for eight years. In October last year, following an offer on the lease from the Disney Group, we were told our store would be closing.
Two weeks prior to the closure we were promised all our jobs were safe and we would be relocated to a new store. This never materialised and, even when Laura Ashley was put under pressure to redeploy staff to other stores, they offered just 6 positions to 22 workers. Most of us worked full time and the most generous offer was a 16 hour contract on the lowest rate of pay. No 'like for like' jobs were offered and Laura Ashley had the audacity to offer these jobs on condition that would have to be re-interviewed for them.
This left 22 workers facing compulsory redundancy, with Laura Ashley only offering statutory redundancy pay, 60% of which they will claim back from the Irish Government. This is despite the fact that Laura Ashley are about to announce profits in excess of €21 million for last year. We also believe they received in the region of €900,000 key money for selling the lease of our store on to Disney.
This left us no option but to instigate strike action as we could not allow a greedy, profitable company like Laura Ashley to walk all over us. We felt we had to fight back, not just for ourselves, but for all workers who are facing this kind of treatment.
During our 15 weeks on strike, it became apparent that the trade union leadership were not representative of ordinary working people like ourselves. They failed at every opportunity to bring our struggle to a resolution, while their inaction has done nothing but prolong this dispute. The union leadership are totally detached from the real struggle that faces its members on the ground. For example our strike pay is €40 per week. I would challenge any trade union official to live on €40 per week. This barely covers the cost of travelling to and from our picket, let alone contribute towards the cost of people's mortgages and bills.
Being involved in this struggle I have become aware of the broader crisis, not only in the trade union movement, but within our government and society as a whole. As it stands, ordinary working people are not represented by our government.
We can see this in their willingness to introduce austerity measures that are decimating the lives of working class people. While the bankers and the speculators that caused this recession receive massive bailouts, ordinary working class people are left to struggle with these cutbacks.
Why should we continue to pay for the economic crisis? Why should ordinary workers face the disastrous consequences of the austerity measures? Why should we bear the burden of the mistakes of the wealthy elite?
We shouldn't have to, and this is why I decided to become a member of the Socialist Party (CWI Ireland). I believe there is a real, viable alternative to the current system. I believe in an economy planned for the interest of working people as opposed to the poverty and inequality that capitalism creates. We, the working class, are the majority and if we stand together we can make a real difference and become a force to change the society we live in."