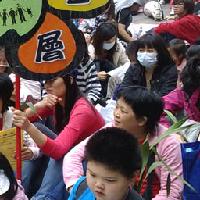 "Biggest political crisis since 2003"
Despite a humiliating u-turn by Hong Kong's unelected government, one week after presenting its most unpopular budget in a decade, popular sentiment against the government is hardening. When the government backtracked last week from its original February 23 budget, this had not happened since the early 1990s under British rule. But if the government thought that was the end of the matter, they were in for a rude awakening.
Sunday 6 March saw a big protest march with as many as 10,000 people taking part in several demonstrations. The police, whose conservative arithmetic is legendary, said 6,300 joined the main march to Government House in the afternoon. Earlier in the day there were smaller protests drawing several hundreds of participants including by mainland Chinese immigrants who were excluded from the government's HK$6,000 (around US$771) "handout" despite being among the most hard-pressed economically.
"Bauhinia revolution"
Commentators have dubbed the anti-budget protest movement the "Bauhinia revolution" in reference to the "Jasmine Revolution" that internet activists are speculating may kick-off in China, influenced by the mass revolts against dictatorial regimes in the Middle East.
The budget has been blasted for ignoring the growing numbers – one in five – who live in poverty in Asia's second richest city. The housing crisis, with most young people having no chance of affording their own place to live, is also an explosive issue.
"It seems the city is no longer habitable for poor people. It's only a paradise for the rich," said one demonstrator.
"The government tried to win some popularity by giving out HK$6,000 to citizens, but this is our money in the first place," explained Momo Wong, a member of LSD. "But they've done nothing to create job opportunities or ways for us to earn a decent living," she added.
Mainland Chinese 'new arrivals' protest outside Legco in Hong Kong against 2011 budget
Cash handouts
The decision to dole out HK$6,000 to all permanent residents over 18-years of age was taken last week by Finance Secretary John Tsang Chun-wah, in a desperate retreat from his original plan, which proposed to deposit a similar sum in the semi-privatised retirement scheme, the Mandatory Provident Fund. The MPF is widely criticized. It provides very little for the lowest-income groups and does not cover everybody, for example non-salaried married women. Worst of all, the government gave the banks control and allowed them to milk the scheme for their own profits. The MPF proposal threatened to be the focus for anti-budget mood so Tsang dropped it, opting for cash handouts instead.
But this desperate bid to save his budget and avert a political crisis has backfired. The government miscalculated that the cash handouts would be welcomed. Instead, many have seen through this cynical manoeuvre. There is real anger that huge outstanding problems are not addressed in the budget despite the government enjoying an "embarrassment of riches" with yet another annual budget surplus, this time of over HK$71 billion for 2011-12. Rather than transparent attempts to win popularity, the vast majority wants to see more done about Hong Kong's worsening poverty, under-funded public services, massively overpriced housing and the lack of decent jobs for young people. Inflation, expected to hit 4.5 percent this year, is a big concern, especially for food prices, which have risen more steeply.
The demonstrations on Sunday brought together a wide cross-section of society. Realizing its u-turn was not enough, the government senses it is already in, or close to, a full-blown crisis. There is speculation of new "concessions" and extending the cash handouts to as yet excluded groups. This is "the biggest political crisis for the government since the July 1 march in 2003," remarked political commentator Albert Cheng (South China Morning Post, 5 March) in a reference to the mass protests that toppled former Chief Executive Tung Chee-hwa.
Weeks of pressure for government
The stench of panic around the Finance Secretary is palpable. Calls for Tsang's resignation is growing and there are several weeks to go before the crucial budget vote that could – although this is unlikely – see the government voted down in the Legco. This would be a symbolic but politically very serious defeat for the administration one year before "elections" (Hong Kong's government is not elected by its population).
Police arrested 113 protesters who staged a sit-in and blocked roads in the central financial district. The heavy-handed police measures have sparked enormous debate and are probably linked to the ongoing meeting of the National People's Congress in Beijing. Hong Kong's leaders including Chief Executive Donald Tsang are attending that meeting, and customarily come under pressure to show they can take a firm line with dissenters. Pepper spray was used by Hong Kong police, under newly appointed hardliner Tsang Wai Hung, against groups of protesters including an eight-year-old boy, who was taken to hospital. Among those arrested were two boys aged 12 and 13.
Socialist Action (CWI supporters in Hong Kong) joined Sunday's anti-budget demonstrations (six altogether). We sold out of the new issue of our magazine with a back cover against the budget.
For a more detailed budget analysis read Hong Kong budget triggers unprecedented revolt