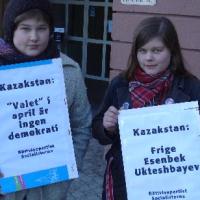 Lively pickets in Berlin and Stockholm
Protest messages to the Kazakhstan authorities over the arrest and jailing of 'Kasakhstan 2012' opposition activist, Esen Ukteshbayev, are being sent from all around the world. In addition, protest actions have been organised. Below are reports of two public lobbies held yesterday in Berlin and Stockholm.
Berlin
A picket was held outside the embassy of Kazakhstan in Berlin, Germany, on 30 March, protesting against the jailing of well known opposition activist, Esen Ukteshbayev. Our banner called freedom for all political prisoners in Kazakhstan and supported solidarity with trade union activists and socialists in Kazakhstan. After speeches in support of Esen and the opposition's campaign for a boycott of forthcoming presidential 'elections'.
Officials at the embassy were angry because people passing by were informed by us about the true character of the Kazakhstan regime. We demanded to talk to the ambassador Nurlan Onzhanov. We were told that he is not in Berlin currently. A representative came out of the embassy building to speak to us. We forcefully explained the reasons for our protest and gave him a protest letter. We also mentioned the role of the 'Kasakhstan 2012' opposition. Not surprisingly, he attempted to reply that we are liars and that we should visit Kazakhstan before making criticisms against the regime. We countered this and made clear that activists in Kazakhstan fully informed us about the situation. We pledged to follow closely events in Kazakhstan and to continue with protest actions, if necessary.
Stockholm
The coming presidential 'elections' in Kazakhstan, in April, are completely undemocratic. This was the main message from a protest outside the Foreign office of the Swedish government, on Wednesday 30 March.
The demands of the protesters were for the immediate release of Esenbek Ukteshbayev and for an end of the Kazakhstan authorities' harassment of activists.
There is no Kazakh embassy or consulate in Sweden, so a letter of protest was given in to the Swedish Foreign Minister, Carl Bildt. The protest has to be officially registered. We await a reply. The letter of protest also highlighted the demands of the opposition movement in Kazakhstan, for a boycott of the 'elections', nationalisation of the main industries under democratic public ownership and management, and for a democratic socialist Kazakhstan.
Our protest picked up interest from all quarters, including a man from a Russian television team who helped the protesters take photographs.