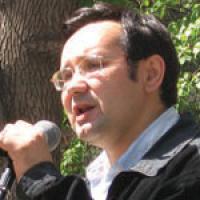 Hundreds sign protest condemning Nazarbayev dictatorship and demanding democratic rights
A filmed message from Ainur Kurmanov, one of the leaders of the Socialist Movement Kazakhstan, was shown at the final rally of the 'Socialism 2011' weekend organised by the Socialist Party (England and Wales) on 5 and 6 November.
Ainur underlined the extent to which the Nazarbayev regime is prepared to go to try and crush all opposition to his dictatorship and conveyed the determination of those fighting against it, as well as expressing the appreciation of opposition activists for the support expressed world-wide for their struggle.
A petition condemning the police state of Kazakhstan was signed by hundreds attending Socialism 2011 and approved unanimously by the rally after Ainur's moving address. The petition demanded the release of Natalya Sokolova and an end to the harassment of workers' leaders like Ainur and Esenbek Ukteshbayev. It also supported the demands for basic democratic rights, including the right to protest, to strike and to join trade unions. It endorsed the call of the Socialist Movement for the renationalisation of Kazakhstan's oil and other major industries under democratic workers' control and management.
A leaflet in the name of Campaign Kazakhstan was distributed to everyone attending the thousand-strong rally on the Saturday evening. It outlined the kinds of protests that have been taking place internationally against big business and political links with the regime. It called for further protests about the vicious attacks on striking oil-workers and their representatives and also announced the launching of a new web-site this week at www.CampaignKazakhstan.org