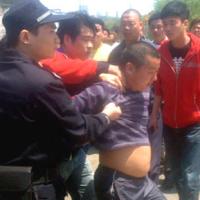 Blockade at world's biggest container port • Mass arrests and police repression
Up to two thousand truck drivers have staged a three-day strike over rising fuel prices and cargo fees at the world's busiest port in Shanghai. The drivers set up a blockade in the Pudong district of the city on 20 April, a particularly daring action in the midst of a state crackdown driven by the Chinese regime's fears that a Middle Eastern-style popular uprising could develop out of smaller localised protests.
The drivers are in angry mood following several fuel price rises in recent months. About 2,000 truck drivers battled baton-wielding police at a road intersection near the port, reported Reuters, quoting two drivers who were at the protest. Strikers reportedly smashed the windows of trucks belonging to non-strikers on Wednesday, the first day of their action.
There were reports of several arrests and of strikers being beaten by police. Amid signs the strike action has already affected exports from the giant port, there are indications police will step up repression in a bid to end the strike. An AFP report, Friday 22 April, quoted a witness saying, "It's chaotic here now. Policemen are coming with police cars … they tried to disperse the people."
Long delays to port as a result of the blockade by truck drivers
Rising fuel prices and fees
The drivers, mostly private contractors, say their incomes have been squeezed by four increases in the government-set price of diesel since October. They are also protesting against the high handling fees charged by private logistics companies at the port. Drivers accuse the firms of price-fixing and complain bitterly that these increases undermine their possibilities to make a living. The most recent fuel price increase of 5.5 percent came two weeks ago, and this seems to have been the 'final straw' for the drivers. The government said the increases in diesel and gasoline prices – lifting them to a record high – were due to rising global crude oil prices as a result of uncertainty in the Middle East.
"The market is just a mess now," one driver told Reuters. "We cannot make any money anymore," said another.
Rumours have circulated to the effect that negotiations have been initiated but at this stage this appears not to be the case. "We are continuing our strike," a 38-year-old truck driver surnamed Liu told Reuters. "There has been no response from the government or anybody else. There's nothing we can do."
On Thursday it was reported that 500 truck drivers headed to another Shanghai port, Yangshan, to spread the protest. State-controlled media has typically refused to report on the strike fearing such protests could spread to other sectors. A handful of online news sites that carried reports had deleted them after a short time, under orders from the propaganda office. Global Times – a government mouthpiece published in English for foreigners – did report the strike, quoting a denial from Shanghai police of claims on the Internet that three drivers had been beaten to death by police.
Police repression against striking workers
Possible effects – economic and political
The strike has already demonstrated the potential power of united action by workers, despite the difficulties this poses in a repressive police state like China. An executive based at the port told Reuters on Friday that the strike action was already having an effect on exports.
"The strike has delayed exports and many ships cannot take on a full load before leaving," said Wei Yujun, of China Star Distribution Center (Shanghai) Co.
"For example, if one ship carries 5,000 containers en route to Hong Kong and the US, now they can only carry 1,000 or 2,000 containers," Wei added.
Shanghai overtook Singapore last year to become the world's largest container port by volume. The publicly listed Shanghai International Port (Group) Co Ltd is 44.23 percent owned by the Shanghai Municipal Government.
China's rulers are intensely nervous about public unrest over rising prices, particularly following recent events in the Arab world. The consumer price index rose 5.4 percent year-on-year in March, which is the fastest pace for almost three years and well above the government's 2011 target of 4 percent.
This is the second incident of large-scale unrest in Shanghai in a week. Last week saw a tense standoff between around 4,000 angry youth and police in the suburb of Jiuting. This shows the rising discontent – over price rises, unaffordable housing, aggressive policing and corrupt officials – even in China's richest city.
As the New York Times commented, the Shanghai strike "also suggests that tensions are growing in China over the gulf between the nation's tiny elite and its poor majority. Incomes are rising, but inflation is squeezing families and small business people like self-employed truckers, while profits at major state-owned companies are higher than ever."
Taxi strikes 2008
There are similarities with this strike and the taxi drivers' strike that erupted in the western city of Chongqing in 2008. That also centred on private contract drivers, although in reality these 'independent' operators – following the privatization of much local urban transportation – are virtually slaves of the big taxi companies and a harsh regime of licensing fees, which means most of their daily fare income is passed on to the bosses. The Chongqing strike triggered a wave of copycat strikes by taxi drivers and even bus drivers in over a dozen cities across China including Shanghai and Guangzhou.
Clearly, the authorities fear something similar may happen in this case. Shanghai media said Friday that car-rental fees paid by the city's taxi drivers to taxi companies would be reduced starting May 1, in an apparent bid to keep the protests from spreading. Shanghai taxi drivers will pay their companies 8,200 yuan (US$1,262) each month, a reduction of 300 yuan, the Shanghai Daily reported.
The central government is also wary of a new wave of industrial strikes like those that shook the country's export industry one year ago. Yet as many commentators point out, there is quite a high likelihood of more strikes this year.
"Workers have still not won the right to set up independent unions and this was the main demand of last year's strikes in the motor industry," said Chen Lizhi of chinaworker.info. "Now, price increases are cancelling out a large part of the wage rises that some workers have won in recent times. Food price inflation is officially 11.7 percent, and this alongside the rising fuel cost is what hits workers hardest, so a new outbreak of industrial unrest is only a question of time," he said.