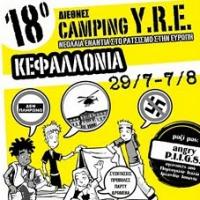 18th annual Youth Against Racism in Europe (YRE) Greek camp
An international youth camp on the Greek island of Kefallonia, held from 29 July to 7 August, will bring together activists from Tunisia, Spain and Italy and other countries and from all over Greece to discuss how to organise a European-wide and international fight-back for "real democracy" against the dictatorship of the market.
Discussions will take place at the campsite at 12 noon and at 8pm, with free participation.
Sessions are planned for
Uprising in North Africa and the Middle East
What is our program against the economic crisis?
Workers' struggles: conclusions and perspectives
The movement of the 'Indignants'
Cyprus: the Turkish/Cypriots struggles
Racism- Fascism
The rise of the far right in Europe
'Golden Dawn' in Greece (Greek neo- fascist organisation)
Crime and ghettos: what are the causes and which is the way forward?
The development of fascism from a historic perspective
Conclusions from the 300 migrants hunger strike and refugees struggles
Environment
From Leukimi to Keratea (places in Greece): movements of resistance and perspectives for waste disposal
Nutrition: additives in food
From Chernobyl to Foukosima
Struggles against the privatisation of water in Europe, Latin America and Africa
Youth
Updates from international movements on education: England- Ireland
Football in crisis: violence at the football stadium- illegal betting
Camp guest speakers:
A Tunisian Socialist; Marco Verrugio: member of the CC of Communist Refoundation and Controcorrente; Lucy Redler: member of SAV (CWI in Germany); Sonja Grusch: member of SLP (CWI in Austria); Wouter Vanzeele and Matias from LSP (CWI Belgium), Victor from SR (CWI Spain), Athena Kariati: Youth Against Racism in Cyprus.
Entertainment:
Daily free film showings
Day-trips and tours around the island
2 'all-night' and one afternoon beach party
Music nights and games
A play performed by camp participants camp
Price:
130 euros if travelling from Athens; 150 euros if travelling from Thessaloniki or Volos/Larisa
If you wish to attend/need more information phone:
Athens: +30 210 2283018-19 & 6976436302
Thessaloniki: +30 2310 540432 & 6977646995
or send an email to: yregreece@hotmail.com
Blog in Greek: www.yregreece.blogspot.com