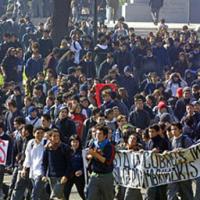 Largest protest movement for more than 20 years
Universities and secondary schools throughout Chile have been occupied during a mass strike and protest movement against the private education system. On June 16th teachers and university lectures joined the students in a one day strike. Over 100,000 participated in the largest demonstration to take place in Santiago for more than 20 years. The students are opposing the "market" education system. This movement comes at a time of a collapse in the authority of the institutions of capitalism – the parliament, the political parties, the police – all are hated by the youth on these protests. This movement was preceded by a mass protest in Patagonia against the building of an electricity plant which involved up to 40,000 youth. The right-wing government led by president Pinera now is opposed by over 57% of the population – in part due to the opposition its mass privatisation programme has aroused. The students have also been inspired by the mass movement in Spain which has been widely featured in the capitalist media. (Full reports and analysis to follow).
Video footage from Al Jazeera:
The CWI relies on the donations from working class people around the world to fund our campaigns.Please donate towards building the CWI.