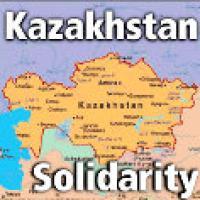 Hunger strikers douse themselves with petrol and threatened to set themselves alight
Earlier today, a wave of Kazakhstan "COBRA" riot police entered the town of Zhanaozen, west Kazakhstan, in an attempt to end a permanent demonstration and hunger strike by striking oil and gas workers and their families.
The oil and gas workers are now in the second month of their strike.
A viscous attack by well-equipped and trained riot police left many people wounded. Over four bus loads of people were arrested taken away. Despite this, the police thugs did not achieve their goal of breaking up the hunger strike. The hunger strikers, as the police approached, doused themselves with petrol and threatened to light themselves, the police did not back off.
The latest information is that this attack has only angered the workers. Already many are gathering outside the City Administration Headquarters, some say there are already 5,000 people and the numbers are growing and they are preparing for an all-night protest. They are demanding the immediate release of their comrades.
It is reported that the riot police attack was planned following the arrival in the city of a leading government representative. It is clear the authorities are worried by the progress made in spreading information about the dispute. The decision by the rock musician Sting to boycott a concert in Kazakhstan in support of the strikers and the planned visit by a delegation from the European Left group of MEPs, led by Paul Murphy, has undoubtedly made the authorities very nervous.
Please send urgent protests to: doverie@kmg.kz, info@mangystau.kz, ppo@s-k.kz, kbm@kbm.kz
and messages of solidarity to solidar@socialismkz.info with copies to Robert.cwi@gmail.com and alex@socdeistvie.info