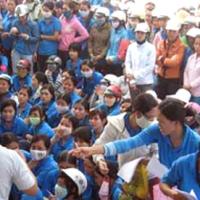 Strike wave driven by one of the world's highest inflation rates
In the final week of June, over 90,000 footwear workers at a factory owned by Pou Yuen Vietnam went on strike for better working conditions. Their fighting example led workers at another shoe factory nearby to go on strike.
Pou Yuen Vietnam is a subsidiary of Taiwan-owned Pou Chen Group, the world's leading footwear manufacturer, which turns out shoes for global brands such as Adidas, Nike, Reebok, Puma and New Balance (yes, they're all made in the same factories!). The Pou Yuen Vietnam factory produces for Adidas in particular.
The strike ended on 29 June after the local government intervened. Chinaworker.info has learnt from Hong Kong-based SACOM that around 20 workers have been arrested in connection with the strike. Neither Adidas nor Pou Chen Group have released any information about the strike or its settlement.
The strike erupted in protest against low wages and an unfair bonus system. It is part of a wave of labour unrest in Vietnam this year, driven by an inflation rate that ranks as one of the top (i.e. worst) five worldwide. The government promised to contain inflation at 8 percent, but it is running at over 20 percent. The minimum wage in Vietnam, at the equivalent of 85 US dollars a month, is around half the level in China. Plans to raise the minimum rate by 12 percent will not suffice to restore lost income as a result of price rises. According to government figures the average monthly income across the country is 1,365,000 dong (US$65).
"Every day, somewhere in the country there is a strike," says Youngmo Yoon, a spokesperson for the ILO. Most strikes in Vietnam are illegal wildcat stoppages, because workers need permission 20 days ahead of time before going on strike. In reality, these laws and the puppet official unions are bypassed, although the penalties for this can be severe. The country of 88 million people experienced 336 strikes in the first four months of 2011, according to official figures, compared to 424 strikes for the whole of 2010.
As in China, Vietnamese workers face vicious state repression and a ban on organisation. A woman worker in Hanoi was killed last month during a strike at a Taiwanese-owned factory that produces motorbike parts. Nguyen Thi Lieu was on strike for higher pay with hundreds of other workers at the Giai Duc company in the capital city's Phu Nghia Industrial Park, when a security guard drove a truck into the crowd, killing her and injuring six other workers.
Three young labour activists, Doan Huy Chuong, Nguyen Hoang Quoc Hung and Do Thi Minh Hanh, have been sentenced to between 7-9 years of imprisonment for their role in a strike at the My Phong shoe factory last year.
Vietnam factory
chinaworker.info and the Committee for a Workers' International (CWI) protests this harsh repression against workers struggling to improve extremely low wages and poor conditions. We call for the release of the above named workers and all other imprisoned worker activists. We call for independent and democratically run trade unions and a big increase in minimum wage rates, signed work contracts, strict controls on overtime working and the right to elect workers' health and safety representatives.