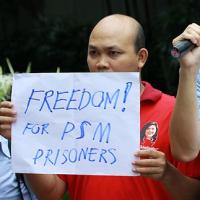 PSM draws parallels with crackdown on Reformasi movement
At the end of this week, the six leading PSM members arrested in Penang during a pro-democracy demonstration will already have been held in detention for three weeks. (See article on this site 3 July). They were released and re-arrested before the BERSIH rallies and demonstrations of 9 July (See also report 11 July, 2011 and PSM web-site: www.parti-sosialis.org).
Detained under the tyrannical Emergency Ordinance (EO) they are being treated as if they were criminals or terrorists. They have been held in very uncomfortable conditions, suffering from isolation and forms of mental torture. When interrogated, they have been made to stand for as long as 7 hours at a time. Dr Kumar required medical attention for problems with his heart.
One or two visits of limited duration have been allowed, but appeals for their unconditional release have been ignored. More than 425 complaints to the police have been made, an on-line petition has collected more than 1,000.signatures and vigils and other protests have been held.
On Tuesday, the chair of the PSM, Dr Nasir and General Secretary, Arulchelvan, went to the Home Affairs Ministry to present themselves as the leadership of the PSM and to ask for the release of the PSM 6. The idea is to say that the PSM is not illegal. It is a registered party and has nothing to hide. On no account has it acted illegally. It is not guilty of the charges of trying to revive the Malaysian Communist Party or of trying to overthrow by violent means the present regime.
The Human Rights Commission of Malaysia (SUHAKAM) got access today to meet all the male detainees. For the first time in three weeks, the male detainees were also able to meet each other. The PSM web-site reports "It was a good visit. Dr Kumar and the other detainees, Sugu, Chon Kai, Letchu and Babu were more concerned about the condition of the other members and also the families outside. Suhakam will now be working on getting access for Saras also.
A statement by the Malaysia Socialist Party (PSM) on its web-site points to parallels with the crackdown against the mass Reformasi movement at the turn of the century and the recent detention without trial of six of its members under the Emergency Ordinance. "They include Sungai Siput MP, Dr Jeyakumar, and they are being held in relation to the crackdown by police in the run-up to the outlawed Bersih 2.0 rally pushing for clean and fair elections.
"'This reminds us of the arrests following the 1997-1998 Reformasi movement. Ezam Mohd Noor, Tian Chua and Hishammuddin Rais were arrested under similar allegations of planning illegal rallies and possession of dangerous weapons like Molotov cocktails,' claimed PSM legal counsel Edmund Bon."
The lawyer was referring to the arrest of Reformasi activists in 2001 in an effort to deter them from a repeat of the mass pro-democracy opposition that developed during the 'Asian Crisis' at the end of the last century. He saw the arbitrary arrest and detention without trial of the PSM six as a replication of the outdated police strategy used to quell popular dissent.
He also pointed out that the High Court subsequently ruled that the 2001 police action was "in bad faith and wrongful". He was confident that the PSM Six case will also be granted justice by the courts and quashed.
Solidarity
The PSM has appealed for solidarity and protests to be made simultaneously this Friday, 21st July – internationally if possible. On that day, many of our members will be preparing to travel to the up-coming Summer School of the Committee for a Workers' International in Belgium. We are therefore suggesting that all sections and groups of the CWI send a new protest to the addresses in the CWI letter below. We are also appealing to all readers of this site for the online petition to be signed, for SMS messages to be sent and telephone protests to be made to Malaysian embassies on Friday.
The online petition is at: http://www.petitiononline.com/eo6/petition.html
Protests can also be made by SMS to the Inspector General of Police at 0060196000157 to pressure him to release the EO 6.
Please let us know what you are able to do, and forward a copy of your protest to the PSM: arul.psm@gmail.com and kohilay@gmail.com
We are sending the following letter to the authorities in Malaysia:
Committee for a Workers' International
PO Box 3688, London, E11 1YE, England
E-Mail: cwi@worldsoc.co.uk
www.worldsocialist.net Tel: ++ 44 20 8988 8760
Fax: ++ 44 20 8988 8793
To
Dato' Sri Mohd Najib bin Tun Abdul Razak, Prime Minister of Malaysia, E-Mail: ppm@pmo.gov.my
Inspector-General of Police, Tan Sri Ismail Omar. Fax: +603 2272 5613
Tan Sri Hasmy Agam, Chair Malaysian Human Rights Commission. Fax: ++603 2612 5620
Dear sirs,
The Committee for a Workers' International represents sections, groups and members in nearly 50 countries. We are holding an international meeting in Leuven, Belgium during this coming week, with more than 300 people present from all five continents. At this meeting we will publicise the fate of the Malaysia Socialist Party (PSM) leaders being persecuted for their views.
We view with great alarm the continued holding – for three weeks now – of the six PSM members known as the 'EO6'.
We have previously demanded that they be immediately released and all of the – clearly false – allegations against them be dropped. They are being held in intolerable conditions. The treatment of these six is not even in accordance with the basic right of habeas corpus.
If the Government of Malaysia is afraid of demands for democracy in the BERSIH 2.0 and other movements, it is because they know they are guilty of unfair treatment of a large part of their electorate – the working and poor people. Their policies are aimed at protecting themselves – a minority – from the majority. Putting forward the ideas of democracy and socialism are not a crime and no one should be detained in state custody for advocating them.
If these six campaigners are not released immediately, and compensated for what they have suffered, we will organise a round of protests at embassies and businesses connected with Malaysia world-wide.
Please inform us of progress with the release of the 'EO6' and the establishment of the rights of all to put forward their views publicly without harassment.
Yours,
Tony Saunois,
Secretary, Committee for a Workers' International