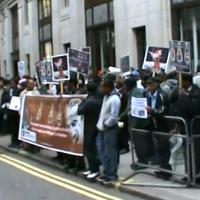 International protest demands end of death penalty against Tamil activists
Tamil Solidarity called for the protest: "Three activists, imprisoned for their alleged part in the Rajiv Gandhi assassination in May 1991, are scheduled to be hanged by 9 September.
But Murugan, Santhan and Perarivalan were among a number of people arrested following the former prime minister's death and it is widely believed that their case has not been handled fairly and their connection to the Rajiv Gandhi death is strongly disputed."
Read the full press release here.