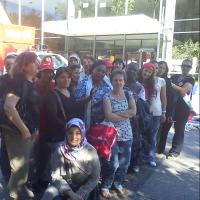 Solidarity urgently needed
Non-medical workers at Europe's biggest university clinic, the Charité in Berlin, are entering their fourth week on strike today. (see previous September 12 article on socialistworld.net). They are fighting against low wages, bad conditions and for a collective bargaining agreement. Management has not moved at all since the beginning of the strike and the workers expect a long and bitter struggle.
At a strike meeting last Friday Maik Sosnowsky, one of the trade union shop stewards, said that this struggle is a principled one – it is not only about the income of the workers but about workers' rights in general. The company CFM (Charité Facility Management) was outsourced and partly privatised in 2006 by the then SPD-Left Party coalition running Berlin. However the CFM is still 51% owned by the Charité hospital which is owned by the city of Berlin. It is politically scandalous that at this company you can find wages below seven Euros per hour and workers who are denied a collective contract.
The workforce of 2,300 is divided into many different parts. Over 20% are on time-limited contracts. A further 30% are not actually employed by CFM, but by the Charité on better conditions. The cleaning staff are partially organised in a union who are sabotaging the strike. In light of this, the fact that there are currently 300 workers on strike is a success. But it is crucial that this number is increased in order to put more pressure on management.
The strike has already been effective. Nurses have had to take over work which usually is done by CFM staff. The result has been many delays in transport and the serving of meals to patients, among other examples. Last week, for the first time, some operations had to be cancelled because the medical equipment was not sterilised correctly.
Management is taking a hard line in this dispute. They are putting serious pressure on workers, up to and including using methods of intimidation. They have hired a new private security firm which follows strikers through the buildings, throwing trade unionists out of the hospital. They have made threats to sack the strikers and are bribing strike breakers with extra money, free breakfasts and even flowers!
Strikers are organising regular demonstrations to put pressure on CFM's private investors. They are Dussmann, VAMED and Hellmann World Logistics. Dussmann runs a big bookstore in the centre of Berlin. Last week the CFM workers demonstrated in front of that store. As workers tried to get in they were stopped by a manager and lots of security guards who said that no one with a trade union badge or shirt was allowed to enter the store! More actions are planned to take place there, as well as in other German cities.
The strike is backed by leaders of the directly employed Charité workforce, who themselves went on strike last May, and who have been active in its support. Solidarity activities by other trade unionists outside the Charité have also begun. Public transport workers have distributed 15,000 leaflets to their colleagues and patrons. The CFM strike committee is now proposing a city-wide demonstration of the entire public sector union.
A solidarity committee in which SAV (CWI in Germany) members are very active is helping the strikers on a daily basis. Together with the striking workers, activists from the solidarity committee have begun to publish a daily two page strike bulletin.
SAV (CWI in Germany) members support strikers
Solidarity is still urgently needed to increase the pressure on managmenet and to help the morale of the workers. Please send letters of solidarity/protest against management to the following email adresses:
i.masswig@cfm-charite.de
toralf.giebe@charite.de
cfm_solikomitee@yahoo.de