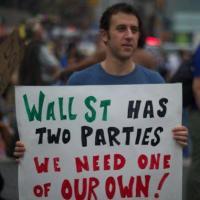 A poner fin a la dictadura de Wall Street!
A continuación el texto del volante que la sección de Nueva York de Alternativa Socialista ha estado distribuyendo en la protesta Ocupa Wall Street.
A poner fin a la dictadura de Wall Street!
En todo el mundo la atención se ha puesto en la ocupación de Wall Street. La protesta ha capturado la imaginación de miles de personas e inspirado nuevas ocupaciones que se están extendiendo a través de los Estados Unidos.
La represión policial el sábado pasado, destinada exclusivamente a intimidar a este movimiento, no pudo romper por completo nuestro espíritu. Ahora los jóvenes, en particular, están más decididos que nunca a luchar. Inspirados en los levantamientos revolucionarios en Egipto y el norte de África, así como en las masivas ocupaciones de la juventud de las plazas centrales en España y Grecia, los manifestantes han salido a las calles de Nueva York para hacer frente a la dominación de Wall Street y las grandes empresas sobre nuestras vidas.
Bajo la superficie hay una profunda rabia en la sociedad de EE.UU. que sólo parecía estar teniendo una expresión torcida en los locos de derecha del Tea Party. Pero el movimiento de masas en Wisconsin en la primavera, y ahora la ocupación de jóvenes de Wall Street, dan una idea del enorme potencial de convertir esa rabia en un movimiento social progresista.
La ocupación no es suficiente
¿Cómo podemos llevar la lucha hacia adelante? Muchos están ocupando para "liberar espacio" con el fin de construir una nueva comunidad, más equitativa y justa, con la esperanza de que esto inspire a otros a seguir. Mientras que la ocupación es un ejemplo de una comunidad determinada sobre la base de la democracia, la cooperación y la solidaridad; por desgracia, la ocupación por sí sola no será suficiente para construir un movimiento de masas capaz de cambiar la sociedad.
Muchos se han referido a Egipto diciendo que una creciente ocupación con una exigencia fundamental es la forma en que el dictador fue derrocado. Pero, en realidad, la situación era más complicada que eso. En la semana previa a que Mubarak, el dictador de Egipto, fuera derrocado, la clase obrera entró en escena con una acción decisiva de huelga industrial, paralizando partes clave de la economía. Esto fue lo que realmente asustó a la élite gobernante.
Las ocupaciones en España y Grecia han sido mucho más grandes que Wall Street, pero ellos también necesitan las fuerzas más poderosas de la clase obrera a entrar en acción con el fin de ganar. En Wisconsin, una gran ocupación del Capitolio se prolongó durante más de tres semanas, que estuvo en el centro de las manifestaciones de masas de los trabajadores y la juventud. Se podría haber ganado si ese movimiento se hubiera orientado hacia una huelga general de trabajadores, para paralizar la economía del estado.
En cambio, la batalla de Wisconsin fue descarrilada conscientemente por el Partido Demócrata y la alta dirigencia sindical detrás de una campaña para sacar a los republicanos del poder para elegir a los demócratas en su lugar. Sin embargo, los demócratas, al igual que los republicanos, son parte de Wall Street y las grandes empresas, y no ofrecen soluciones. Necesitamos una lucha independiente que trate de atraer a las capas más amplias de trabajadores y jóvenes. Unidos tenemos la facultad de retirar nuestro trabajo, detener "lo de siempre", y golpear a los bancos, las corporaciones y la élite gobernante donde cuenta.
Necesitamos construir la confianza necesaria para tomar medidas audaces. Es por eso que Ocupa Wall Street debe llamar a manifestaciones masivas en torno a demandas claves que señalen los temas candentes que los trabajadores y la juventud enfrentan, como el empleo, educación, salud, etc. Los jóvenes tienen un papel vital que desempeñar. En Gran Bretaña, Chile y Wisconsin, y otras luchas; ha sido la juventud que saliendo a las calles primero y tomando acción, lo que ha envalentonado a la población, abriendo la puerta para una lucha mucho más amplia de la clase trabajadora.
Una solución real
No sólo la economía, sino que la sociedad en su conjunto están en una profunda crisis. El capitalismo global es un sistema fracasado y no puede superar los problemas de la creciente desigualdad, la pobreza, el desempleo masivo, la destrucción del medio ambiente, y la guerra que crea. El movimiento que necesitamos tiene que desafiar a Wall Street y a los dos partidos de los grandes negocios. Debemos hacer frente a sus políticas con las que tratan de cargar sus crisis económicas sobre nuestras espaldas, a fin de mantener un sistema que sólo beneficia a la élite en primer lugar.
Pero también debemos ofrecer una alternativa clara. Necesitamos un movimiento que transforme radicalmente la sociedad en otra no basada en el lucro, sino que en la satisfacción de las necesidades humanas básicas de todos. La única alternativa real a la avaricia corporativa y el capitalismo es el socialismo democrático; donde la economía, el trabajo y la sociedad en su conjunto, funcionan democráticamente por y para la gran mayoría de la población.
Únete a Alternativa Socialista! Nosotros decimos:
    Extender las ocupaciones a través de los EE.UU. en las escuelas y comunidades.
    Organizar manifestaciones de masas de fin de semana, que exijan: No más recortes a los servicios sociales, programa de creación de empleo masivo, mayores alzas de impuestos a los super-ricos y las grandes empresas, acabar con las guerras, recortar el presupuesto militar, y defender los derechos sindicales y democráticos.
    Preparar una Semana de Acción Nacional a mediados de noviembre para luchar contra el plan del Súper Comité del Congreso por US$ 1.5 trillones de dólares en recortes a los servicios sociales. Exigimos empleos no recortes!
    Levantar candidatos independientes de la clase trabajadora en 2012 para desafiar las políticas de los dos partidos corporativos, como un primer paso hacia la formación de un nuevo partido obrero de masas.
    Terminar con la dictadura de Wall Street! Construir el movimiento para sustituir el podrido sistema capitalista con el socialismo democrático y crear una nueva sociedad basada en las necesidades humanas.
Special financial appeal to all readers of socialistworld.net

Support building alternative socialist media

---

Socialistworld.net provides a unique analysis and perspective of world events. Socialistworld.net also plays a crucial role in building the struggle for socialism across all continents. Capitalism has failed! Assist us to build the fight-back and prepare for the stormy period of class struggles ahead. Please make a donation to help us reach more readers and to widen our socialist campaigning work across the world.

Donate via Paypal

CWI- Please inform us if you are reproducing any material from this site.