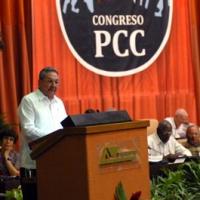 Carácter clasista del Partido Comunista de Cuba en entredicho
Siguen su avance estos tiempos nuestros, de reformas o actualizaciones según la semántica al gusto. A veces, cuando no es para tanto, las novedades nos pueden caer de súbito, como rayos desde un cielo despejado. Otras veces, cuando la cosa es más seria, los heraldos de la corte reciben primero la misión de preparar los ánimos del público, a través de las correspondientes campañas mediáticas.
Los sitios digitales Cubadebate y Rebelión, publicaron recientemente un artículo del ensayista Luis Toledo Sande, con serias implicaciones para nuestro porvenir. Su autor es una figura reputada en las filas de los ideólogos oficiales. Tal vez sea hasta miembro o asesor de esas comisiones secretas a las que el gobierno encargó conceptualizar nuestro país –no hay manera de saberlo, para algo son secretas. En todo caso, es una voz para tener en cuenta.
Su texto funciona, simultáneamente, como señal de próximos giros y confirmación de la inevitable deriva de un proceso, presa de fuerzas reaccionarias. Se trata de una exploración (vínculo de Cubadebate) de la posibilidad de desarticular el carácter del Partido Comunista de Cuba, (vínculo de Rebelion) que hasta hoy se proclama formalmente como partido de clase obrera y campesina.
Últimamente, nuestros caminos han estado marcados por el fomento del creciente capitalista nacional; la normalización de relaciones con los Estados Unidos y la atracción del capital extranjero. En resumen, por la asimilación de Cuba en el capitalismo mundial. Ahora tenemos un Congreso del partido dirigente a las puertas y se discuten, bajo distintos grados de discrecionalidad, procesos definitorios del país del futuro. Más de uno por ahí habrá pensado que es hora de que el Partido, que proclama representar la vanguardia proletaria cubana, se defina un poquito. Si va a admitir las crecientes desigualdades. Si va a estar del lado de los explotados o de los explotadores.
Y no es que el encumbrado profesor vaya a fijarse en lo que cualquier renacuajo ande diciendo por ahí. Son las circunstancias las que ponen estas cuestiones sobre el tapete de manera perentoria. No es posible desarrollar más profundamente ciertas políticas, sin resolver algunos problemas teóricos demasiado agudos.
La élite local tiene ante sí un verdadero nudo gordiano ideológico con esto del progreso del nuevo capitalismo. Específicamente, de su progreso. Hasta ahora, el Partido ha cumplido satisfactoriamente bajo la forma conocida, los servicios demandados. Pero bajo tales esquemas, más temprano que tarde, le será simplemente imposible avalar la profundización de las políticas en curso. Privatización, ajustes presupuestarios, despidos masivos, resultan cada vez más incompatibles con una postura supuestamente colectivista. Quienes obtienen las grandes ganancias de las reformas económicas; quienes amasan propiedades, inversiones –capital–, requieren también el control de los resortes del poder político. O sea, necesitan el control del PCC.
Y lo necesitan bajo su forma revelada. Los tiburones, disfrazados, pueden llevar o no mucho tiempo en la reunión de las sardinas. Pero el máximo grado de preponderancia no lo pueden ejercer bajo esa condición. Necesitan revolver, también, las formas oficiales del cónclave, pues les complican demasiado trastocar el contenido. Tal es el sentido último de la tesis de Toledo Sande.
¿Cómo lanza el profesor esta tremenda maniobra? Con abundante verborrea, se basa en comparaciones entre nuestro actual PCC, el partido bolchevique de V.I.Lenin y, por supuesto, el movimiento independentista cubano de fines del siglo XIX, liderado por el Héroe Nacional, José Martí Pérez. Este último vuelve a servir de comodín universal, fuente perfecta de ideas manipuladas y sacadas de contexto para el demagogo de turno.
La retórica oportunista del autor alcanza el terreno de la ofensa. Resulta ser que el principio de una fuerza organizada, exclusiva de la clase trabajadora, para conquistar y defender sus derechos, constituye un "aldeanismo", ajeno al legado martiano. Martí, en los trajines del Partido Revolucionario Cubano (PRC), asentó el concepto de "con todos y para el bien de todos". Por lo tanto, sostiene Toledo Sande, nosotros deberíamos rechazar el carácter uni-clasista en el partido –propio solamente del bolchevismo– y abrirlo, como el PRC, a "todo el pueblo de Cuba".
De acuerdo con el profesor, no existe un aporte cubano y latinoamericano legítimo en el terreno del marxismo revolucionario. Todo lo manejado en ese sentido habría sido la copia de "europeísmos". Mariátegui, Julio A. Mella, Ché Guevara, Carlos A. Libanio Christo (Frei Betto) y demás obstinados en alinearse con las víctimas de la explotación y denunciar a quienes explotan, habrían sido presas de "lecturas extranjerizas, confusas e incompletas".
La maniobra anunciada está a tono con los tiempos y tiene probabilidades de éxito. Con la justificación de un modelo de socialismo "actualizado", con la desacreditación de "los igualitarismos", la burguesía emergente cubana no tendrá pronto necesidad de camuflarse. Escudados en la abstracción de "todo el pueblo", se revelarán abiertamente en los espacios políticos. En esto, también seguirán otro ejemplo chino –ese no es "extranjerizante"– por el que conocemos que el Comité Central de aquel partido está copado por millonarios. De esta suerte, multiplicadas las fuerzas derechistas con la hegemonía del poder político, prevalecen a la ofensiva contra las conquistas de la clase obrera, los derechos laborales, etc.
Eso no quiere decir que la clase trabajadora no tenga cómo contraatacar. Esta maniobra tiene también sus debilidades e inconsistencias. Es sencillísimo evidenciar que una revolución anticolonial –como la que ocupaba a Martí– tiene un contexto radicalmente diferente de la vida de una república que ya conquistó la soberanía. Si Toledo Sande quiere ignorar las diferencias, sus razones tendrá.
El principio del exclusivismo del PCC en la arena política nacional, descansa en el supuesto de que éste representa a la clase obrera y campesina. Que defiende sus intereses y la dirige en la construcción del socialismo, que ahora estaría en una de las primeras fases de transición.
Si la naturaleza proclamada del Partido deja de ser clasista, todo cambiaría. Aunque este conserve el nombre, se igualará con cualquier otro partido "normal" de los del mundo. Y se comprenderá su rol, más transparentemente aún que antes, de defender los intereses del subgrupo explotador específico que logre la preponderancia dentro del mismo. El último de los intereses de una burguesía explícita, en el control del Partido, sería avanzar en la construcción del socialismo y destruirse a sí misma. Probablemente termine de vender a los gringos lo que queda de soberanía, a cambio de unas migajitas.
En esas condiciones, no habrá basamento legal ni moral para impedir, al proletariado cubano, organizar soberana y democráticamente sus propias fuerzas, sin interferencias ni controles de la burguesía. Mientras existan la explotación e injusticias intrínsecas al modelo capitalista, la lucha nunca terminará.
Special financial appeal to all readers of socialistworld.net

Support building alternative socialist media

---

Socialistworld.net provides a unique analysis and perspective of world events. Socialistworld.net also plays a crucial role in building the struggle for socialism across all continents. Capitalism has failed! Assist us to build the fight-back and prepare for the stormy period of class struggles ahead. Please make a donation to help us reach more readers and to widen our socialist campaigning work across the world.

Donate via Paypal

CWI- Please inform us if you are reproducing any material from this site.