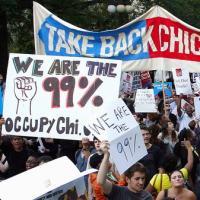 ¡Romper con el poder de la banca y las multinacionales!
¡Combatir al capitalismo, por una alternativa socialista a este sistema fracasado, basado en la obtención de beneficios!
El 15 de Octubre, a nivel global, los "enrabiados", los indignados, los "ocupadores de Wall Street", los manifestantes de todo Portugal, de Santiago de Chile y del Cairo, y de muchos, muchos otros sitios, tomarán las calles para desafiar al poder de las grandes empresas. Los espléndidos movimientos de gente joven, de trabajadores, en estas luchas, con causas, métodos y demandas comunes, terminan contagiándose instintivamente, los unos a los otros, a más allá de las fronteras y continentes.
Después de más de tres años de crisis capitalista creciente, los capitalistas y sus políticos muestran su incapacidad para ofrecer otra cosa que una creciente miseria para la vasta mayoría, referida como el "99%" por el movimiento de EE.UU. En su lugar, las élites dominantes, quieren obligar a los trabajadores y la juventud a pagar por la bancarrota de su sistema, para seguir asistiendo a los banqueros y multimillonarios, contra lo cual se opone este conato de revuelta, y lo que constituye la raíz de esta demanda de cambios estructurales, esta demanda de "revolución", como lo plantea, por ejemplo, el movimiento de la juventud en España.
El Comité por una Internacional de Trabajadores lucha por
¡El fin de la dictadura de los mercados!; ¡la caída del poder de los magnates! ¡Fuerte impuesto progresivo a las ganancias de los ricos!
¡Inversión masiva en empleo, en educación y en servicios públicos de calidad y gratuitos! ¡Fin de los recortes y medidas de austeridad!
Nacionalización de los bancos y grandes compañías que rigen la economía mundial; puesta a producir bajo control obrero y de las capas populares; por un plan a fin de aprovechar los recursos en interés de las masas trabajadoras, ¡en lugar de abandonarlos a la tiranía de las ganancias, y de los grandes negocios!
La lucha conjunta contra la división por causas nacionalistas, racistas o sexistas.
¡Expandir la indignación! ¡Movilizar en todo su potencial el movimiento!
Pero la resistencia sigue desarrollándose, con las ocupaciones, ciudades-campamento, y la proliferación de protestas desde una punta de un continente a otro. Los métodos popularizados por el movimiento de indignación mundial han resultado ser poderosos, un soplo de aire fresco capaz de despertar a la actividad a toda una nueva capa de jóvenes. Las ocupaciones de plazas y las acampadas, constituyeron un símbolo de oposición y resistencia, en el centro de algunas de las mayores ciudades del mundo, a la miseria de la crisis. Las asambleas masivas en las plazas y barrios supusieron un conato de democracia real y estructuras en las que todos podían participar y tener voz y voto. Estos métodos, si bien pioneros, reivindicados por la juventud, lograron apoyo masivo de otras sectores sociales que, golpeados por el salvajismo de la crisis, pasaron a la acción, como en el caso de Egipto."
Esto incluyó a la clase trabajadora, que en todos los países ha visto el camino a la verdadera lucha parcialmente bloqueado por los líderes de los sindicatos a nivel nacional, que rechazaban liderar una lucha seria y hasta el final.
Los indignados griegos, al ocupar las plazas, inspiraron a los trabajadores, lo que llevó a un nuevo repunte en la lucha obrera, y obligó a los líderes sindicales a organizar huelgas generales de 24 y 48 horas.
En los EEUU, incluso en las primeras fases de la ocupación de Wall Street, los sindicatos comenzaron a hacer declaraciones de apoyo al movimiento, y enviaron delegados a sus protestas. El pasado miércoles, decenas de cientos de jóvenes y sindicalistas marcharon por las calles de Nueva York en una manifestación conjunta.
En Chile, donde los estudiantes continuarán su tremendo movimiento con las manifestaciones del 15 de Octubre, los trabajadores se han unido a las movilizaciones, incluso con huelgas.
Este apoyo debe convertirse en la base de estos movimientos para que puedan alcanzar un nivel más alto. Mientras que la indignación puede sacudir la sociedad, hay una fase en la que se deben tomar acciones efectivas. La clase trabajadora es la que verdaderamente lleva las riendas de la economía y produce los beneficios de los billonarios.
Nuestro movimientos debe buscar una movilización de este potencial, a través de acciones de los trabajadores y huelgas generales. El desarrollo de estas acciones fue clave en el éxito de las revoluciones de Túnez y Egipto para derrocar a sus antiguos dictadores, y debe ser también la clave en nuestra lucha contra la dictadura de los mercados y los beneficios.
Las asambleas masivas, organizadas en pueblos, barrios y centros de trabajo y vinculadas democráticamente, pueden unirse para planear y controlar estas movilizaciones. De esta manera, se puede romper con las políticas de los líderes pro-capitalistas de los sindicatos, y se les puede obligar a ponerse en acción, como en Grecia. Pero como parte de un programa serio y sostenido de acción, democráticamente acordado y controlado, estas acciones pueden ser además parte de una estrategia consistente que puede paralizar la sociedad y conseguir cambios.
Los jóvenes y los trabajadores rechazan todos los partidos podridos que representan los intereses de las grandes empresas. Los líderes sindicalistas de derechas bloquean el poder de sus organizaciones. A muchos jóvenes les repugna esta situación.
Para desafiar a todos estos partidos, para prevenir que usen el poder de estos movimientos en su provecho, éstos necesitan desarrollar una serie de demandas clave por las que luchar y que frenen los intentos de estas fuerzas de secuestrar las protestas.
Como han mostrado los hechos desde Egipto y Túnez hasta Grecia y España, sin una fuerza que represente claramente los intereses de los trabajadores y los jóvenes que sea capaz de ofrecer un programa y estrategia alternativa a la miseria del capitalismo, las antiguas élites tratarán de seguir en el poder y participar en las protestas desde sus cómodos despachos. El CIT apoya la construcción de nuevas fuerzas que realmente representen a los trabajadores y los jóvenes.
Por un cambio de sistema
Actualmente 500 empresas dominan la economía del planeta. Directa e indirectamente, éstas controlan el 30% del PIB mundial. La batalla empieza aquí y ahora para luchar en contra de las desastrosas políticas que nos imponen. El CIT lucha por cada reforma inmediata para salvaguardar los niveles de vida de los trabajadores y los jóvenes, para que este sistema no destruya el medio ambiente con el calentamiento global o las catástrofes nucleares.
Sin embargo, para nosotros esto está ligado con la lucha para derrocar el capitalismo en general. En una nueva sociedad, donde este poder de las multinacionales se transfiera democráticamente a los trabajadores, empezando con una nacionalización de los bancos y de las mayores empresas bajo control democrático, nuestros problemas fundamentales pueden solventarse.
El CIT sostiene que el movimiento internacional debe vincular sus demandas radicales con un programa integral para transformar la sociedad en una línea verdaderamente socialista.
El 15 de Octubre, alrededor de todo el mundo, los indignados griegos y españoles, los que ocupan Wall Street, manifestantes en todo Portugal, en Santiago de Chile, en el Cairo – y en muchos más lugares – tomarán las calles para desafiar el poder de los mercados. Este imponente movimiento de las luchas de los jóvenes y los trabajadores, con causas, métodos y demandas comunes, instintivamente tiende la mano al resto de las luchas a través de las fronteras y los continentes.
El CIT cuenta con partidos grupos y contribuciones individuales en más de 40 países alrededor del mundo. Trabajamos hombro con hombro con los trabajadores y los jóvenes en su lucha contra los ataques de la patronal y sus políticos. Somos parte de la resistencia que se está desarrollando internacionalmente, en la que millones de personas están empezando a gritar en las calles: "¡No pagaremos por su crisis!".
Para tener éxito, la lucha contra el capitalismo requiere ideas, un programa político y una organización que sea capaz de unir a los trabajadores y los oprimidos alrededor del mundo. El objetivo del CIT es contruir esta organización. Nosotros pensamos que millones de trabajadores y jóvenes organizados son más fuertes que los millonarios. Por eso necesitamos que más junta se nos una en la lucha por el socialismo.
Special financial appeal to all readers of socialistworld.net

Support building alternative socialist media

---

Socialistworld.net provides a unique analysis and perspective of world events. Socialistworld.net also plays a crucial role in building the struggle for socialism across all continents. Capitalism has failed! Assist us to build the fight-back and prepare for the stormy period of class struggles ahead. Please make a donation to help us reach more readers and to widen our socialist campaigning work across the world.

Donate via Paypal

CWI- Please inform us if you are reproducing any material from this site.