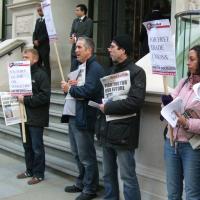 Stop state brutality in Kazakhstan!
A protest against state brutality and imprisonment of trade unionists and their representatives in Kazakhstan was held outside the Corinthia Hotel in Whitehall Place, London, this morning. The protest was timed to coincide with the opening of a two day conference of the Kazakhstan Business Forum.
This morning's protest against ongoing repression of strikers and social rights activists (including speeches and chants through a megaphone) caused a welcome stir of shock and consternation among Kazakh business and government representatives going into the plush hotel. Some tried to photograph and film the protesters but were not so happy when photographs were taken in return by protesters of them! People passing by took an interest in the protest, taking leaflets on their way.
Representatives of the wealthy Kazakh elite around president Nursultan Nazarbayev are seeking business deals at events like this to help nurture and add to the $100 billion that is invested by big businesses internationally in Kazakhstan to exploit the country's natural resources, including oil, gas and uranium.
Protesters outside the Corinthia hotel
Meanwhile, the overwhelming majority of the population lives in poverty and working people in Kazakhstan are denied basic democratic rights, including the right to organise in independent trade unions.
No cooperation with Nazarbayev's regime!
Boycott Kazakh big business
Support the campaign for democratic rights
Strikers brutally treated
In western Kazakhstan, over 2,500 oil workers have been sacked for taking strike action to win a wage they can live on and reasonable working conditions. During four months of strike action, the workers have endured great brutality from the state forces, including houses being burnt down, a trade union shop steward being killed and the daughter of a union leader being raped and killed. The lawyer for the oil workers' independent trade union, Natalya Sokolova, was sentenced to six years in prison in August for 'incitement of social hatred' and 'illegally organising trade unions'.
Other workers' representatives are facing similar accusations and harsh punishments. These include Ainur Kurmanov, deputy chairman of the Vozrozhdeniye (Rebirth) trade union and Esenbek Ukteshbayev, president of the all-Kazakhstan independent trade union federation, Zhentau. Both are also leaders of the 'Socialist Movement Kazakhstan' and have been involved in a tremendous struggle against brutal housing evictions of residents who can't afford their monthly payments. These outstanding and courageous workers' leaders have been imprisoned many times for the 'crime' of resisting poverty and repression. Now, once again, criminal charges have been fabricated against them, as the corrupt, profiteering regime tries to destroy all opposition.
But workers in Kazakhstan are losing their fear of fighting back, and the independent unions have broad support.
Gathered today at the Kazakhstan Business Forum are representatives of Kazmunaigaz, the oil company largely controlled by the dictatorial president and his clique, which is currently engaged in trying to crush the fightback of its workforce and the workers' trade union and legal representatives. Also here are top officials of the BT Bank which is constantly trying to evict mortgagees from their homes after it has pushed them to borrow sums it has become impossible for them to repay.
Instead of foreign investments that are lining the pockets of Nazarbayev and his clique, these authoritarian and parasitic leaders should be boycotted internationally!
Drop all charges against Ainur, Esenbek and other activists of Socialist Movement Kazakhstan! Release Natalya Sokolova!
For international workers' solidarity with the working class and independent trade unions in Kazakhstan! Victory to the sacked and striking oil workers!
For democratic rights, including the right to protest, strike and join trade unions.
For nationalisation of Kazakhstan's major industries, under democratic workers' control and management!
———————————————————
Please send protests to:
1: Head of the Supreme Court of Kazakhstan – Alina Bulatovna Rakhimbekova
Email: Rahimbekova@supcourt.kz with copies to: Kulumbetova@supcourt.kz; pressa@supcourt.kz
or Tel ++7 7172 747570
2: Foreign Ministry of the Republic of Kazakhstan
Email: mid@mid.kz
3: The Head of the President's Administration
Tel: ++7 (7172) 74 55 24
Please send copies of all protests to KazakhstanSolidarity@gmail.com
—————————————————-
For regular updates on the defence and solidarity campaign for socialist activists in Kazakhstan, see www.socialistworld.net