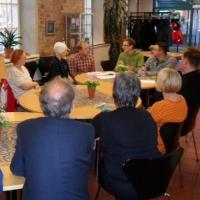 Left Alliance joins Conservative led government – Time to build radical, left alternative!
On 16 October, Finnish CWI supporters of Sosialistinen Vaihtoehto, together with comrades from the Swedish Rättvisepartiet Socialisterna (RS), launched a speaking tour across Finland to discuss with activists and others on the Left. The theme and purpose of the tour was to discuss the wave of protests sweeping over the crisis-ridden European continent and the rest of the world and a socialist alternative.
The first event was in Kemi, on 16 October, and was arranged together with the Communist Party of Finland. Jonas Brännberg, from Rättvisepartiet Socialisterna (CWI Sweden), explained the reasons for the current crisis of capitalism were previously outlined by Karl Marx, over 150 years ago, and the solution Marx outlined remains viable today.
The next meeting took place the day in the industrial city of Tampere – a city with proud socialist traditions, going back to the days of the 1918 Finnish Revolution, when it was the main stronghold of the 'Red Guards'. This meeting and others saw radical Green party supporters attend, and an interesting discussion took place.
Finally, on 18 October, the tour reached Oulu, the main city in northern Finland. This event, like the previous ones, was dominated by a bitter feeling of disappointment over the fact that the main established left wing party, the Left Alliance, had chosen to join the government led by Jyrki Katainen's Conservative Party.
There was an agreement amongst the left wing activists – at all of the events and meetings – that a broad, radical left alternative is missing in Finland, and urgently needed. Unfortunately, there was no clear plan on how to develop a socialist alternative – an issue that the CWI comrades raised in relation to Trotsky's Transitional Programme.
Building an alternative
Members of the CWI explained that while meetings and co-operation between radical activists are important, it is through collective actions and class struggle that workers in greater numbers are radicalised, inspired to fight for their rights and to struggle for the ultimate prize: transforming society on socialist lines. It is by initiating and taking part in the struggles of the workers and poor that socialists can win them over to our ideas.
At the meeting in Oulu, where Sosialistinen Vaihtoehto has its strongest presence, it was agreed that a local campaign will soon be launched around the issue of public transport. Aside from the important planning and discussions that took place, CWI literature was widely distributed both at the meetings and on the streets, including the sales of copies of the magazine, Socialism Today.
Another event is planned in Helsinki, on 3 November, and will be attended by activists from all over Finland and Sweden, including Per-Åke Westerlund, Chair of Rättvisepartiet Socialisterna (CWI in Sweden).