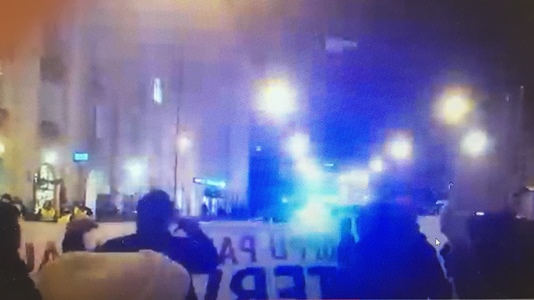 Thousands, including CWI members and supporters, braved freezing temperatures to join the annual Helsinki Ilman Natseja ("Helsinki Without Nazis") demonstration on 6 December, with smaller events taking place across Finland. This year, the march organizers escalated the militancy of their tactics and blocked the planned route of a march by the extreme right, but were met by a harsh response by Helsinki police, with 19 organizers arrested. 
The demonstration has become an annual ritual, usually with protestors shouting slogans while far-right groups, such as the openly neo-Nazi PVL, march under heavy police protection. Police have used a soft touch toward the far right, taking only token action against the open display of swastika flags.
The counter-demonstration, led by the anarchist group A-Ryhmä and the Helsinki Left Youth, has similarly shown timidity in the past, banning "political" symbols and providing politically weak chants like "no Nazis in Helsinki, no Nazis anywhere." Organizers have emphasized the "party" atmosphere of the event, which usually ends with an outdoor concert in a city park.
This year represents a positive change in tactics, although it is not beyond criticism. The march began as usual, but then, with a small smoke bomb serving as a signal, organizers led the march to occupy the intersection of Runeberginkatu and Museokatu. They arrived before the far-right "612" torch march did and forced police to scramble to reroute them.
The police responded as they have around the world. The march was "soft kettled," blocked in on all sides by police lines. Peaceful demonstrators, including children as young as four, were surrounded by flashing blue lights, horses, and police dogs in temperatures plunging to -20°C. Many of those kettled had no idea they were being marched into a confrontation with police. While this tactic did hasten the dispersal of the Helsinki Ilman Natseja event, the anti-fascists were nonetheless successful at disrupting the 612 march. 
The police reaction was no surprise. Over the course of the past two years, Helsinki police have been found by courts to systematically target the city's Romani population for harassment.  Many police officers have been exposed as anti-Somali racists or collaborators in planned far-right violence. Even the staid, conservative President Niinistö questioned their lies about and violence toward the Elokapina (Extinction Rebellion) protests.
Important lessons
However, there can be no illusions that Finland's political establishment will provide any sort of meaningful restraint on the police. In previous years, members of parliament and the city council have used the Independence Day gala and other ceremonies as an excuse to avoid Helsinki Ilman Natseja. This year all those events were canceled due to resurgent COVID-19 — but mainstream political leaders were still nowhere to be seen.
The Helsinki Ilman Natseja demonstration this year is a step forward for anti-fascism in Finland. The organizers should take on board the important lesson that mass tactics are far more effective than individual heroism, and reach out to unions and community organizations to mobilize for the next demonstration.
Moreover, the Helsinki Ilman Natseja organization should democratize, dispensing with sectarianism and "apoliticism" in favor of building grassroots organizations active in workplaces and neighborhoods. Independence Day comes once a year, but far-right violence against Finland's workers, students and youth take place every day. Everyday readiness of ordinary people to resist the far right in workplaces, schools, and the streets is a necessary part of building a socialist movement not just to resist, but to defeat the far right.