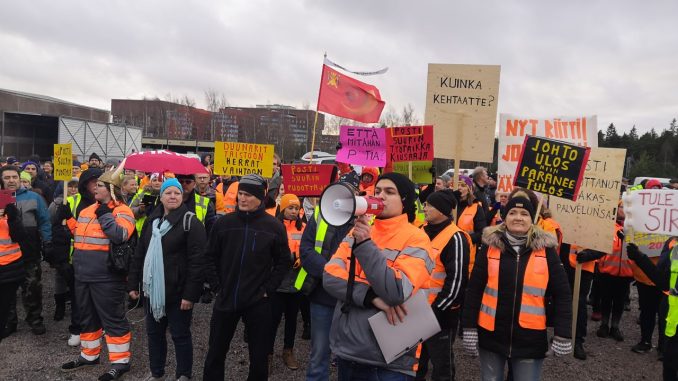 Labour activity in Finland is escalating as unions enter into months of negotiations with employers nationwide. The Social Democratic-led "left" government of Antti Rinne has proven to be interested in supporting workers in name only.
The communications union, PAU, has just extended its strike against the Finnish postal service, Posti, from one week to three on its very first day. It is putting heavy pressure on the executives of the Posti Group to climb down in an ongoing dispute over pay. The strike, which began on Monday 11 November, will now continue until 8 December, barring a breakthrough in negotiations.
Hundreds of postal workers joined a demonstration against Posti management at its headquarters in Helsinki's Pasila neighbourhood. One eyewitness said: "It was all a very honest and heartfelt working class protest. Posti management got their fair share of criticism but the point was also raised several times that the Rinne government is not doing enough. It's their responsibility to stop this since Posti is state-owned." The protest organisers have promised to take their demonstration to the Parliament building on 21 November.
The bosses, meanwhile, have proved to be up to their usual strike-breaking tricks, as striking PAU members in Turku reported managers had cut a hole in the fence at the local postal sorting center in the hours before the strike began on Monday. The hole was put in place so that scab workers could avoid the picket line. Postal workers on zero-hours contracts, meanwhile, report they've been told they must go to work during the strike or else be fired, in a move likely to be in violation of Finnish labour law.
Background
The origin of the dispute was the attempt by Posti to use bureaucratic trickery to move hundreds of postal workers from one collective bargaining agreement to another, cutting their pay by up to 30%. The announcement of the move led to immediate wildcat strikes in postal sorting centers, prompting PAU to respond by calling a four-day strike in early September.
Since then, negotiations have not advanced, with bosses only offering to "delay" the pay cuts and the government has failed to offer any concrete changes to protect Posti workers. PAU, meanwhile, has received considerable support from transport unions. The Finnish Seafarers' Union, the Finnish Transport Workers' Union, the Aviation Union and the Railway Union all announced overtime bans in support of the postal workers. Rail workers in the public sector union, JHL, have announced strikes on 19 and 20 November in support of PAU.
In a joint statement, the transport unions specified that their supporting action is to "influence the state, which is a shareholder in Posti." While hardly mentioned by the Finnish press, the past two years have seen the return of political strikes to the Finnish labour scene as union members increasingly see the Finnish government not as a partner or neutral negotiator between labour and management, but as a tool in the hands of the rich, responsible for keeping wages down.
It remains to be seen whether rank and file members will apply enough pressure to their unions' bureaucratic leaderships to push them into effective action. In an early sign of the way things could go, the industrial union Teollisuusliitto has reported this week that talks with bosses in the chemical sector have collapsed due to the "rudeness" of employers. In response, workers in three sectors – technology, industrial insulation and sheet metal – have extended an overtime ban to 24 November.
The Finnish Union of Practical Nurses (city council aides) has talked about strike action in the spring of 2020 when their current collateral agreement runs out. They have already asked for solidarity from other unions. They are generally underpaid for their work and the 'Competitiveness Pact' ('Kiky'') of the last government cut their low salaries even further. The timing for their request for solidarity from other unions has been perfect, as the strong unions are going through the main points of their collective agreements to be discussed with the Employers' Associations now. The will to struggle is growing in Finland.
We say:
Build mass protest demonstrations in support of the postal workers; get the message out in the streets!
Renationalise Posti and other public services that have been privatised. Public services for people, not for profit!
Keep the postal strike going and support action by other workers! Unite the struggles into a general strike for nationalisation and against austerity!
Special financial appeal to all readers of socialistworld.net

Support building alternative socialist media

---

Socialistworld.net provides a unique analysis and perspective of world events. Socialistworld.net also plays a crucial role in building the struggle for socialism across all continents. Capitalism has failed! Assist us to build the fight-back and prepare for the stormy period of class struggles ahead. Please make a donation to help us reach more readers and to widen our socialist campaigning work across the world.

Donate via Paypal

CWI- Please inform us if you are reproducing any material from this site.