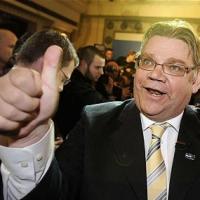 Following last Sunday's parliamentary election in Finland, talks are taking place on forming a coalition government. The results saw a big increase in support for the anti-immigrant, rightwing populist True Finns party, gaining 19.0% (39 seats) from 4.1% (5 seats) in 2007.
The following is a report of a recent demonstration organised by supporters of Sosialistinen Vaitoehto (CWI supporters in Finland) and Rättvisepartiet Socialisterna (CWI Sweden) against the scapegoating of immigrants.
Socialistworld.net
Just five days before the Finnish national election, Sosialistinen Vaitoehto (CWI supporters in Finland) took the initiative for an anti-racist protest in Oulu, north Finland, on Tuesday 12 April. Racism is of big importance as racist candidates from the right wing populist 'True Finns' party will enter parliament following last Sunday's election. With short notice and the limited resources, the turnout of 50 people on the anti-racist protest, mainly youth, was very good. The protest was reported by local radio and a local left wing paper.
One of the speakers at the protest was Jonas Brännberg, city councillor for Rättvisepartiet Socialisterna, in Luleå, across the border in Sweden.
Racists often blame immigrants and immigration for the lack of resources in healthcare, education and so on. Last night, on Swedish TV, a candidate for the True Finns called immigrants "asylum tourists".
But fleeing from the wars in Iraq, Afghanistan and now Libya is as far from tourism as you can get. And the lack of resources for public services is not because of immigration, but because of the policies of governments, making the rich richer and poor even poorer. Attacks on immigrants' rights have never, anywhere in the world, led to more resources for healthcare etc.
To stop racism we need to struggle: against racism, against the inequalities of this society, and to give people a real political alternative, against the racists and the big parties whose only concern is themselves and big business.
 After the demonstration, Sosialistinen Vaitoehto organised a meeting under the title, "You can't have capitalism without racism". Fourteen people attended the meeting. Many were interested in continuing campaign and it was decided that we would organise an anti-racist block for the upcoming May Day demonstration in Oulu.
ELECTION RESULTS (compared to previous ballot)
| | | |
| --- | --- | --- |
| | 2011 | 2007 |
| | pct – seats | pct – seats |
| National Coalition | 20.4 – 44 | 22.3 – 50 |
| Social Democrats | 19.1 – 42 | 21.4 – 45 |
| True Finns | 19.0 – 39 | 4.1 – 5 |
| Centre Party | 15.8 – 35 | 23.1 – 51 |
| Left Alliance | 8.1 – 14 | 8.8 – 17 |
| Green Party | 7.2 – 10 | 8.5 – 15 |
| Swedish People's Party | 4.3 – 9 | 4.6 – 9 |
| Christian Democrats | 4.0 – 6 | 4.9 – 7 |