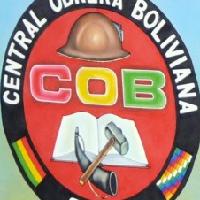 La cob debe volver a sus raices de lucha independiente y revolución socialista
Desde sus inicios, La Central Obrera Bolivia (COB) tuvo un proyecto histórico basado en la lucha independiente de clases y la revolución socialista. Fue fundada en la Revolución Nacional de 1952 y en sus primeros actos demandó la nacionalización de las minas sin indemnización, la eliminación del Ejército y su reemplazo por milicias obreras y campesinas, la abolición del latifundio y todas las formas de prestaciones laborales.
Los principios de la COB plantean la unidad de la clase trabajadora sin discriminación, la democracia sindical, la independencia política y la solidaridad entre todos los trabajadore. Así, ha logrado ser un poderoso instrumento de lucha no solo por los trabajadores, sino por todos los explotados.
Ha logrado levantarse una y otra vez ante el ataque de gobiernos dictatoriales como el de Barrientos y las masacres de Catavi y Siglo XX.
Ha logrado reconstituirse a pesar de la persecución de Banzer y su sangriento golpe en contra de los trabajadores, universitarios y campesinos.
El pueblo debe recordar que fueron los trabajadores y la COB los que lucharon incansablemente por la democracia, conseguida en 1982.
Los trabajdoes deben recodar que no solo lucharon por la democracia sino por la transformación radical del sistema económico del país.
La COB planteó devolver al Estado sus riquezas fundamentales vía un sistema socialista encabezado por los obreros en estrecha alianza con los compañeros campesinos, universitarios y sectores oprimidos para liberar a todos los explotados del país.
Los grandes documentos de la COB, la Tesis de Pulacayo y la Tesis Socialista de 1970, han planteado la lucha contra el imperialismo en todo el mundo.
El debilitamiento de la COB con el sistema neoliberal
En 1985 y 1986 tras la instauración del neoliberalismo vía los decretos 21060 y el 21660 vimos la privatización de las empresas productoras más importantes del país como la COMIBOL, ENAF, Corporación Boliviana de Fomento, ENFE, ENTA y la descapitalización del Banco Central de Bolivia.
Además del despido de 30.000 a 70.000 trabajadores entre 1985 al 1987, la reducción radical del salario y el "libre" mercado como modelo económico, causando mayor desigualdad y pobreza.
Políticamente, significó la desestructuración de la vanguardia revolucionaria – los trabajadores mineros – perjudicando la organización y consciencia política de todos los trabajadores y oprimidos.
El Congreso de la COB debe plantear lucha independiente y el socialismo
La clase trabajadora actualmente debe luchar por su reconstitución, por su unidad, por su independencia política del gobierno y los patrones..
En su Magno Congreso debe plantear nuevamente las banderas del socialismo, cuyo paso inícial implica la lucha contra las trasnacionales mediante la nacionalización de las minas y los hidrocarburos y la lucha contra el capitalismo atraves de la nacionalización de las empresas grandes bajo el control obrero y popular.
Debe plantear la alianza con los campesinos y la erradicación del latifundio con parte de la tierra en manos de los campesinos y el resto en manos del Estado para mostrar al campesinado la conveniencia del trabajo colectivo y convencerle del socialismo.
Los trabajadores deben luchar para recuperar la consciencia de clase y volver a plantear un proyecto histórico, tarea que debe realizarse junto a los campesinos para llegar a la toma del poder, instaurar el socialismo y eliminar definitivamente el capitalismo.
El primer paso hacia esto es conformando un instrumento político que establezca alianza con los campesinos, los explotados y sectores socialistas de la clase media.
Por eso, Alternativa Socialista Revolucionaria apoya en la conformación de un Frente Socialista Amplio.
¡Compañeros trabajadores de Bolivia, la lucha por el socialismo es tarea nuestra!
Special financial appeal to all readers of socialistworld.net

Support building alternative socialist media

---

Socialistworld.net provides a unique analysis and perspective of world events. Socialistworld.net also plays a crucial role in building the struggle for socialism across all continents. Capitalism has failed! Assist us to build the fight-back and prepare for the stormy period of class struggles ahead. Please make a donation to help us reach more readers and to widen our socialist campaigning work across the world.

Donate via Paypal

CWI- Please inform us if you are reproducing any material from this site.