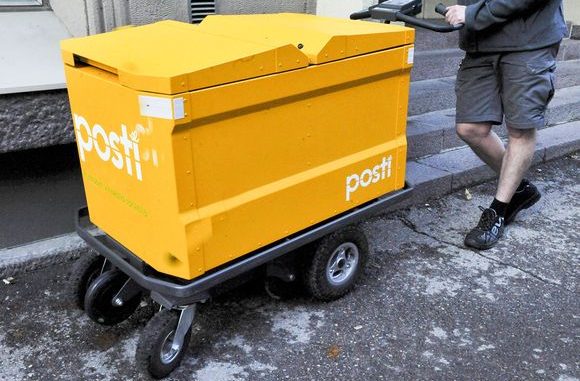 The Finnish government today announced concessions in response to the ongoing Finnish postal workers' strike. Their union – the PAU -began four days of strike action on Sunday 1 September in response to management plans to cut the pay of hundreds of workers in the Finnish national postal service, Posti, by an average of 30%
Postal distribution workers walked out of sorting centers across Finland and have joined by postal truck drivers. Cargo loaders in two port cities, Hamina and Kotka, supported the strike with secondary action.
Speaking at a press conference today, Minister for state-owned businesses Sirpa Paatero said the government will review executive pay next month and, for now, "suspend" the pay cuts. PAU has suspended the strike action following additional private assurances from the government. However PAU demands the packaging & e-commerce workers at the center of the dispute be transferred to work directly under Posti as a condition of starting negotiations.
The union leaders of PAU need to press on in order to secure postal workers' pay and conditions and to fight for a public, democratically-run postal service.
Pay cuts
The dispute has to do with the Byzantine Finnish system of national collective bargaining agreements. Two different collective agreements are applicable to packing workers and online shopping workers. Posti plans to transfer the workers covered under the more generous agreement to a different agreement with worse terms and conditions – one that covers newspaper distribution.
The plan would mean enormous pay cuts for many Posti workers, with some losing 50% of their salary starting in November. The workers were quick to make their objections to the offer known, with immediate wildcat walkouts staged in distribution centers in Tampere, Vantaa and Jyväskylä in protest.
Neoliberalism
Posti has been under pressure from the Finnish state for years. Most people's instinct is to say that a postal service is a public service whose purpose is to facilitate communication among people, securely and affordably delivering letters, postcards and packages. Instead, in recent years, Posti has attempted absurd "diversification" projects. In 2016, as ever more private individuals turn to e-mail and other online ways of keeping in touch,they offered lawn-cutting services in order to stay profitable!
Under the neoliberal consensus of the European Union, public services only have value if they serve the immediate needs of big business. The Posti Group Oyj, while wholly owned by the Finnish state, is expected to turn an annual profit while at the same time facilitating business-to-business and e-commerce transactions as cheaply as possible: an impossible challenge and a perversion of the idea of public service.
Pressure from below 
The strike presents the first significant challenge from below to Finland's self-proclaimed "center-left," Social Democrat-led government. It also comes just as the five government parties begin the process of formulating the 2020 budget.
A proposal for an alternative to cutbacks from an SDP-aligned board member is for the government simply to reinvest some of Posti's profits – 8.7 million euro and rising – in order to pay for better staff salaries. PAU's leadership has taken up the slogan "The post does not need to turn a profit!" ("Postin ei tarvitse tehdä voittoa!") This demand has been the product of deep disgust at high executive pay. The CEO of Posti is paid nearly a million euro a year.
But asking the question "why should the postal service be operating for profit?" leads to another. Why should Posti be operating as a business in the first place?
A socialist solution
Public services should be in public hands. Institutions like the post office, health services, public utilities, and railways operate better – more cheaply, more accessibly, more sustainably – when they're run democratically by the workers who know them best, preferably organized together under a democratic socialist government which plans the economy for the benefit of all. In a country where the rich continue to hoard wealth, there is no excuse for cuts in spending on public services.
The Social Democratic Prime Minister, Antti Rinne, has expressed disappointment at how the two recognition agreements overlap and has pledged to block its return, but concrete action still hasn't even been formulated. Nothing better has come from Left Alliance leader and education minister, Li Andersson, who suggests that Posti's cuts should be spread between labor and management.
The present concessions are not a total victory, and, if accepted, carry the risk of putting the dispute off until a more convenient time for the government.
This "center-left" government has not lifted one finger to reverse the past two decades of spending cuts and privatization of public services. As such, it is doing nothing to defend the Finnish economy from the global economic downturn even as it watches it commence, and we cannot trust it to make the changes necessary to ensure jobs, good wages and good conditions for Posti workers.
Fighting unions
The Rinne government deserves the pressure it is receiving from postal workers. On the other hand, these workers deserve a union that fights for them unconditionally, rather than one whose leadership poses as mediators between labor and management. The fact that this strike began with wildcat action shows how the union, PAU, is being dragged into action from below. But it is also a signal to trade unionists across Finland as to how rank-and-file organization can undermine even the most sold-out union bosses.
If the Posti strike could be connected with other disputes into a general strike, it could bring Finnish bosses and the government to its knees. If fighting unions join together under a mass socialist party of the working class, there is nothing that workers cannot achieve.
We say:
Fight on for concrete concessions! Build demonstrations of postal workers and the general public: get the message out in the streets!
Renationalize Posti and other public services. Public services for people, not for profit!
Build the strike; be ready to escalate it! Link up with workers in other sectors taking action!