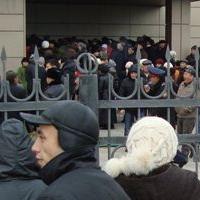 Ten thousand signatures collected on oil-workers' petition
An article on the web-site of Socialist Resistance (CWI), Kazakhstan points to a recent opinion poll showing a big growth in discontent and a fear of social unrest in the near future. "Despite the fact that there was no change in the number of people generally dissatisfied with many of the social policies, in November the number of those totally dissatisfied had grown to 25%! Those who are entirely satisfied with the policies of the regime amount to only 12% of the population! The number of those who say they are willing to actively participate in protests is up to 50%."
The site also carries an appeal by the still fighting oil-workers of the Mangystau region of West Kazakhstan. They have gathered ten thousand signatures on their petition so far. To read the appeal and download a petition in support of the workers click here.