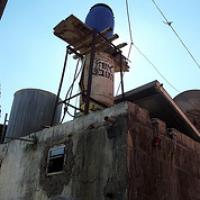 Densely packed refugee camp and meetings with NGOs
As reported yesterday on Socialistworld.net Paul Murphy MEP, Socialist Party (CWI in Ireland), is conducting a tour of Gaza as part of a larger delegation of NGO's and parliamentarians. This comes after two previous attempts by Paul to reach Gaza were stopped by the Israeli regime.
Below we publish extracts from Paul's blog entry of the second day of his tour.
To see previous coverage of Paul's attempts to reach Gaza, and articles, commentary and analysis about the situation in Palestine/Israel published by the CWI click here.
Socialistworld.net
"I'm back in the hotel after a long day of meetings and trips. Just getting out during the daytime is educational in itself. Poverty is everywhere as is evidence of the airstrikes and "Operation Castlead", the Israeli regime's attack on Gaza at the end of 2008 and start of 2009. Statistics were given of over 2,000 buildings around Gaza being partially destroyed and over 3,000 being completely destroyed. Those figures chime with what you see as you drive around Gaza."
Jabalia refugee camp after an Israeli airstrike in 2009
"The day started with a visit to Assamala Charitable Society, which is an organisation for those injured and disabled by the Israeli attacks. We met some of the many women who had lost limbs and suffered horrific injuries, mostly as a result of Israeli bombings. Tragically, there was also a young boy, missing one of his legs. A video presentation and speeches outlined the work of the organisation – which provides doctors, physiotherapists and psychologists to help those who are injured. This society has provided over 100 electric wheelchairs to those who have lost legs as well as providing artificial limbs. Although the service seemed to be well organised and professional, the fact that it needs to exist is of course testament to the human tragedy that exists in Gaza as a direct result of the policy of the Israeli regime."
To read Paul's full blog entry on his website click here