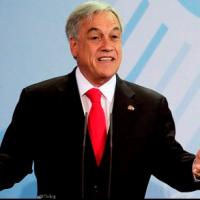 No hay más alternativa que seguir luchando.
Los intereses que estaban en juego eran demasiados grandes, los empresarios privados de la educación, el gobierno, la derecha y la Concertación, querían y necesitaban aprobarlo pero tratando de pagar el menor costo político, de cara al casi 80% de la población que esta favor de la educación pública y gratuita.
Claramente aprobaron un presupuesto mezquino y mentiroso, que no soluciona prácticamente ninguno de los problemas por los que los estudiantes han estado movilizados los últimos siete meses, solo asegura los intereses de los empresarios de la educación y las ganancias de los bancos.
La clase política hizo su trabajo, defender sus intereses.
La derecha y la Concertación, tienen muchos intereses invertidos en el negocio de la educación y que  por supuesto van a defender, pero tratando de dar la impresión que defienden los intereses de los estudiantes y la mayoría de la población que esta en contra del actual sistema educacional chileno, que están contra la ambición y el lucro de los empresarios.
La aprobación del presupuesto se veía venir, especialmente cuando los senadores de "oposición" (Concertación) se negaron a concurrir con sus votos a la votación del presupuesto de educación, que en cierta forma le daba luz verde a la propuesta del gobierno.
René Alinco un perfecto chivo expiatorio.
Cínicamente los políticos Concertacionistas están tratando de culpar de todo esto a René Alinco, este diputado es un pobre tipo con muy pocas luces (tan pocas que voto a favor del presupuesto de Piñera), pero también es el mejor exponente de los que son nuestros actuales parlamentarios, todos estos personeros son unos tránsfugas oportunistas, que están ahí para defender sus propios intereses y están listos para aceptar la oferta del mejor postor, el que ofrece más se queda con sus votos, a raíz de esto, es que la mayoría de la población ya no confía en la actual clase política chilena.
Para muchos los peores son los de la Concertación, por que cínicamente dicen que están del lado de los estudiantes y trabajadores, esto a pesar de que fueron ellos los que implementaron muchas de las actuales políticas de mercado en la educación.
El gobierno no puede sacar cuentas alegres.
Aprobar un presupuesto que es rechazado ampliamente por los estudiantes, tanto secundarios, como universitarios, por los profesores y la mayoría de la población, es asegurar la prolongación de la lucha estudiantil en los próximos años. Los estudiantes no tendrán más alternativa que continuar con la lucha por una educación pública y gratuita, para ponerle fin al lucro y al abuso patronal.
El gobierno y la derecha están felices con la aprobación del presupuesto de educación, esto demuestra que no entienden nada sobre cual es la actual situación social y el malestar cada vez más generalizado que existe entre la población, la imposición de un presupuesto mezquino solo hará que los estudiantes y sus padres sigan juntando rabia contra el gobierno y la clase política, que solo actúa para defender sus propios intereses y no los de los sectores populares como dicen en sus discursos.
La necesaria unidad entre los estudiantes y trabajadores.
Ya esta más que claro que esperar respuestas de la clase política es una total perdida de tiempo, necesitamos levantar una nueva alternativa política de los trabajadores, estudiantes y sectores populares, para terminar definitivamente con las actuales injusticias y construir una sociedad más justa y solidaria.
Special financial appeal to all readers of socialistworld.net

Support building alternative socialist media

---

Socialistworld.net provides a unique analysis and perspective of world events. Socialistworld.net also plays a crucial role in building the struggle for socialism across all continents. Capitalism has failed! Assist us to build the fight-back and prepare for the stormy period of class struggles ahead. Please make a donation to help us reach more readers and to widen our socialist campaigning work across the world.

Donate via Paypal

CWI- Please inform us if you are reproducing any material from this site.