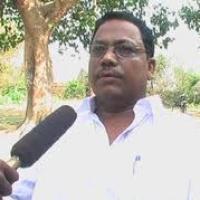 Solidarity needed! Demand Odisha government immediately releases Abhay Sahoo
"It is a matter of great concern that Odisha government in order to push forward the POSCO steel project at Dhinkia and Gobindpur near Paradip port has once again arrested the leader of the anti-POSCO resistance movement – POSCO Pratirod Sangram Samithi (PPSS) and CPI leader, Abhay Sahoo. The arrest comes after years of heroic resistance put up by the peasants and fisher folk of Dhinkia and Gobindpur against all attempts by the Odisha government and POSCO hired goons to take away their precious land.
Abhay Sahoo was arrested on 25th November when he was travelling from Paradip near the proposed project area. Currently his bail plea has been rejected and has been remanded for 14 days in judicial custody."
Read the full statement here from New Socialist Alternative (CWI India), including a fuller list of demands.
Release Abhay Sahoo immediately and drop all false charges against him!
We call upon Trade Unions, Political parties/Organisations nationally and internationally to show Solidarity by protesting this arrest and attack on anti-POSCO movement
Please send in your solidarity messages to Prashant Paikaray, Spokesperson, POSCO Pratirodh Sangram Samiti, Mobile no – 09437571547 . Email- prashantpaikray@gmail.com
Please write and call the following people to protest:
1. Naveen Patnaik, Chief Minister, Odisha, Fax 0674-2535100 Email – cmo@ori.nic.in
2. Mr. S. K. Patnayak, Chief Secretary, Government of Odhisa, FAX: 0674 – 2536660 Email – csori@ori.nic.in
3. Mr. Narayan Chandra Jena, District Collector, Jagatsinghpur, Contact number +919437038401 Fax No : +916724220299
4. Mr. Debadutta Singh, Superintendent of Police, Mobile No- +919437094678 , Email – dmjsp@ori.nic.in