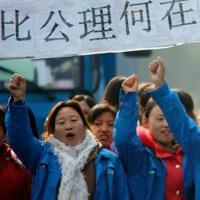 Women workers at Hi-P international in Shanghai continue their strike against layoffs for 8th day
Around 400 workers at Singapore-owned Hi-P International, an electronics manufacturer, are continuing their strike in the Pudong district of Shanghai. With negotiations hitting a wall, police have taken a tough line against the strikers. A dozen strikers were arrested yesterday (6 December) and workers have complained of police beatings earlier in the dispute, which has now lasted for eight days.
The company, which makes components for companies such as Apple, HP, Blackberry (RIM) and Motorola, is relocating the factory to a remote suburb of the city. Many among the predominantly female workforce do not want to move and are demanding their legal right to compensation from the company.
"We work long shifts, sometimes over 20 hours. Even with a company shuttle bus, the new factory will mean an hour and a half's travelling every day, so we won't have any time left to rest," said one migrant worker from Sichuan.
"Most of us have been working at this factory for many years, so we should be properly compensated if they want to break our contracts," she told the South China Morning Post.
"They are moving the factory but I don't want to go there," a worker surnamed Zhang told Reuters. "Now they just don't want to compensate us. They do not want to even give us a single cent."
Shanghai Hi-P workers on strike against layoffs without compensation
"We want the truth"
The entrance to the factory in the Jinqiao industrial zone of eastern Shanghai has been blocked for several days by striking workers with banners reading, "We want an explanation, we want the truth." In a country where strikes and union organisation are outlawed, the women's struggle and ability to sustain this action for so many days is very impressive. The same factory was hit by a two-week strike in July and August in protest over plans to shift some production to Suzhou in Jiangsu province.
Strikers are refusing to sign agreements on the company's terms, under which no compensation is to be given, in violation of China's labour laws. Workers said the company planned to hire new staff. Dozens of police officers have been stationed outside the factory and workers said police had beaten up some strikers last Wednesday (30 November).
"This hurts me so much. I have worked hard for them. They are contravening labour law by asking us to leave but not pay us any compensation. Why are the authorities siding with them?" said another striker.
The company, evidently with backing from the local government, has taken a hard line stance to try to break the strike. On Tuesday 6 December, when workers arrived for picket duty at 6am, the factory gates were surrounded by around 200 police officers, who ordered the women to keep away. Police seized around a dozen strikers when they attempted to stage a sit-in in the street outside. At the same time the company issued an ultimatum that those workers who have not returned to work within three days will be dismissed.
Hi-P International employs more than 20,000 employees worldwide at 15 manufacturing plants. This includes five factories in China – Shanghai, Chengdu, Tianjin, Xiamen and Suzhou. The company also has plants in Mexico, Poland, Singapore and Thailand.
Rising tide of workers' struggles
China has experienced a growing number of strikes recently as factory orders fall, export markets wilt, and bosses seek various ways to cut labour costs – increasing cafeteria prices and dormitory fees, withholding wages, and also increasingly shifting production from the manufacturing heartlands of coastal China to provinces with lower wages or to neighbouring countries.
Tens of thousands of factory workers in southern Guangdong province employed in the footwear, garment, watchmaking, furniture and electronics industries have taken strike action in recent weeks. Public and municipal sector workers have also taken strike action in Nanjing (public sanitation workers) and Shanghai (public hospital staff). In the Sichuan capital, Chengdu, several hundred state-owned enterprise (SOE) workers staged a three-day (28-30 November) sit-in protest over a share distribution plan following privatisation of the factory.
Around 100 staff blocked and barricaded a supermarket owned by British chain Tesco in the Zhejiang city of Jinhua. The store is to close and workers are fighting for unpaid wages. Bus drivers and taxi drivers have been involved in separate stoppages over low pay and unfair competition in Shandong, Hainan and Guangxi provinces.
Some recent strikes "showed a new level of sophistication" according to Geoffrey Crothall, a commentator for the Hong Kong-based China Labour Bulletin. A good example of this is the coordinated one-day strike by several thousand workers at five of PepsiCo's 24 plants. The workers – at factories in Chongqing, Chengdu, Fuzhou, Lanzhou and Nanchang – protested last month at PepsiCo's decision to sell its China arm to Taiwanese-owned Tingyi, fearing that existing terms and conditions of work will be undermined by the deal.
PepsiCo workers made use of weibo micro-blogging sites to publicise their dispute, again underlining a high degree of planning and coordination, which is sorely needed in the struggle for workers' rights in China. So afraid were the authorities of this example, that 'Pepsi' was added to the list of blocked words on internet search engines.
Police and local government officials have generally taken a tough line towards recent disputes, as in the case of the Hi-P strike in Shanghai. Ten workers at the huge Yucheng shoe factory in Dongguan were injured when police cracked down on a protest march involving thousands last month (see: Upsurge of strikes in southern China).
The recent upturn in strikes has sounded alarm bells within the summits of the 'communist' dictatorship. Zhou Yongkang, China's top security official, warned earlier this week about the spectre of social unrest arising due to the state of the economy.
"Especially when facing the negative effects of the market economy, we still have not formed a complete mechanism for social management," Zhou said. How to do so, he said, "is the great and urgent task before us."
Slowing economy
The current labour unrest is set against a very different global economic backdrop to last year's strikes, with a slowing economy in China and credit squeeze beginning to bite on company profits. Factory output is actually falling, with the November purchasing manager index (PMI) reading 49 (a reading below 50 points signifies a contraction).
Although inflation is still the major talking point – even on picket lines – most recent strikes have been defensive in character. Rather than fighting for pay increases workers have been responding to attacks from the employers' side: layoffs, relocation, pay cuts, or privatisation. Workers face even bigger threats in the year ahead.
The Federation of Hong Kong Industries, representing Hong Kong manufacturing capitalists, recently warned that up to a third of 50,000 Hong Kong-owned factories in adjoining Guangdong and elsewhere in China could downsize or close by the end of the year, threatening hundreds of thousands of jobs for migrant workers.
As one striker at the Yucheng factory in Dongguan exclaimed, "Even during the financial crisis we didn't see pressure like this."
With companies looking to slash costs or cut production, cases of wage arrears and of absconding bosses are likely to spiral. A recent survey by an NGO affiliated with Peking University showed that 41.2 percent of construction workers (nearly all are migrants) have at some point suffered wage delays, sometimes indefinitely. These problems could get even worse in coming months, experts are predicting. The survey found that 75 percent of construction workers in Beijing do not have job contracts. With government curbs beginning to take effect and housing sales plummeting (house prices fell 15 percent in some areas last month), many construction projects are already being abandoned – along with their workforce!
Solidarity needed
Chinaworker.info is stepping up its campaigning work in defence of Chinese workers' rights. The deepening global capitalist crisis will mean new shocks and challenges for Chinese workers.
We call for the release of all those Hi-P strikers detained by police in Shanghai and protest against this and other recent cases of harsh repression against workers who are fighting for their rights. Likewise we protest at Hi-P's blatant strike-breaking methods and the role of the local authorities in aiding these anti-worker tactics. Workers need organisation and solidarity – free trade unions – to defend their rights against the bosses and the authoritarian state.
Even with a solid strike in one workplace, there is a need for organisational links and support from other workplaces. This of course is something the Chinese dictatorship wants to prevent at all costs. There's an urgent need for real grassroots-controlled unions, independent of the state and employers, linked together across cities and regions. This is shown by the struggles at Hi-P (where solidarity action from other factories such as the Hi-P plant at Suzhou is needed) and in the promising example of PepsiCo workers.
chinaworker.info demands the immediate release of arrested Hi-P strikers
The state-run ACFTU has shown again in current disputes that it is as an agent of the bosses and the government. International solidarity is needed, as in the brilliant example of 'occupy' activists in US cities such as Chicago, who on 'Black Friday' last month staged demonstrations in support of striking Chinese workers.