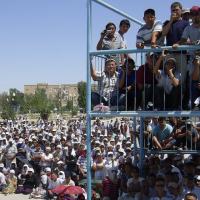 Russian press describe torture of detained oil workers & police reign of terror
As more video evidence emerges showing what really happened in the western Kazakhstan city of Zhenaozen, on 16 December, when police and interior ministry troops murderously fired upon peacefully protesting oil workers, more news reports are filtering out from Zhenaozen and Aktau city, which face continuing state brutality.
On 21 December, a desperate letter was received by the opposition newspaper 'Respublika'. It simply read: "I cannot sign this letter, but I cannot keep quiet. Maybe you can do something. They are preparing to burn about a hundred bodies, which are now in the Aktau morgue! How many of them are from Zhanaozen, I do not know. They have banned the identification of the bodies and refuse to hand them over to relatives. "
This letter provides further evidence that the numbers killed by police, now officially recognized by the government at 15 people, is a dramatic underestimate. On 20 December, 6 funerals of slain workers took place in Zhanaozen. But the relatives of another 60 families are still missing and feared dead.
Russian and European journalists have managed to reach the scene of last week's massacre, despite the Kazakhstan authorities cancelling flights to Zhanaozen city. One journalist from the Russian pro-business paper 'Kommersant' (recently taken over by the notorious Russian oligarch Prokorov) described what he saw in Zhanaozen, as the police and troops were waging their reign of terror: "Me-e-eat! – drawled out the person dressed in plain clothes grinning through his white teeth. The plainclothes man stood at the entrance of the police station against the background of rows of riot police dressed in black, as they escorted a chain of people past. Looking at their faces was impossible. They hobbled past on half bent legs, stooped, with hands on their head – whoever stumbled was pushed or punched violently in the side by one of the riot police.
"This was yet one more group of those detained for participating in Friday's disorder in the central square. This is what he called 'meat'. There was also a smell of meat in the corridors of the police station, where the walls and floor were splashed with blood. When I asked why the walls were covered in blood, a policeman, with a kindly Slavic face, replied without blinking: 'We killed a sheep, we had a celebration, after all'".
Zhenaozen surrounded by check-points; women raped in police detention
Journalists returning from Zhenaozen and Aktau cities reported hearing cries and shrieks police cells, where oil workers are beaten and tortured. One reporter described the situation: "Meanwhile, today [22 December], the city of Zhenaozen is still surrounded by police check-points and is very difficult to enter. Residents are in fear, they are under pressure, the city look as if it has just been bombed. Arrests of the workers and friends are continuing, as is torture. Women say they were raped while in detention.
"Tents set up to commemorate the dead have been pulled down, so that the number of dead cannot be counted… [Survivors] are released to relatives, but if they die, they are taken out in an unknown direction. Some lads who survived this described how after being beaten they were thrown naked in the open and had water poured over them [in sub zero temperatures]".
A further report in the Respublika newspaper stated: "In the cellars of the police station, the lads are being beaten close to death. When they have almost dropped, they are pumped full of morphine and beaten again."
In Aktau, although it seems some oil production may have re-started, the workers are still holding their heads high and are still trying to demonstrate. But on 22 December, soldiers seized five of the oil workers' leaders and they have not been seen or heard from since. Their mobile phones have been cut off. And the number of missing oil workers in the city has risen to 30.
This seems to be linked with the arrival of President Nursultan Nazarbayev to Aktau on 22 December– the reasons for which are not yet clear. Nazarbayev had just returned from Moscow, where he is used to being treated as an honoured guest. This time, however, Nazarbayev was treated as an embarrassment. Not because of Nazarbayev's brutal violence against oil workers and their families, but probably because he allowed the situation to get 'out of control'. His Russian hosts' disquiet was revealed during a Moscow photo opportunity, when Nazarbayev, standing amongst other 'dignitaries', was relegated to the back of the group, instead of at his usual position in the centre.
Messages of sympathy and support to the oil workers continue to flood in from the people of Kazakhstan. When they learn about the massacre of oil workers and their families, the sympathy of the people is overwhelmingly on the side of the strikers. So far, this sympathy has not yet expressed itself in any active way, with street protests or other direct action. But the terrible events of the last few days have sent shock waves through Kazakhstan society, which will no longer be the same. This surely is the start of the end of the Nazarbayev dictatorship.
The Zhenaozen massacre has led to international protests [see the Campaign Kazakhstan website link] including, on 20 December, a protest at the Kazakhstan embassy in Athens, where a delegation handed in a petition signed by over 80 Greek trade unionists, youth, environmentalist and socialist activists. Please continue to send in protests, demanding an end to the Nazarbayev regime's terror campaign.