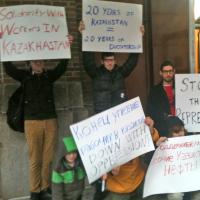 Picket in New York protests against the Kazakh mission to the UN
On 21 December a protest was held outside the Kazakhstan mission to the United Nations (UN) in New York in solidarity with the heroic oil workers strike and to oppose the brutal repression that they have face. A speaker condemned the Kazakhstan government's recent massacre of unarmed workers and called for the end to the 20-year dictatorship in Kazakhstan. We chanted, "Stop the repression in Kazakhstan, this injustice will not stand!" A Kazakh youth stopped to take pictures and asked us about the situation which she was also following closely.
When an official from the mission approached the protesters to challenge the accusations he was shown a video clearly demonstrating the police attacking and shooting down unarmed protesters in Kazakhstan. Then, on camera, he was asked to explain these events and publicly condemn his government's action which he flatly refused to do and walked away.
To the Kazakhstan workers we say workers and youth in the U.S. are with you. We are watching your situation impatiently and supporting your struggle against the police, oil bosses and the Nazarbayev dictatorship.