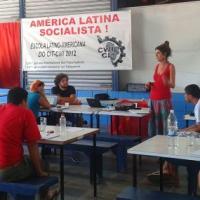 Realizada con exito
Desde el miércoles 1 de febrero hasta el domingo 5 de febrero se desarrolló en Brasil (San Pablo) la quinta Escuela Latinoamericana del Comité por una Internacional de los Trabajadores (CIT); que contó con la valiosa participación de mas de 120 compañeros de Brasil, Venezuela, Bolivia, Estados Unidos, Chile, Gran Bretaña y Francia.
Durante 5 días se realizaron jornadas de intenso debate acerca de los extraordinarios procesos de lucha de masas que se desarrollan a nivel internacional, en el contexto de la mayor crisis capitalista mundial desde los años 30, y que aún no da señales de terminar.
La Escuela funcionó en base a grupos de discusión y plenarias generales que abordaron, entre otros, temas tan relevantes como:
El capitalismo del siglo XXI, ¿que fracasó?, La historia del CIT y su lucha hoy, Experiencia y lecciones de los nuevos partidos de izquierda, Raza y clase en América Latina, Lecciones de Mayo 1968 francés, Revolución y contrarrevolución en el mundo árabe,¿A donde va Chávez?, A 10 años del Argentinazo, Lecciones del movimiento estudiantil chileno, El conflicto de Tipnis y el gobierno de Evo Morales, Perspectivas para la crisis Internacional: Europa, Estados Unidos y China; y Perspectivas para América Latina.
La escuela contó con una gran participación de jóvenes y trabajadores; lo que permitió compartir valiosas experiencias y discutir aspectos tácticos concretos para el desarrollo de las fuerzas del marxismo en medio de un mundo en turbulencia.
Época de Revolución y Contrarrevolución
Como se señaló en los múltiples debates, el 2011 marcó, en cierto sentido, un punto de inflexión en la situación del capitalismo a nivel internacional. Podemos señalar que la actual crisis capitalista mundial ha entrado en una nueva fase, abriendo una época de revolución y contrarrevolución.
El 2011 se inicio con las revoluciones en el norte de África y los países árabes; con movimientos de masas que barrieron regímenes dictatoriales de décadas. Después vimos los movimientos de masas de jóvenes y trabajadores en contra de los brutales ataques de los gobiernos capitalistas a sus niveles de vida, como consecuencia de la profundización de la crisis en Europa. Presenciamos una serie de masivas huelgas generales en Grecia, Portugal, España e incluso en Gran Bretaña, la primera en más de 80 años. Y también hemos visto el desarrollo de movimientos masivos de jóvenes en España (los Indignados) y Grecia. Europa es ahora, sin lugar a dudas, el epicentro de la crisis.
Pero además hemos observado, ante la profundización de la crisis, el inicio de una rebelión de sectores de la juventud y los trabajadores en los Estados Unidos, reflejado en el movimiento Ocupa. La crisis ha destruido completamente la idea del "sueño americano"; abriendo una etapa completamente nueva para los Estados Unidos.
En este contexto, América Latina, no esta al margen de la crisis económica mundial en desarrollo. La relativa estabilidad económica de algunos países de la región, ha sido a costa de profundizar su rol mono productor de materias primas para las economías más desarrolladas, y de profundizar su dependencia de la economía china; que se ha transformado en la locomotora de la economía mundial, en medio de la crisis.
Sin embargo, los gobiernos de la región se verán forzados a implementar programas de ajustes, ha medida que la crisis económica se profundice y la economía china desacelere. Indicios de esto ya lo estamos observando en Brasil y Argentina. En Brasil el gobierno de Dilma Rousseff esta realizando grandes recortes en el gasto público y ha estrangulado el salario mínimo; mientras que en Argentina, el gobierno de Cristina Fernández está poniendo tope al aumento de salarios e implementando alzas en las tarifas de gas, luz y agua. Aun hasta ahora, a pesar del fuerte crescimiento en algunos paises, esto no ha prevenido explosiones sociales, tanto en Chile como en Brazil, Argentina o Peru, en donde hemos visto movimientos masivos y una oleada de huelgas obreras.
Por otra parte, los procesos en Venezuela y Bolivia evidencian un claro desgaste, debido a la incapacidad de los gobiernos de Chávez y Morales para romper con el capitalismo y resolver los problemas urgentes de pobreza y opresión de las masas. En Bolivia, especialmente, observamos el desarrollo de una nueva situación política, con una creciente oposición de los trabajadores a las políticas de Evo Morales y el MAS.
La relativa estabilidad económica en la región, ha permitido la consolidación de gobiernos de continuidad que promueven políticas neoliberales junto con reformas sociales. Pero esto será imposible de mantener en un contexto de agudización de la crisis. Las enormes movilizaciones que hemos presenciado en Chile el 2011, contra las políticas neoliberales implementadas por décadas, anticipan el sonido del futuro para la región.
La necesidad de una alternativa socialista a la crisis
La inevitable profundización de la crisis en el próximo período abrirá enormes oportunidades para levantar las genuinas ideas del socialismo y la economía planificada, como la única alternativa al caos y miseria que ofrece el capitalismo. Pero también será un período enormemente complejo, pues como nunca antes en la historia el nivel de conciencia de las masas va tan a la zaga en relación a las necesidades objetivas que se desprenden de la crisis de la sociedad. Décadas de políticas neoliberales y ofensiva ideológica de la clase dominante para desacreditar las ideas socialistas tras la caída del estalinismo; han llevado a un estado de gran confusión… sobre que significa realmente el socialismo y como levantar una alternativa revolucionaria para acabar con el sistema capitalista.
En última instancia, la falta a nivel internacional de un partido revolucionario de masas, armado con un programa socialista para transformar la sociedad, es el factor que explica la catastrófica prolongación de la crisis y el que la burguesía haya conseguido salvar su sistema, hasta ahora.
Por eso la tarea de los marxistas hoy, es ayudar a los trabajadores y jóvenes a sacar las conclusiones revolucionarias a partir de su experiencia concreta, al calor de la lucha contra la crisis. Ayudar a acelerar la toma de conciencia de las masas trabajadoras y de la juventud, para comprender que es imposible reformar el capitalismo, que es necesario derribarlo para construir una sociedad nueva. Una sociedad basada en la economía planificada según las necesidades de la población y no la avaricia de unos pocos, donde el control y administración sea ejercido por los propios trabajadores y trabajadoras de una manera conciente y democrática; es decir, una sociedad socialista.
Esta es la gran tarea que ha asumido el Comité por una Internacional de los Trabajadores (CIT), con organizaciones en más de 45 países y en los 5 continentes. Acabar con este sistema basado en la opresión, la guerra y miseria de millones; para arrojarlo donde merece estar, en el basurero de la historia.
¡¡Únete a nosotros!!
Special financial appeal to all readers of socialistworld.net

Support building alternative socialist media

---

Socialistworld.net provides a unique analysis and perspective of world events. Socialistworld.net also plays a crucial role in building the struggle for socialism across all continents. Capitalism has failed! Assist us to build the fight-back and prepare for the stormy period of class struggles ahead. Please make a donation to help us reach more readers and to widen our socialist campaigning work across the world.

Donate via Paypal

CWI- Please inform us if you are reproducing any material from this site.