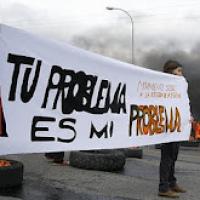 El año 2011 las protestas empezaron en Magallanes, este 2012 la lucha y la protesta social empezó en Aysén y continuara por el resto del país.
Tanto en Magallanes el 2011, como ahora en Aysén las protestas tienen su raíz en los 40 años de abuso patronal y del conjunto de la elite chilena. Los abusos empezaron con la dictadura de Pinochet, la derecha y los empresarios, pero no terminaron con el fin de la dictadura, continuaron con los gobiernos de la Concertación y ahora con la administración de Sebastián Piñera, cuatro décadas de abusos que por suerte están llegando a su fin y están finalizando por que los trabajadores y los sectores populares se cansaron de esperar y ahora están empezando a entender que tienen que tomar medidas ellos mismos para que sus demandas sean escuchadas y solucionadas, nada de seguir confiando en los partidos políticos tradicionales, con sus parlamentarios corruptos, que solo responden a los empresarios que les financian sus campañas.
Aysén "Tu problema es mi problema"
Para empezar a cambiar las cosas tenemos que entender que los problemas de los demás son mis problemas, los trabajadores, pobladores, estudiantes y jubilados debemos unificar nuestras demandas en un solo y único programa, basta de luchas parciales, la fuerza de nuestras demandas tiene que ver también con la necesaria unidad de todos los sectores de la población trabajadora que hoy estamos siendo pasados a llevar y a los que se nos están negando o violando todos nuestros derechos más elementales.
Es necesario terminar con el individualismo, tenemos que entender que somos parte de una misma sociedad y que todos nos necesitamos para producir los cambios que requerimos, en esto Aysén y su consigna central es extremadamente esclarecedora "Tu problema es mi problema", incluso esto es acertado si tú no vives en esta región del país.
Basta de alzas, salud y educación gratuita y de calidad.
Las principales demandas de los ayseninos tiene que ver prácticamente con las mismas demandas que tiene el resto de los trabajadores de Chile, aunque por ser esta una región extrema estos se ven agravados por condiciones climáticas, por las largas distancias del transporte y por esto tiene sus propias particularidades. Entre otras cosas los ayseninos exigen una solución al alto costo de los combustibles, petróleo, bencina, parafina, gas y leña, exigen salud de calidad, equidad laboral (sueldo mínimo regionalizado), generar un procedimiento vinculante (plebiscito, consulta) para que se puedan pronunciar sobre los mega proyectos que los empresarios quieren instalar en la zona, una universidad pública regional de alta calidad, regionalización de los recursos naturales, tomar medidas urgentes para que no siga sucumbiendo la pesca artesanal, un rebaja sustantiva en el costo de la canasta básica, (electricidad, agua y alimentos esenciales), pensión regionalizada para los adultos mayores, rutas de acceso para el pequeño y mediano campesino. Los trabajadores del resto del país no podemos menos que adherirnos y exigir que el gobierno y los empresarios cumplan entregando estas demandas mínimas que los ayseninos están pidiendo para mejorar sus condiciones de vida.
El gobierno esta criminalizando la protesta social, ahora le toco a Aysén.
Nuevamente vemos que la única y primera respuesta del gobierno ha sido reprimir brutal y violentamente a nuestros hermanos en Aysén, la primera medida del gobierno fue enviar un avión Hércules, lleno de miembros de Fuerzas Especiales de carabineros y una gran reserva de gases lacrimógenos y balines de plomo para las escopetas anti-motines, la consigna sigue siendo la misma que bajo la dictadura "mano dura Pinochet", ahora aplicada por el criminal de turno que esta a cargo de La Moneda y sentado en el mismo sillón que usaba el dictador.
Más de 40 protestantes ya han sido heridos gravemente por la represión de las fuerzas especiales de carabineros, como es el caso Teófilo Haro Aguilar, al que un carabinero le disparo con su escopeta anti-motines en plena cara, ya perdió un ojo y lo más probable es que termine quedando ciego.
La necesaria solidaridad del resto de los trabajadores chilenos.
Si queremos terminar con el modelo económico, social y político que rige al país desde hace cuarenta años, debemos empezar a movilizarnos en solidaridad con los trabajadores de Aysén y también exigiendo se resuelvan las demandas de todos los trabajadores, pobladores, estudiantes y jubilados de este país.
Pero si de verdad queremos que las cosas cambien de raíz, debemos apuntar a terminar con el conjunto del sistema capitalista y plantearnos construir una sociedad más justa, solidaria y democrática, donde el motor no sea el lucro de unos pocos, sino la solución de los problemas del conjunto de la población.
Special financial appeal to all readers of socialistworld.net

Support building alternative socialist media

---

Socialistworld.net provides a unique analysis and perspective of world events. Socialistworld.net also plays a crucial role in building the struggle for socialism across all continents. Capitalism has failed! Assist us to build the fight-back and prepare for the stormy period of class struggles ahead. Please make a donation to help us reach more readers and to widen our socialist campaigning work across the world.

Donate via Paypal

CWI- Please inform us if you are reproducing any material from this site.