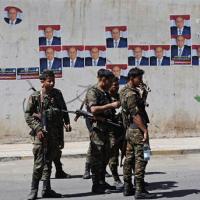 Months of grassroots revolt shows way forward for impoverished masses
On Tuesday, 21 February, elections took place in Yemen for the first new presidential election in 33 years. Even though the result is not yet announced yet, we can already announce the winner – Abd-Rabbu Mansour Hadi – because the election had only one approved candidate and, with no minimum turnout required, he could have won with just one vote! But in parallel with the election campaign, the mass opposition movement, which started last year, continues with new protests, strikes and an "institutional revolution". At the same time, religious, national and tribal-based conflicts threaten to drag the country towards civil war.
This so-called presidential elections are part of an 'initiative' by the GCC (Gulf Co-operation council), the EU and the US to end the despot Ali Abdullah Saleh's 33-year-old rule, under pressure from months of mass protests, but not to end the rule of his regime. Last November, President Saleh, in effect, handed over power to the vice president, and sole presidential candidate, Hadi. In December, under the Gulf initiative, a new government was appointed, composed of 17 ministers from Saleh's GPC party and 17 from the united opposition JMP, whose largest party is Al-Islah (which resembles the Muslim Brotherhood parties of some Middle East countries).
Officially, the new president has two years in which to propose a new constitution and to hold multi-party elections. In practice, this 'process', just as we saw in Egypt after the fall last year of Mubarak, is a way for the ruling elite to maintain itself in power, by sacrificing Saleh and inviting some of the opposition parties and politicians to join the regime.
Part of this deal was to give Saleh, currently in the US, having medical treatment and immunity from prosecution for any of his crimes. However, while Saleh has officially gone, his family remain in key positions: his son, Ahmed Ali Abdullah Saleh, commands Yemen's elite paramilitary unit, the Republican Guard forces; his nephew, Yahya Abdullah Saleh, heads the Central Security Forces, which include a US-trained counter-terrorism unit; another nephew, Tareq Mohammed Abdullah Saleh, commands the Presidential Guard, while Saleh's half-brother, Mohammed Saleh al Ahmar, commands the Yemeni Air Force. While the New York Times has reported that the US will be playing "a leading role in the restructuring of the armed forces", after Hadi officially becomes president, there are also fears in Yemen that Saleh may attempt to return to power.
The fact that the GCC plan is supported by ruling autocracies in Saudi Arabia and Bahrain, which crushed opposition protests in Bahrain last year, and the by the US, which was a strong backer of Mubarak and Saleh, reveals the real purpose behind the 'initiative' – to defend the interests of the ruling elites in Sana'a, Riyadh and Washington.
Hillary Clinton with Ali Abdullah Saleh
Although there is some enthusiasm for the election that will see the end of the hated Saleh and desperate hopes that it will lead to stability, there is also growing discontent. Young people protesting in city and town squares are furious over that GCC initiative gives Saleh and his aides immunity from prosecution and therefore they cannot be punished for having ordered the murder of thousands of protesters in the past months and decades of oppression. Parts of the youth movement also supported another presidential candidate, Ahmad al-Musaibly, who the GPC-controlled parliament did not give permission to stand.
Conflicts North and South
Large parts of Yemen will not actually participate in the election. In the north, it is not possible because of the heavy fighting between Houthis (the Zaydi sect of Shia Islam origin) and the Salafists (a Sunni sect with roots in Saudi Arabia), both of which oppose elections, in general. The same goes for other right-wing religious groups with ties to Al Qaeda that control parts of the Abyan province in the south. Also part of the independence movement in south Yemen opposes the election and has threatened attacks.
On the basis of capitalism and feudalism, this sort of fragmentation and division will continue, as will mass discontent and opposition to poverty, corruption, unemployment, power cuts, and water shortages. The UN Children's Fund says that 57% of Yemen's 12 million children are constantly malnourished, and only Afghanistan has worse statistics. According to Transparency International, Yemen fell from 146 to 164 place on their corruption scale.
A real future for the millions suffering daily in Yemen lies in future development of the mass opposition movement that has defied enormous difficulties in the past year and persevered and, in some ways, deepened. Since December, a so-called "institutional revolution" has been taking place, where the masses, in some cases, have taken matters into their own hands, kicking out Saleh's corrupt cronies from society's top positions. Strikes, sit-ins, blockades and demonstrations have been carried out by soldiers, air-line workers, journalists, students, firefighters, hospital personnel, judges and many others. In several cases, they kicked out hated "mini-Salehs". This has been combined with strikes for economic demands. In the last few weeks, 4,300 sanitation workers have been on strike in Sana'a, demanding permanent employment. Oil workers have been on strike demanding an allowance from the former industry operator, Canadian Nexen.
As in Egypt, more people in Yemen will come to see that the entire regime must be replaced and a new system must be built. The question is, who will replace the corrupt leaders and with what system? Opposition parties cannot be trusted. The capitalist, Hamid al-Ahmar, and General Ali Mohsen, who defected from the regime, both belong to elites that profited at the expense of the masses. Tribal leaders, such as Sheikh Sadeq al-Ahmar, also have their own narrow agenda that is not in the interests of the masses. Above all, they all have an interest in maintaining capitalism and feudalism, so that the country's natural resources and wealth remains in the hands of the few, and where religion and nationalism are exploited to divide and rule the masses.
For real revolutionary change!
The regime must fall but it must be replaced, stemming from the revolutionary movements, by a regime representing working people and the poor masses. The struggles waged in workplaces, neighbourhoods, the army, in the squares, etc. must be organized into mass committees that democratically elect their representatives, which can be linked up on a local, regional and national level. Only from such a democratic organization of the working class and poor masses, can a real representative constituent assembly be elected and carry out policies to meet the democratic, social and economic needs of the masses.
To overcome religious, tribal-based and ethnic conflicts, the movement needs a programme that ensures full rights for all groups and minorities, including the right to self determination in the south. A programme of social demands; for a living wage, proper housing, land rights and for full access to water and electricity can win over the mass of people. A class appeal needs to be made to rank and file soldiers who are used by the regime against their brothers and sisters and who are manipulated by sections of the wealthy elites and increasingly turned against each other.
To make these demands a reality, they have to be linked to a socialist programme, which would see Yemen's natural resources, main industries and large landed estates made the property of working people, nationalized and planned democratically according to their needs. Only a socialist Yemen, as part of the socialist confederation of the region, can see an end to poverty, unemployment, religious and ethnic divisions and war and conflicts.