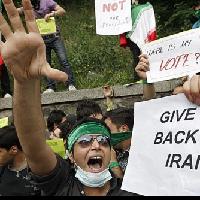 Day of uprising inspired by Egypt
The 25 Bahman (14 February) was a day of revolt in Iran. Hundreds of thousands protested in Tehran and in other cities. They shouted, "Down with dictatorship!" and "After Ben Ali, now Sayed Ali [Khamenei]!"
Almost 50,000 people responded to a call on Facebook to support the protests. The official opposition leaders, Mehdi Karroubi and Mirhossein Mousavi, in a letter to the Minister of Interior sent earlier sought approval for a demonstration in support of the revolution in Egypt.
The regime was prepared for the protests, deploying plain cloth security forces, militia and police. They attacked demonstrators from motorbikes, used tear gas and fired directly at the protesters. Two young people were killed including a university student, and three wounded. Over 1 500 people were arrested in Tehran.
Young people and women played a major role in the protest. Mothers planned to participate in the Lale Park, Tehran, carrying photographs of their children killed in earlier protests. Most demonstrators were young people and students. Activists from many workplaces were also key participants. The bus driver's union leader, Mansour Ossanlou, supported the demonstrations.
These events show that the entire Middle East is like a volcano, and perhaps especially Iran. And that all dictatorships are terrified. This was underlined in the Islamist regime's 'parliament' when after the protests MPs demanded the death penalty for Mousavi and Karroubi.
The regime in Tehran has stepped up its terror campaign and executed hundreds of worker-activists and oppositionists since the mass protests in 2009. But this failed to stop the protest last Monday.
This week's anti-theocratic protests show that a new period of mass movement in Iran has re-started. Mousavi and Karroubi however are pro-capitalist politicians. If the working class get involved in the struggle against the regime, it can be overthrown. Mass opposition organisation in the workplaces is required to step up the fight for real democratic rights and for a fundamental change in social conditions.