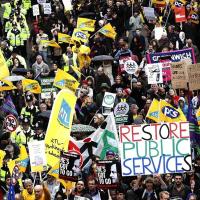 International women's day, 8 March, has been marked this year with an upturn in struggle, much of it to keep hold of many gains won in the past. Con-Dem austerity is hitting women hardest.
THE CON-DEMS, especially the Tories, are becoming extremely unpopular with women who are facing higher unemployment, pay cuts and attacks on their pensions and benefits, as well as reduced access to vital services and resources. Such is the anger that prime minister David Cameron has appointed Laura Trott, a Tory councillor in Hampstead and Kilburn, to advise him on how his policies will affect women, a cynical gesture to stem the fall in support for the coalition among women.
Meanwhile, the TUC has launched a 'Women and the Cuts Toolkit' to encourage unions, voluntary organisations and campaigners to highlight the issues and set up a national database of the cuts affecting women. The TUC concludes with the rather obvious comment that "spending cuts will increase inequality between women and men and may seriously damage the human rights of some women". Whether the initiative results in any action to reverse the cuts is doubtful.
Brendan Barber, TUC general secretary, highlighted the devastating rise in the number of women unemployed, the highest for 25 years, mostly due to jobs losses in the public sector, where a high proportion of women work. The GMB union revealed that, in 19 local authorities across Britain, all of the people being made redundant last October were women.
While these statistics serve to expose the Con-Dem cuts, there is no real campaign from the TUC or most of the unions to lead a determined fight-back. Further struggle on pensions has been left to the PCS civil servants, NUT teachers, UCU lecturers and FBU fire-fighters. While Barber praises the massive TUC demo on 26 March last year, he refuses to back more action to build real opposition to Con-Dem austerity.
Twice as many women as men lost their jobs in the last quarter of 2011. On top of the cuts in 2010 and 2011, there is another onslaught awaiting women and children in 2012. From April, the family element of tax credits will start to be withdrawn when household earnings reach £40,000, rather than £50,000 as is the case now. The baby element of tax credits (worth up to £545 a year to lower income households) will also be abolished. These are only a few of the planned attacks on women and families. The Daily Mirror reported: "Women are bearing more than two-thirds of the £16 billion that [chancellor] Osborne is raking in from slashing welfare in his budget and spending review. Women are said to be deserting the Tories in droves".
The Fawcett Society, a women's rights charity, pointed out: "It is those who have the least – women on low incomes, single mothers, pensioners – who will lose the most". The cuts to domestic violence refuges are shocking. The latest report confirms that 31% of funding to the sector was cut by local authorities between 2011 and 2012 – from £7.8 million to £5.4 million.
Women's Aid, the main organisation helping those facing domestic and sexual violence, reported some tragic consequences. Last year, 230 women were turned away on an average day because there was insufficient refuge provision. As a result, very vulnerable women can find themselves unable to leave a violent partner due to the lack of refuge space or the failure of local councils to house them. Workers in this sector have had to suggest to women that they go to Occupy camps, hospital A&Es, or even sleep on night buses. They are being given advice on how to 'stay safe' if they are forced to sleep on the streets.
In 1991, the predecessor of the Socialist Party, Militant Labour, helped to establish the Campaign Against Domestic Violence (CADV). Many trade unions supported the initiative which played an important role in fighting for legal reform and the release of women imprisoned for defending themselves against violent partners. It actively campaigned for more resources for women experiencing violence and abuse, helping to bring these issues into the open at a time when they were rarely spoken about.
Today, the need to campaign to stop local authorities cutting domestic violence services, especially refuges, is essential. Trade unions and anti-cuts groups should highlight this in the run-up to the next round of council budget cuts and demand that funding is reinstated. Other services are also under attack, such as the freezing of funding for in vitro fertilisation treatment by some NHS hospitals and trusts.
The introduction of the NHS and other welfare reforms after the second world war improved conditions for women. Groups, such as the Co-operative Guild and Labour Women, campaigned to extend and improve healthcare provision for mothers and children, setting up maternity centres and clinics many of which were funded by local councils.
In the 1950s and 60s, more women took up jobs outside of the home. Now, with the intensified drive to privatisation and the onset of economic crisis and austerity, we see the NHS under threat and women losing their jobs following attacks on the public sector. Even those still in work are struggling to meet rising childcare costs. And, in the main, it is women who are expected to care for children and other family members, a greatly increased burden as welfare cuts bite.
Under capitalism, it is always the most vulnerable whose services are cut. But we have seen young women start to stand up for their rights – starting with the 'slut walks' last year (see: Refusing to Accept Sexism, by Eleanor Donne, Socialism Today No.153, November 2011). We now need to campaign against all these cruel cuts. We cannot allow women's rights, services and jobs to be wiped out by this rotten government.
The onslaught on pensions
HUGE NUMBERS of women participated in the magnificent strikes on 30 November against attacks on their pensions from the Con-Dem coalition government.
Many of these women will retire on less income than their male colleagues because of how the pension system works. A survey by the insurance company, Prudential, in 2011 showed that one in five women who retire have no pension savings and have to rely solely on the state to survive. Twenty-eight per cent of women need state assistance to get them through old age – 10% for men.
To qualify for the full basic state pension – which for the 2011/12 tax year is just £102.15 a week – people need to have paid in sufficient National Insurance contributions for at least 30 years. Many women workers find this very difficult to achieve. This is because those who care for young children and/or family members often do not work or only work part-time. Therefore, they cannot build up enough contributions to qualify.
Sixty-five per cent of women rely on means-tested pension credits to guarantee a minimum weekly income. But a third of the 1.3 million women eligible for the credits do not apply for them. Starting in April, the consumer price index will be used to calculate the level of state pensions, instead of the retail price index. This will result in an erosion of the value in the pension paid. Currently, a quarter of single women pensioners live in poverty.
The previous New Labour government put in place the timeframe for increasing the pension age – raising it to 65 for women, equal to the male pension age. Now, the Con-Dems plan to increase this further to 66. However, anger over this change has forced the government to delay the rise to 2020.
The coalition is planning to enrol workers automatically into a pension scheme from October 2012. But, to qualify, they would have to earn at least £7,475 a year. This is far more than many low-paid women earn. An estimated 1.8 million women could be shut out of the scheme as a result.
The state pension system was created in the 1940s but has not kept up with how women's lives have changed. Their low pay and caring role mean that one in five women between the ages of 25 and 34 relies on her partner for a pension. More than a quarter of women do not believe it is worthwhile paying into a pension.
With the introduction of the 1946 National Insurance Act, William Beveridge's proposals took for granted a traditional role of women as wives not breadwinners. Married women in work could opt out of the basic pension by paying lower National Insurance contributions, thereby giving up a pension in their own right. It was expected that married women would rely on their husbands in retirement.
Today, the discrimination of women around the issue of pensions is stark. If a woman is married, has a child, works part-time, has only been in a job for a short time and/or has low earnings, it is likely that she will receive a lower pension.
The large numbers of women working in the public sector have benefited to an extent from the occupational schemes. Yet even this inadequate provision is now under attack. In fact, only a third of women who work part time are in an occupational scheme. Only 9% have a private pension.
We campaign for a decent state pension for all workers so that they can retire on an adequate income. Trade unions should confront the scandal of women not having adequate pension provision and campaign actively to ensure that women do not come off worst when they retire.