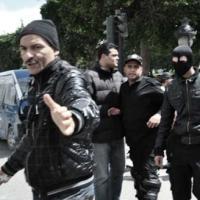 Repression of protest in Tunisia
To: Moncef Marzouki, President of the Tunisian Republic
Dear Mr Marzouki,
I have been following the situation in Tunisia very closely, especially after I had the opportunity to visit Tunisia on a delegation from the European Parliament in May of last year. Since then I have kept close contact with many of the trade unionists, human rights campaigners and youth activists I had met.
It is with dismay that I heard reports on the conditions the opposition movement have faced in recent days. I want to express my opposition at the brutal repression your government has wielded against peaceful protesters last Monday while they were commemorating the anniversary of 'Martyrs' Day'. I also heard reports of passers-by being attacked for just being in the vicinity of the march.
Masked police officers and government supporters attacked people using tear gas, batons and electric batons. They particularly focussed on well known activists and left wing supporters, these horrific scenes remind me of the darkest days under Ben Ali. As a result of these attacks many people needed to be hospitalised and an unknown number of people are being held in custody.
This is not the only example of the repression used by your government; a demonstration that took place last Saturday, organised by the 'Union of Unemployed Graduates' met a similar fate.
This situation is in sharp contrast to the hopes and aspirations of the mass of people who rose up and overthrew the Ben Ali dictatorship. Having been yourself the President of the Tunisian League of Human Rights between 1989 and 1994, and an opponent to Ben Ali's dictatorship, it is particularly disgraceful from your part to imply that both parties are equally to blame for what happened. I urge your government and its security forces and supporters to fully respect the people's basic democratic right to freedom of speech and assembly and to cancel the state of emergency.
All protesters arrested in the last few days must be immediately released without charge. It is also crucial that there is an independent investigation into these events by representatives of trade unions, the UDC and other popular organisations.
Yours sincerely,
Paul Murphy
Member of the European Parliament.