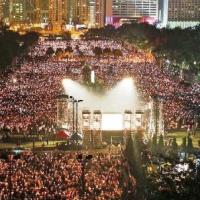 Massive 180,000-strong crowd turns out for yearly candle-light vigil in Hong Kong • "CY effect" evident as rising local discontent coalesces with indignation over 1989 massacre
It is 23 years since Deng Xiaoping and China's one-party regime used tanks to crush the mass student-led protest movement in Beijing. But this year, powerful aftershocks are rippling across China from the fateful events of 3-4 June 1989. As in each of the past three years, over 150,000 crammed into the six football pitches of Victoria Park in Hong Kong for an emotional candle-lit vigil. This year's turnout was 30,000 more than a year ago, bringing the turnout to a staggering 180,000 people. The event, held yearly since 1989, has enjoyed a surge in support and interest especially from the younger generation since the 20th anniversary in 2009.
Click here for the full article on Chinaworker.info
Special financial appeal to all readers of socialistworld.net

Support building alternative socialist media

---

Socialistworld.net provides a unique analysis and perspective of world events. Socialistworld.net also plays a crucial role in building the struggle for socialism across all continents. Capitalism has failed! Assist us to build the fight-back and prepare for the stormy period of class struggles ahead. Please make a donation to help us reach more readers and to widen our socialist campaigning work across the world.

Donate via Paypal

CWI- Please inform us if you are reproducing any material from this site.